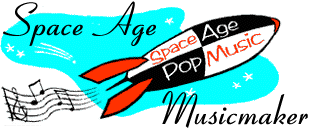 Leo Arnaud
---
Born Noel Arnaud, 24 July 1904, Lyon France
Died 26 April 1991, Los Angeles, California
---
Arnaud studied classical music and composition in France and worked with Maurice Ravel and Vincent d'Indy before emigrating to the U.S. in the late 1930s. He settled in Hollywood and became a part of the studio production line, orchestrating numerous forgettable films such as "Blondie Goes Latin," "Excuse My Dust," "Ice Follies of 1939," "Two Weeks--With Love," and others. Outside the studio, he was active in the classical music scene in Los Angeles, working as conductor of the Hollywood String Orchestra. In 1955, he arranged and conducted one of the earliest percussion show-off albums, "Spectra-Sonic Sounds!!!" (also released under at least two other titles) for Liberty. Arnaud's most lasting contribution, though, is an excerpt from Arnaud's arrangement of a number called "Bugler's Dream" on Felix Slatkin's Capitol album, "Charge!". ABC Sports later extracted it as the theme for their coverage of the Olympic Games.
---
Recordings
Spectra-Sonic Sounds, Liberty LRP 3009
Carnival in Rio, Liberty LRP 3020
Marimbita, Liberty LRP 3088
---
Search for Records and CDs
New CDs
Used Records and CDs

<! -- here GEMM code starts>

Search GEMM for old recordings by Leo Arnaud
---
S p a c e A g e P o p M u s i c
Home · Listener's Guide · The Songs · Who's Who · Liner Notes · Selected Tracks · What's New · Search
© spaceagepop 2015. All rights reserved.