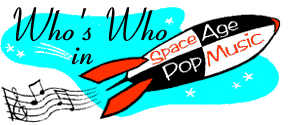 Space age pop often doesn't fit neatly into any of the standard genres such as jazz and rock, so many of the men and women who created space age pop have gone unrecognized, absent from any standard reference book or history.
These pages offer biographical sketches of hundreds of musicians, arrangers, composers, songwriters, and producers, and provide discographies of their recordings, primarily on long-play albums.
It's an attempt to answer questions like, "Who was Leo Addeo?" that fans may ask after seeing names appear again and again in thrift bins, CD compilations, or discussions on the Exotica Mailing List. In some cases, the information is sketchy due to the paucity of reliable sources, and I welcome any inputs that can help fill in the blanks.