---
Born 4 August 1915, New York City, New York
---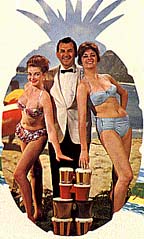 The real thing when it comes to lounge. Way back before lounge was a fad, people used to gather in dark dens to smoke cigarettes and consume alcohol in the form of highballs and--occasionally, cocktails--while a pianist and sometimes a bassist and drummer played softly in the corner. Irving Fields' trio put in plenty of nights in such joints--the Stork Club, El Mogambo, the Emerald Room, the St. Moritz and New York Shearton Hotel lounges.
Fields was never ashamed of the work. "The reason I work in hotels and lounges is it's steady work. I can work there for years without having to live out of a suitcase. I've played private parties for Barbara Walters, Candice Bergen, Donald Trump, and many others," he told ePulse magazine in 1995. "To be a loung pianist is a very difficult thing. You don't just noodle. You have to be prepared to play every kind of request--international music, country music, Latin. I have a variety, so much music I can play. It never becomes boring."
Like many other cocktail pianists, Fields' milieu belied his real talent. Educated at the Eastman School of Music and the Masters Institute in Manhattan, Fields also performed as a concert pianist with the Boston Pops Orchestra and appeared with his group in Carnegie Hall. He also had a few songwriting successes, most notably with "Miami Beach Rhumba" and "Managua, Nicaragua" and "Chantez, Chantez," which Dinah Shore covered in the 1940s.
He told jazz bassist and writer Bill Crow about his inspiration for one of his odder but much-beloved songs:
When Fields was playing solo piano at Harrah's Hotel in Atlantic City, he returned from a break and found a banana in his grand piano. He called out to the audience, "Who put the banana in my piano?" Nobody answered. Every night, for the entire week, he would find another banana and would ask the same question. He finally used the idea in a children's song, "Who Put the Banana in the Piano?" The song has become a favorite at his children's concert--but he never found out who did put the banana in the piano.
Fields recorded for a variety of labels over the years, but he's best remembered for his string of "and Bongos" records on Decca. Each featured Fields' regular trio (with Henry Senick on bass and Michael Bruno on drums) rounded out with Tommy Lucas on guitar and George Tapia on ... well, you can figure that out. On his first such album, Fields blended popular Yiddish tunes such as "Raisins and Almonds" and "David's Dance" and his own originals ("Mazeltov Merengue") with Latin rhythms, and the formula proved quite successful, particularly with the Catskills crowd. "I was in Boston playing a hotel, and I played some lovely Jewish melodies, which I put to Latin rhythm ... I made a master, and on my day off went to New York City. Decca heard the master and bought it. And it became successful around the world."

Fields was not the only performer to pursue this Latin/Hebrew hybrid. Latin bandleader Johnny Conquet either inspired or imitated Fields with his own mix on his RCA album, Raisins and Almonds, and on Mazel Tov, Mis Amigos! (Riverside), banjoist John Cali picked up a lute and strummed away in front of a killer Latin rhythm section of Charlie Palmieri on piano, Willie Rodriguez on timbales, and Ray Barretto on congas and bongos. As "Juan Calle and his Latin Lantzmen," Cali turned "Beltz, Mein Shtele Beltz" into a pachanga and "Papirossen" into a mambo.

Fields adapted the approach to other cultures, following his bagel album with Pizzas and Bongos (Italy), Champagne (France), and Bikinis (Hawaii). It doesn't appear that any of these inspired similar waves of imitators.
---
Recordings
The Fabulous Fingers, Fiesta FLP-1228
Plays Irving Berlin in Fabulous Hi-Fi, Tops L1562
At the Latin Quarter, 20th Century Fox 1010
Broadway Hits in Hi-Fi, ABC-Paramount ABC-154
At the Saint Moritz, ABC-Paramount ABC-187
More Bagels and Bongos, Decca DL-74114
Pizzas and Bongos, Decca DL-74175
Champagne and Bongos, Decca DL-74238
Bikinis and Bongos, Decca DL-74323
Bagels and Bongos, Decca DL-78856
Irving Fields and his Trio at the Emerald Room, Decca DL-78901
Latin Dance Date, RCA Camden CAL-350
Melody Cruise to Vienna, Oceanic OCP 515
50 Songs You'll Always Love, SMI 6
---
Search for Records and CDs
New CDs
Used Records and CDs


Search GEMM for old recordings by Irving Fields.
---
S p a c e A g e P o p M u s i c
Home · Listener's Guide · The Songs · Who's Who · Liner Notes · Selected Tracks · What's New · Search
© spaceagepop 2015. All rights reserved.