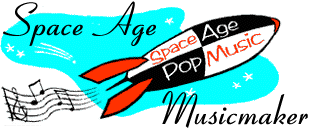 Cal Tjader
---
Born Callen R. Tjader, 16 July 1925, St. Louis, Missouri
Died 5 May 1982, Manila, Philipines
---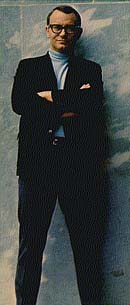 The greatest Anglo musician in Latin music. Tjader's father was a musical director and producer in vaudeville, and he grew up around the music and the theatre, even studying to be a dancer for a while. He decided to stick with music, though, and began to play drums with different small groups in California in the late 1940s. In 1949, Dave Brubeck hired him for his trio and Tjader recorded several 10" albums with Brubeck. He left Brubeck and worked briefly with guitarist Alvino Rey before joining George Shearing's combo in 1953, where he began performing on the vibes.
While with Brubeck, Tjader signed with Dave's label, Fantasy, but it was not until he left Shearing in 1954 that he began recording in earnet. Over the next seven years, Fantasy released an amazing string of 30 albums, over half of them featuring Latin music. To some extent, Fantasy was trying to capitalize on the mambo craze of the mid-1950s, and, in hindsight, the Latin albums tended to cause some listeners (including this writer) to overlook his straight-ahead jazz albums. Worth particular note among these are the two "Brubeck/Tjader" albums and "San Francisco Moods," which featured a number of Tjader originals and remains one of the most listenable albums from the West Coast jazz era.
Tjader's mid-1950s quintet rode the wave of the popularity of West Coast jazz, giving pianist Vince Guaraldi, among others, major career boosts. In 1963, Creed Taylor signed him for Verve and he worked with Claus Ogermann and other producers to create some of the hippest albums of the 1960s. His single of "Soul Sauce (Guachi Guara)" briefly reached the Top 40 charts. Several of his Verve albums have been reissued on CD and are worth seeking out. Tjader could even take something as square as "The Whiffenpoof Song" ("We are poor little lambs who have lost our way")--theme song of the Yale Glee Club--and make you want to frug to it.
Although Tjader was often slammed by jazz critics for pandering to popular tastes, he was well-respected among Latin musicians and many of the greats played with him over the years, including Candido, Armando Peraza, Eddie Palmieri, and Tito Puente. And in recent years, he's come to be recognized as one of the fathers of acid jazz, with numerous combos imitating the blend of Latin, jazz, and funk he pioneered in the 1960s. His Concord album, La Onda Va Bien won a Grammy award in 1979.
---
Recordings
Mambo with Tjader, Fantasy 3202
Tjader Plays Jazz, Fantasy 3211
Ritmo Caliente, Fantasy 3216
Tjader Plays Mambo, Fantasy 3221
Cal Tjader Quintet, Fantasy 3232
Jazz at the Blackhawk, Fantasy 3241
Cal Tjader's Latin Kick, Fantasy 3250
Cal Tjader, Fantasy 3253
Mas Ritmo Caliente, Fantasy 3262
Live and Direct, Fantasy 3315
Cal Tjader Plays, Mary Stalling Sings, Fantasy 3325
Last Night When We Were Young, Fantasy 3482
Latin for Dancers, Fantasy 8079
Several Shades of Jade, Verve V6-8507
Sona Libre, Verve V6-8531
Breeze from the East, Verve V6-8575
Warm Wave, Verve V6-8585
Soul Sauce, Verve V6-8614
Soul Bird-Whiffenpoof, Verve V6-8626
Soul Burst, Verve V6-8637
Along Comes Cal, Verve V6-8671
The Best of, Verve V6-8725
Doxy, Verve V6S-8820
Return Engagement, Verve V6-8843
La Onda Va Bien, Concord Jazz 113
The Shining Sea, Concord Jazz 159
A Fuego Viva, Concord Jazz 176
Huracan, Crystal Clear CCS 8003
---
Search for Records and CDs
New CDs
Used Records and CDs


Search GEMM for old recordings by Cal Tjader.
---
S p a c e A g e P o p M u s i c
Home · Listener's Guide · The Songs · Who's Who · Liner Notes · Selected Tracks · What's New · Search
© spaceagepop 2015. All rights reserved.