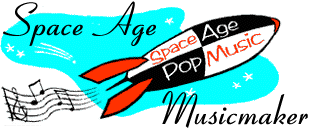 George Shearing
---
Born 13 August 1919, London, England
---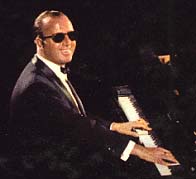 Blind from birth, George Shearing has parlayed a "locked hands" style of playing he learned from Milt Buckner into a long and successful career. He began recording in his late teens, coming to the United States after the war with the help of Leonard Feather. He was an active member of the New York jazz club scene in the late 1940s--his song about one of the more famous clubs, "Lullaby of Birdland," has since become a jazz standard.
Although respected and sought-after by mainstream jazz musicians, he picked up an international hit in 1949 with his cover of "September in the Rain," and made a conscious choice to forego pure jazz for popular success. "Lennie Tristano would never be happy compromising as I'm doing," he has said. Starting on MGM, he switched to Capitol in 1953, and stayed there until choosing to concentrate on small group work in the early 1970s.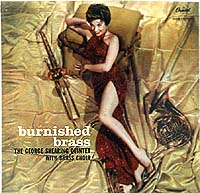 For exotica lovers, Shearing's work on Capitol is of primary interest. Although decidedly easy on the ears, particularly in his string albums, Shearing was not entirely complacent during this era. He was an active proponent of Latin music, and his Latin Escapade was the first commercially successful Latin jazz LP. He preferred to emphasize the Latin element in his live performances, working with the congolero Armando Peraza, as in his appearance in the film, "Jazz on a Summer Day." Usually low-keyed and mellow, he could also swing hard, and never took himself too seriously. For some collectors, though, it's the covers of his Capitol LPs, many featuring beautiful women in fancy seductive settings, that are the main attraction.
Since the late 1970s, Shearing has recorded for Concord Jazz, focusing on jazz rather than popular music.
---
Recordings
By Request, London LL-1343
An Evening with George Shearing, MGM E-3122
A Shearing Caravan, MGM E-3175
You're Hearing George Shearing, MGM E-3216
When Lights Are Low, MGM E-3264
Touch Of Genius, MGM E-3265
I Hear Music, MGM E-3266
Shearing in Hi-Fi, MGM E-3293
Soft And Silky, MGM SE-4042
George Shearing & The Montgomery Brothers, Jazzland JLP-955
The Shearing Spell (with orchestra), Capitol T-648
Velvet Carpet (with orchestra), Capitol D-720
Latin Escapade (quintet), Capitol DT-737
Black Satin (with orchestra), Capitol T-858
The Shearing Piano (with orchestra), Capitol T-909
Night Mist (with orchestra), Capitol T-943
In the Night (with orchestra), Capitol T-1003
Burnished Brass (quintet with brass choir), Capitol T-1038
Latin Lace (quintet), Capitol T-1082
Blue Chiffon, Capitol ST-1124
Shearing on Stage!, Capitol ST-1187
Beauty & The Beat!, with Peggy Lee Capitol ST-1219
Latin Affair, Capitol ST-1275
Satin Brass, Capitol ST-1326
White Satin, Capitol ST-1334
On The Sunny Side Of The Strip, Capitol ST-1416
The Shearing Touch, Capitol ST-1472
The Swingin's Mutual ( with Nancy Wilson), Capitol ST-1524
Mood Latino, Capitol ST-1567
Satin Affair (quintet), Capitol ST-1628
San Francisco Scene, Capitol ST-1715
Concerto for My Love, Capitol ST-1755
Jazz Moments, Capitol ST-1827
Shearing Bossa Nova, Capitol ST-1873
Touch Me Softly, Capitol ST-1874
Old Gold and Ivory, Capitol ST-2048
The Best of, Capitol ST-2104
Deep Velvet (with orchestra), Capitol ST-2143
Out Of The Woods, Capitol ST-2272
Latin Rendezvous, Capitol ST-2326
Here and Now! (quintet), Capitol ST-2372
Rare Form, Capitol ST-2447
That Fresh Feeling, Capitol ST 2567
New Look!, Capitol ST-2637
Shearing Today, Capitol ST-2699
---
Search for Records and CDs
New CDs
Used Records and CDs


Search GEMM for old recordings by George Shearing.
---
S p a c e A g e P o p M u s i c
Home · Listener's Guide · The Songs · Who's Who · Liner Notes · Selected Tracks · What's New · Search
© spaceagepop 2015. All rights reserved.