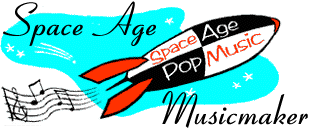 Milt Buckner
---
Born 10 July 1915, St. Louis, Missouri
Died 27 July 1977, Chicago, Illinois
---
One of the fathers of the funky organ sound and one of the inspirations for George Shearing's "locked hands" style of playing. Buckner played with McKinney's Cotton Pickers in the 1930s, then spent most of the 1940s with Lionel Hampton's big band. He struck out on his own, leading an unsuccessful big band that folded in 1949. He rejoined Hamp briefly, then left again to lead a trio. He recorded several classic albums for Capitol in the mid-1950s. Buckner pioneered the use of the electric organ as a substitute for a brass section, which proved an effective economy measure as the big band era ended. He began touring in Europe in the early 1960s, and gradually shifted most of his appearances there. In the early 1970s, he teamed with another Hampton alumnus, tenor sax man Illinois Jacquet, and they recorded a number of albums for European labels.
---
Recordings
Milt Buckner Piano, Savoy MG-15023
Rockin' With Milt, Capitol T-642
Rockin' Hammond, Capitol T-722
Send Me Softly, Capitol T-938
Organ · Sweet N'Swing, Regent MG-6004
Mighty High, Argo LP-660
Please, Mr. Organ Player, Argo LP-670
Midnight Mood, Argo LP-702
The New World Of Milt Buckner, Bethlehem BCP 6072
Milt Buckner in Europe, Prestige PRST-7668
---
Search for Records and CDs
New CDs
Used Records and CDs


Search GEMM for old recordings by Milt Buckner.
---
S p a c e A g e P o p M u s i c
Home · Listener's Guide · The Songs · Who's Who · Liner Notes · Selected Tracks · What's New · Search
© spaceagepop 2015. All rights reserved.