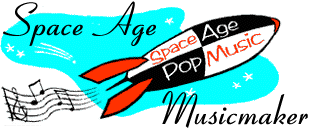 Hugo Winterhalter
---
Born 15 August 1909, Wilkes-Barre, Pennsylvania
Died 17 Sept 1973, Greenwich, Connecticut
---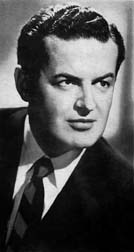 Educated at Mt St Mary's College and the New England Conservatory of Music, Winterhalter taught school for several years before joining a variety of swing bands as a multi-instrumentalist in the mid-1930s. By 1940, Winterhalter had proven himself a talented arranger and wrote for some of the top bands of the time: Count Basie, Raymond Scott, Claude Thornhill, and the Dorsey brothers. He then focused on backing singers, and arranged and conducted recordings for Dinah Shore, Billy Eckstine, and others.
Over the next 15 years, Winterhalter served as musical director for a series of labels. First MGM in 1948-49, then Columbia, and then, in 1950, RCA Victor. He matched vocalists with arrangers and oversaw assignments among RCA's house arrangers, composers, and conductors. He remained with RCA until 1963, when he switched to Kapp for several years. Winterhalter provided arrangements for many of RCA's singers, including Eddie Fisher, the Ames Brothers ("The Naughty Lady of Shady Lane"), Perry Como, and Eddy Arnold on the immortal "Cattle Call."
Winterhalter released instrumental albums under his own name from 1950 through his retirement in the late 1960s. As an arranger, Winterhalter is something of a kindred spirit with Marty Gold, clearly reflecting the philosophy that you can never have too much music. His arrangement of "Anna" on "... Continental" throws in strings, electric guitar, high reeds, trumpet flourishes, even tambourines, all behind a driving drum beat. Like Percy Faith, Winterhalter often produced arrangements that belie the "easy listening" label. He had a number of singles in the Top 40 between 1950 and 1956, including covers of "The Third Man Theme" and "Canadian Sunset."
After leaving Kapp in the mid-1960s, Winterhalter worked on Broadway and in New York-based network television and recorded an occasional album for a variety of budget labels until his death.
---
Recordings
Music, Music, Music!, Harmony HL-7078
Great Music Themes of TV, RCA Victor LPM-1020
Always, RCA Victor LPM-1179
Music by Starlight, RCA Victor LPM-1185
The Eyes of Love, RCA Victor LPM-1338
Happy Hunting, RCA Victor LPM 1400
Hugo Winterhalter Goes ... Latin, RCA Victor LSP-1677
Wish You Were Here, RCA Victor LSP-1904
Two Sides of Hugo Winterhalter, RCA Victor LPM-1905
Hugo Winterhalter Goes ... Gypsy, RCA Victor LSP-2167
Hugo Winterhalter Goes ... South of the Border, RCA Victor LSP-2271
Hugo Winterhalter Goes ... Hawaiian, RCA Victor LSP-2417
Hugo Winterhalter Goes ... Continental, RCA Victor LSP-2482
I Only Have Eyes for You, RCA Victor LSP-2645
The Magic Touch, RCA Camden CAL-379
Big and Sweet with a Beat, RCA Camden CAL-443
Hawaiian Wedding Song, RCA Camden CAS-2309
A Treasure of Latin Gold!, RCA Camden CAS-2546
Eddie Heywood's Golden Encores, Liberty LST-7250
The Best of '64, Kapp KS-3407
Semi-Classical Favorites, Kapp KS-3426
The Big Hits of 1965, Kapp KS-3429
Midnight Cowboy, Musico MDS 1029
Best of the Motion Picture Hit Music, Musicor MSD 1042
Classical Gas, Musicor MDS 3170
Applause, Musicor MS 3190
16 Beautiful Hits, Trip TOP 16114
---
Search for Records and CDs
New CDs
Used Records and CDs


Search GEMM for old recordings by Hugo Winterhalter.
---
S p a c e A g e P o p M u s i c
Home · Listener's Guide · The Songs · Who's Who · Liner Notes · Selected Tracks · What's New · Search
© spaceagepop 2015. All rights reserved.