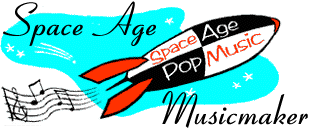 Bobby Christian
---
Born Chicago, Illinois, 20 October 1911
---
A mainstay of Dick Schory's percussion ensemble, Bobby Christian recorded a number of excellent space age pop albums on his own. Raised in Chicago, he studied music in his teens and then toured throughout the Midwest with a series of now-forgotten dance bands. He quit the road in the mid-1940s and joined the musical staff of NBC Radio in Chicago, under the leadership of Roy Shield. During this time, he set up his own school for other percussionists and taught such perfomers as Cozy Cole. In 1950, he moved to New York City and switched networks, joining ABC, where he worked on such early series as "Tales of Tomorrow." In 1955, he joined the NBC Symphony of the Air and toured Asia with conductor Arturo Toscannini.
In 1956, he returned to Chicago and began working with Schory in parallel to leading his own band in local clubs and dance venues. When Schory switched from Mercury to RCA, Christian nailed his own recording contract with Audio Fidelity. He was an occasional composer as well, focusing on Leroy Anderson-like pieces with titles like, "Crickets on Parade," "Tuba Square Dance," "Space Suit," and "Krazy Kwilt." His daughter, Vernyle, provided ethereal wordless vocal effects to individual cuts on several of his albums.
---
Recordings
Mr. Percussion, Mercury SR 60015
Strings for a Space Age, Audio Fidelity
Percussive Big Band Jazz, Audio Fidelity DFS 7005
Percussion in Velvet, Westminster WP 6116
reissued as Nothing But Percussion, Vol. 2, WP 6131
Vibe-Rations, Ovation 06
Stop, It's Time For Bobby Christian, M.A.L 897M9896
In Action, N GEra-15057
---
Search for Records and CDs
New CDs
Used Records and CDs


Search GEMM for old recordings by Bobby Christian.
---
S p a c e A g e P o p M u s i c
Home · Listener's Guide · The Songs · Who's Who · Liner Notes · Selected Tracks · What's New · Search
© spaceagepop 2015. All rights reserved.