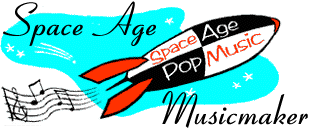 Frankie Carle
---
Born Francis Nunzio Carlone 25 March 1903, Providence, Rhode Island
Died 7 March 2001, Mesa, Arizona
---
"The wizard of the keyboard," Frankie Carle was one of the most popular pianists of the 1940s and 1950s. Starting in 1916, he worked with a number of mainstream dance orchestras. He became a featured performer (and later partner) in the Horace Heidt orchestra, leaving in 1944 to form his own band. His daughter, billed as Marjorie Hughes, was the lead singer. Carle had several million-sellers in the late 1940s and early 1950s, including his theme song, "Sunrise Serenade." He broke up his band after 1955, performing mainly as a soloist thereafter. Frankie Carle is now retired and living in Arizona.
---
Recordings
Ridin' High, Vocalion VL 3622
Carle Comes Calling, Columbia CL 6002 (10")
Frankie Carle and his Girl Friends, Columbia CL 6018 (10")
Roses In Rhythm, Columbia CL 6032 (10")
Frankie Carle Dance Parade, Columbia CL 6047 (10")
At The Piano, Columbia CL 6075 (10")
Carle Meets The Masters, Columbia CL 6085 (10")
Franie Carle's Piano Party, Columbia CL 531
Roses in Rhythm, Columbia CL 913
Sunrise Serenade, Harmony HS 11217
The Piano Style of Frankie Carle, RCA Camden CAL 478
Frankie Carle Plays Honky Tonk, RCA Victor LPM-26
Honky Tonk Piano, RCA Victor LPM-1188
Cocktail Time with Frankie Carle, RCA Victor LPM-1221
Frankie Carle's Sweethearts, RCA Victor LPM-1222
Mediterranean Cruise, RCA Victor LPM-1275
Around the World, RCA Victor LPM-1499
37 Favorites for Dancing, RCA Victor LPM-1868
Show Stoppers for Dance Time, RCA Victor LPM-1963
The Golden Touch, RCA Victor LPM-2139
A Carle-Load of Hits, RCA Victor LPM-2148
Honky-Tonk Hits by the Dozen, RCA Victor LSP-2491
30 Hits of the Tuneful 20s, RCA Victor LPM-2592
30 Hits of the Thundering 30s, RCA Victor LPM-2593
30 Hits of the Flaming 40s, RCA Victor LPM-2881
Frankie Carle Plays the Big Imported Hits, RCA Victor LSP-2920
Top Pops, RCA Victor LPM-3024
For Me And My Gal, RCA Victor LPM-3059
Frankie Carle Plays the Great Piano Hits, RCA Victor LSP-3425
Frankie Carle, Dot DLP 25789
Somewhere My Love, Dot DLP 25802
Era: The 40's, Dot DLP 25877
---
Search for Records and CDs
New CDs
---
S p a c e A g e P o p M u s i c
Home · Listener's Guide · The Songs · Who's Who · Liner Notes · Selected Tracks · What's New · Search
© spaceagepop 2015. All rights reserved.