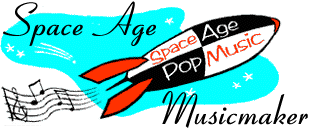 Earl Bostic
---
Born 25 April 1913, Tulsa, Oklahoma
Died 28 October 1965, Rochester, New York
---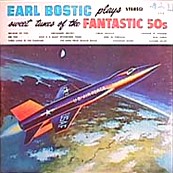 Bostic's distinctive style, strong on the sax and heavy on the beat, was quite successful in the rhythm and blues market in the 1950s. One of the few jazz musicians of his generation with formal training, Bostic studied composition at Xavier University in New Orleans in the early 1930s, and then spent several years performing with territory bands in the Midwest as well as with Fate Marable, who led one of the last Mississippi riverboat bands.
His reputation as a superb instrumentalist earned him an invitation to come to New York City, where he played with Hot Lips Page and Lionel Hampton. After a couple of years with Hampton, during which he became more and more active as an arranger, Bostic left to work as a free-lancer, writing for bands such as Jack Teagarden's and Louis Prima, and taking occasional playing jobs. He was a regular at the legendary sessions at Minton's nightclub, where Charlie Christian, Dizzy Gillespie, Thelonious Monk, and others helped create what became known as bebop, and Bostic was considered one of the hottest players on that stage.
Then, after the war, he bucked the trends and formed his own band while others were folding theirs. His success at first, recording for the small label Majestic, was nothing special. But then he trimmed the group down to a seven-piece ensemble and adapted his arrangements to emphasize a simple melody line on sax and a strong dance beat, and switched to the Gotham label, where he had a Top 10 R&B hit with a cover of "Temptation." Two years latter, Syd Nathan lured him away to his Cincinnati-based label, King, and Bostic remained one of King's featured artists until his death. Ironically, Bostic sold better in white markets than black, perhaps the only black artist of who that could be said.
Bostic went on to place four other tunes, including his most famous single, "Flamingo," in the R&B Top 10 list. Although he kept a core group that included Gene Redd (later a successful R&B producer) on vibes, the list of musicians who spent time playing for Bostic is pretty impressive: John Coltrane, Stanley Turrentine, Blue Mitchell, Don Byas, Cozy Cole, Tiny Grimes, Sir Charles Thompson, Jackie Byard, Benny Golson, Richard "Groove" Holmes, and Earl Palmer, just to name a few. Although Bostic's sound was rather strident on most of his King hits, Art Blakey once said that, "Nobody knew more about the saxophone than Bostic, I mean technically, and that includes Bird."
In the late 1950s, Bostic suffered from severe heart problems and stopped performing and recording for nearly two years. He moved to Los Angeles and resumed performing intermittently in 1959, but he never returned to the pace of the early 1950s. He also returned to recording, but this time with a more laid-back kind of soul-tinged jazz. He died after suffering a second heart attack while playing a hotel opening in Rochester.
John Waters used Bostic's version of "Jungle Drums" to good effect in his 1992 film, "Cry Baby."
---
Recordings
The Best of Bostic, King Records 500 (1956)
Earl Bostic for You, King Records 503 (1956)
Alto-tude, King Records 515 (1956)
Dance Time, King Records 525 (1957)
Let's Dance, King Records 529 (1957)
Invitation to Dance, King Records 547 (1957)
C'mon Dance, King Records 558 (1958)
Bostic Rocks Hits of the Swing Age, King Records 571 (1958)
Showcase of Swinging Dance Tunes, King Records 583 (1958)
Alto Magic in Hi-Fi, King Records 597 (1958)
Sweet Tunes of the Fantastic 50s, King Records 602 (1959)
Dance Music from the Bostic Workshop, King Records 613 (1959)
Sweet Tunes of the Roaring 20s, King Records 620 (1959)
Sweet Tunes of the Swinging 30s, King Records 632 (1959)
Sweet Tunes of the Sentimental 40s, King Records 640 (1959)
Musical Pearls, King Records 662 (1959)
The Hit Tunes of the Big Broadway Shows, King Records 705 (1960)
By Popular Demand, King Records 786 (1962)
Bossa Nova, King Records 827 (1963)
Songs of the Fantastic 50s, Vol. 2, King Records 838 (1963)
Jazz as I Feel It, King Records 846 (1963)
A New Sound, King Records 900 (1964)
Great Hits of 1964, King Records 921 (1964)
27 Saloon Songs, Diplomat DS2407
The Earl of Bostic, Grand Prix KS404
Wild, Man!, Grand Prix KS416
Blows a Fuse, Charly CRB1091
---
Search for Records and CDs
New CDs from Amazon.com

Used Records and CDs from GEMM.com


Search GEMM for old recordings by Earl Bostic.
---
S p a c e A g e P o p M u s i c
Home · Listener's Guide · The Songs · Who's Who · Liner Notes · Selected Tracks · What's New · Search
© spaceagepop 2015. All rights reserved.