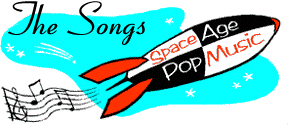 The Lecuona Song
---
The songs of Ernesto Lecuona and his distant cousin Margarita may have been covered by more exotica artists than any other composer, yet they're relatively unknown except to fans of traditional Latin music. It's a shame, for Lecuona was a multi-talented artist: bandleader, song writer, serious composer, and pioneer of Latin music in America. A Lecuona song has everything an exotica lover could ask for: mystery, excitement, romantic, and rhythm.
"The Breeze and I" 1941
Music Ernesto Lecuona, based on "Andalucia," 1930
Words Al Stillman
It's not easy to pick single out one Lecuona song as the most representative, but "The Breeze and I" is certainly the most-covered. Everyone from Lawrence Welk to Jimmy McGriff to surf bands played it. Lecuona originally wrote the song "Andalucia" as part of his "Spanish Suite." It was later performed by itself by his band, the Lecuona Cuban Boys. The song enjoyed some success, but it was ten years later, when Jimmy Dorsey recorded it as a vocal number, with Bob Eberly singing Al Stillman's lyrics, that it became a #1 hit in the U.S. It's a wistful song, in which the singer laments that his love is known only to "the breeze and I," but it's too tasteful to become maudlin. No matter how bad the performer, this song has some inherent class that resists any abuse.
Malaguena 1927
Music, Spanish words Ernesto Lecuona
Words Marian Banks
Perhaps one reason Lecuona rarely receives due credit is that he was often too good. The best example of this is "Malaguena," which is frequently attributed to a classical Spanish composer such as Albeniz or Rodrigo. Its early popularity was through sheet music, back in the days when that medium still gave records a run for the money--its publisher sold over 1 million copies in ten years. And as with many of Lecuona's songs, it could be versatile in its applications. Andre Kostelanetz chose it as the lead track for his South Pacific LP, "The Lure of the Tropics." A few years later, the 101 Strings put it on their "Soul of Spain, Vol 2" album. A "malaguena" is a woman of Malaga, a Spanish city on the Mediterranean.
Jungle Drums 1933
Music Ernesto Lecuona, also called "Canto Karabali"
Words Carmen Lombardo, Charles O'Flynn
"Jungle Drums" could give "Quiet Village" a run for its money as the theme song for exotica. At the very least, it can pull seniority. As with "The Breeze and I," "Jungle Drums" spent its first years as an instrumental. However, neither the Spanish nor the English lyrics won it much success as a vocal number.
Siboney 1929
Music, Spanish words Ernesto Lecuona
Words Theodora Morse (Dolly Morse, Dorothy Terriss)
Another example of Lecuona's versatility. For years, I attributed this song to Nino Rota, who used it evocatively in his score for Fellini's nostalgic memoir of the 1930s, "Amarcord." A Cuban singer, Alfredo Brito, first got a hit with "Siboney" in 1931. Caterina Valente, Xiomara Alfaro, Dizzy Gillespie, and Percy Faith all had minor hits with it over the next 30 years.
Taboo 1941
Music Margarita Lecuona
Words S.K. Russell
"Taboo" (or "Tabu"--the spellings are interchangeable): F.W. Murnau's 1930 film of the same name had put the word into the popular vocabulary. A blend (or bastardization, depending on your viewpoint) of documentary and fiction, Murnau's film was shot on location in Tahiti and was, for many Americans, their first view of the South Pacific.
Babalu 1941
Music and words by Margarita Lecuona
"BA-BA-LUUUUUUU!" Those three syllables propelled Desi Arnaz to stardom, from whence he met Lucy, from which television history was made. Actually, Desi was married to Lucy and a minor film and performing star before he recorded "Babalu" in 1946, but it became his trademark expression, just as "Hoo-AHH!" is destined to become Al Pacino's. Now, serious connoisseurs of Latin music distain Desi's version, as he stole the interpretation completely from the man considered by many to be greatest singer in Cuban music, Miguelito Valdés, and camped it up with a heavy dose of Latin shuck-n-jive.
---
S p a c e A g e P o p M u s i c
Home · Listener's Guide · The Songs · Who's Who · Liner Notes · Selected Tracks · What's New · Search
© spaceagepop 2015. All rights reserved.