---
Born 2 February 1932, Kauai, Hawaii
Died 24 February 2002, Honolulu, Hawaii
---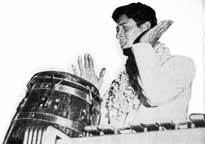 Considered by many to be at the top of the pantheon of exotica artists, Lyman got his start as a vibes player in Martin Denny's combo and can be heard on Denny's legendary first album, "Exotica."
Lyman's family moved to Honolulu after his father was blinded in an accident. Arthur began playing with a toy marimba and from playing along with records, was able to reproduce Lionel Hampton solos note for note. His performing career began early, when he won a talent contest on Honolulu radio station KGMB. By the time he graduated from high school, he was playing professionally with a small combo called "The Gadabouts," imitating the piano/vibes sound of George Shearing and Cal Tjader.
In 1951, he was hired to play in the bar at the Halekulani Hotel, where Martin Denny met him in the early 1950s. Denny hired him, and the two remained together for the next five years.
Denny's breakthrough success with his cover of "Quiet Village" paved a path for Lyman as well. Shipbuilding magnate and Hawaiian developer Henry J. Kaiser (of Kaiser Aluminum and Liberty Ship fame) hired him to replace Denny in his Honolulu nightclub. Soon after, Hi Fi Records in Los Angeles capitalized on Liberty's success with Denny and hired Lyman as their featured artist.
Even though the two men were competitors on vinyl, they remained close friends until the end. "He had a keen ear for music and a great imagination," Denny once remarked,"and I would say that his success and exposure paralleled mine. There were debates on who came first, but as far as I'm concerned we did it together." After both had ceased to record, Denny and Lyman often appeared together at performances on Oahu. And when Lyman entered a hospice as he entered the last stages of his fight with throat cancer, "Martin would take Arthur out in the sunshine and give a private show," according to a family friend.
Lyman's style was softer than Denny's, but he went much further in his use of exotic environmental sounds. The combination of macaw shrieks and gentle vibes was a vein Lyman mined consistently for over 30 albums. Unlike Denny, whose heavy touring schedule often forced his label to use a stand-in pianist on his albums, Lyman recorded almost exclusively in Hawaii. His Hi-Fi albums were usually recorded in Kaiser's Aluminum Dome auditorium in Honolulu, and still stand out for their superb audio qualities.
Lyman's combo included John Kramer on bass, guitar, and other stringed instruments, Alan Soares on piano and other keyboards, and Harold Chang on percussion. In between tours, the group played the Shell Bar at the Hawaiian Village Hotel for nearly 10 years, and reunited on a number of occasions thereafter. Hawaiian-born jazz vocalist Ethel Azama also appeared with Lyman in the early 1960s, and her version of "Lullaby of the Leaves" can be heard on the The Leis of Jazz.
The group appeared on numerous television variety shows in the 1960s, including "The Red Skelton Show," "The Andy Williams Show," and "The Steve Allen Show." But their best-known TV appearances were their guest spots on "Hawaiian Eye," the Robert Conrad - Connie Stevens private eye show set on Oahu. The show regularly featured the main characters hanging out at a mock-up of the Shell Bar and listening to Lyman playing one of his favorite numbers.
Lyman's signature tune was his cover of "Yellow Bird", which spent 10 weeks on Billboard's Top Ten chart in 1961, reaching #4. When his contract with HiFi ended in 1968, Lyman broke up his combo after an appearance in Las Vegas, and headed back for the islands. He was happy to leave the touring life behind: "It was rough," he once said, "three months on the road, back here, three months on the road." He went on to perform at most of Waikiki's best-known clubs, including Don the Beachcomber and the New Otani Kaimana Beach Hotel.
A Time magazine article from 1962 describes a typical stateside performance at the height of Lyman's fame:
A conch shell wailed, the conga drums thump-thumped, the bamboo sticks clattered," the magazine wrote. "The four men on stage were constantly on the move — clacking wooden blocks, scratching a corrugated gourd, flailing away at Chinese gongs, weaving rhythms that were insistent, sinuous and hypnotic. Occasionally, when the spirit moved them, they barked like seals or whooped like cranes. The happy audience at Chicago's Edgewater Beach Hotel rattled the rafters whooping back.
Lyman was a much more accomplished instrumentalist than his usually relaxed playing style suggested. He usually played with four mallets at once, a much more difficult technique than the standard two-mallet approach, more like playing a piano. Denny once called him "The best in the islands, maybe the best in the world."
He never took his success too seriously, though. He was just as proud of his awards for paddling in canoe races. His four marriages left him with little in the bank, which is one reason he kept performing until felled by throat cancer.
Lyman's many friends and fans said their final farewell by paddling canoes out from Waikiki to scatter his ashes upon the waters of Honolulu Bay. At the ceremony, Denny offered a last salute: "You are the true spirit of aloha, and may God speed you to your celestial vibes."
CD label Ryko released immaculate reissues of Lyman's best Hi-Fi albums in the late 1990s. Check them out!
---
Recordings
Leis of Jazz, Hi-Fi Records R607
Taboo, Hi-Fi Records R806
Hawaiian Sunset, Hi-Fi Records R817
Bwana A, Hi-Fi Records R808
Legend of Pele, Hi-Fi Records R813
Bahia, Hi-Fi Records R815
On Broadway, Hi-Fi Records R818
Taboo 2, Hi-Fi Records R822
Yellow Bird, Life Records L-1004
Colorful Percussion, Life Records L-1005
Many Moods Of Arthur Lyman, Life Records L-1007
I Wish You Love (reissued as "Love for Sale"), Life Records L-1009
Cotton Fields, Life Records L-1010
Blowin' in the Wind, Life Records L-1014
Mele Kalikimaka (Merry Christmas), Life Records L-1018
Isle Of Enchantment, Life Records L-1023
Call Of The Midnight Sun, Life Records L-1024
Hawaiian Sunset Vol. 2, Life Records L-1025
Polynesia, Life Records SL 1027
Greatest Hits, Life Records SL-1030
Lyman '66, Life Records SL-1031
The Shadow of Your Smile, Life Records SL 1033
Aloha, Amigo, Life Records SL 1034
Il Ikai, Life Records SL 1035
At The Port of Los Angeles, Life Records SL1036
Latitude 20, Life Records SL 1037
Aphrodisia, Life Records SL-1038
The Winners Circle, Life Records SL 1039
Today's Greatest Hits, Life Records SL 1040
At the Crescendo, Crescendo GNP #605
Paradise (also released as "Pearly Shells"), Crescendo GNP 606
Cast Your Fate to the Wind, Crescendo GNP 607 (same material as "At the Crescendo")
Puka Shells, Crescendo GNPS-2091
Authentic Hawaiian Favorites, Olympic Records 6161
Music of Hawaii, Legacy/DNA CD
Exotic Sounds Of Arthur Lyman, Legacy/DNA CD (reissue of "Taboo" and "Yellow Bird" LPs)
Best of the Arthur Lyman Group, DCC Compact Classics CD
More of the Best of the Arthur Lyman Group, DCC Compact Classics CD
Hawaiian Sunset, Ryko CD 50365
The Leis of Jazz, Ryko CD 50431
Pele, Ryko CD 50432
Sonic Sixties, Tradition CD (reissue of 60s pop material--great stuff)
Taboo, Vol.2, Ryko CD 50430
Taboo, Ryko CD 50364
With a Christmas Vibe, Ryko CD 50363 (reissue of "Mele Kalikimaka" LP)
Yellow Bird, Ryko CD 50433
Pearly Shells, GNP-Crescendo CD
---
Search for Records and CDs
New CDs
Used Records and CDs


Search GEMM for old recordings by Arthur Lyman.
---
S p a c e A g e P o p M u s i c
Home · Listener's Guide · The Songs · Who's Who · Liner Notes · Selected Tracks · What's New · Search
© spaceagepop 2015. All rights reserved.