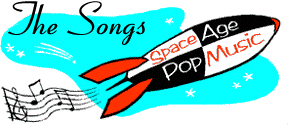 The Jungle Number
---
Some would claim that jungle music is the only true exotica, the rest being merely pop music, but that would exclude too much other wonderful stuff. But nothing is better suited to a night at the Tiki Hut, sitting in a booth surrounded by palms and fake orchids, sipping Mai Tais and Blue Hawaiis, which was getting pretty darned exotic for folks in the Eisenhower days.
"Quiet Village," 1951
Music by Les Baxter
Quiet Village" epitomizes exotica. Written by Les Baxter for his 1951 concept album, "The Ritual of the Savage," it became a Top 40 hit in 1959 when Martin Denny played it on his breakthrough album, "Exotica." From that point on, no self-respecting exotica artist could pass up the chance to record his interpretation of "Quiet Village." Denny's hit also benefited from the popularity of all things Hawaiian which surrounded Hawaii's becoming the 50th state in 1959. Which is a little odd, in my opinion, since it's not really the catchiest melody. I suspect it has as much to do with the aura of the exotica suggested by the name and theme of the song as any inherent musical quality. Recording "Quiet Village" is almost a rite of passage, something a musician had to do to qualify as a bona fide exotica artiste. Contrary to popular belief, there IS at least one vocal version of the song, by Don Ho, in an unforgettable medley with "Hawaii Five-O."
"Moon of Manakoora," 1937
Words Frank Loesser
Music Alfred Newman
Having written the melody as part of the incidental music for Douglas Fairbanks Senior's early sound version of "Robinson Crusoe," Alfred Newman reused it as the theme for the film, "The Hurricane." Manakoora was tropical island on which the film took place. Jon Hall and Dorothy Lamour played native lovers; Raymond Massey was the colonial governor who upset the natural balance of society--the climactic hurricane, one assumes, is the penalty for messing with nature, making this the first ecological adventure. A perfect melody for a romantic scene on the beach, with palm trees swaying in the background and the moon reflecting off the serene ocean. Not surprisingly, though--that was what Newman was writing for.
---
S p a c e A g e P o p M u s i c
Home · Listener's Guide · The Songs · Who's Who · Liner Notes · Selected Tracks · What's New · Search
© spaceagepop 2015. All rights reserved.