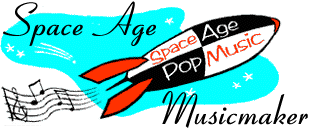 Les Baxter
---
Born Leslie Baxter 14 March 1922, Mexia, Texas
Died 15 January 1996, Newport Beach, California
---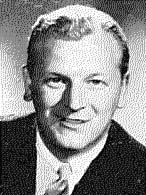 Les Baxter is the leading figure in the history of exotica. Wherever exotica went, Les Baxter was there, often leading the way. His work for Capitol Records in the 1950s introduced most of the major movements in exotica. His 1950 album, "Music Out of the Moon," featured the theremin and was probably the best-selling theremin album of all time--and also founded the "space" school of exotica. In 1951, he did the same for the "jungle" school of exotica with his landmark "Ritual of the Savage" LP, for which he wrote the theme song of exotica: "Quiet Village." He crested the European cover wave with his only number one hit, "Poor People of Paris," in 1956. He produced and wrote most of the first album by the four-octave Peruvian songstress, Yma Sumac, "Voice of the Xtabay" (I've always wondered if "Xtabay" was pig Latin for "Baxter"). And he can be credited with anticipating the percussion school with his all-drums album, "Skins! Bongo Party with Les Baxter."
Baxter started performing in his teens as a concert pianist. He studied music formally at the Detroit Conservatory of Music and Pepperdine College. He worked as a tenor sax player, and then as a singer eventually getting hired as a member of the Mel-Tones, a harmony group formed by Mel Torme around 1947. Baxter quit to work for NBC Radio as a one of a vocal quartet that sang on Pepsodent commercials on Bob Hope's radio show. He began arranging and ended up as musical director for Bob Hope and, later, Abbott and Costello. He continued with occasional vocal work as late as 1952, when he was in the back-up quartet on Frank DeVol's hit, "Love Letters in the Sand." His first album, "Music Out of the Moon," featured a choir, one cello, one French horn, a rhythm section, and a theremin. Baxter said of it, "No one had heard of a combination like that. It was a little weird. I didn't know what popular records were. I didn't know what I was doing."
At Capitol Records, where he primarily worked writing arrangements and conducting the orchestra on recording sessions for such singers as Frank Sinatra and Bob Eberle. He provided the arrangement for Nat King Cole's best-selling recording of Eden Ahbez's utopian tune, "Nature Boy," performed by Frank DeVol and a studio orchestra, and arranged and performed with Cole on other hits such as "Mona Lisa." He also arranged and conducted on a series of LPs released under the name of dance studio entrepeneur Arthur Murray.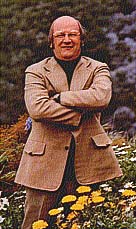 Like a number of Capitol's house arrangers, Baxter was able to record his own arrangements and, often, composition. Some arrangers didn't put much energy into such recordings, but Baxter clearly found them vital creative outlets and experimented with a variety of themes, musical devices, and genres. Of these, his "Ritual of the Savage" has become a classic in its own right, a musical travelogue accompanied by recorded jungle noises and bird calls that later inspired Martin Denny, Arthur Lyman, and others.
Baxter recorded for Capitol until 1962, when he began to focus on film scores, particularly for Roger Corman's American International studio. Feature scoring credits include "The Pit and the Pendulum," "Beach Blanket Bingo," "Operation Bikini," and many other now cult-favorite B-grade movies.
Baxter also worked in radio and television. He was the music arranger for the Bob Hope and Abbott & Costello radio shows and wrote and arranged for such TV shows as "Cliffhangers," "The Milton Berle Show," "The Tycoon" and "The Gumby Special." He briefly hosted his own variety show in southern California. He also dabbled in acting, appearing in "College Capers" (1954) and "Untamed Youth" (1957) with Mamie Van Doren and Eddie Cochran.
He retired to Newport Beach, but continued to write and, occasionally, perform. He was by all accounts delighted with the recent revival of interest in exotica.
For more information about Les Baxter, check out the website dedicated to his work--www.lesbaxter.com --and The Exotic World of Les Baxter.
---
With many thanks to James L. Wolf of the Recorded Sound Division of the Library of Congress.
RCA Victor Recordings

Perfume Set To Music, RCA Victor LPM 35 (10" LP), 1949-50

Capitol Releases

Music out of the Moon, Capitol CC-47 (78 rpm album. 3-10" discs), 1947
Reissued circa 1952 on 12" LP Capitol W 390 and Capitol P 390 (side 1; side 2 is "Music for Peace of Mind." Both recordings featured compositions by Harry Revel and Therimin performances by Dr. Samuel J. Hoffman.)
Yma Sumac, Voice of the Xtabay, Capitol CD- 244 (78 rpm album, 4 10" discs), CDF- 244 (45 rpm album, 4 7" discs), H- 244 (10" LP), 1950. Reissued on 12" LP W-684 in 1956
Arthur Murray Favorites - Tangos, Capitol T-263, 1951
Ritual of the Savage, Capitol T-288, 12" LP, 1951
(with Prince De Candriano), Festival of the Gnomes, Capitol H-296,
Thinking of You, Capitol H-474, 10"LP, early 1954
The Passions, Capitol LAL-488, 10" LP in box with booklet, 1954
Arthur Murray Favorites - Modern Waltzes, Capitol H-548 (10" LP - 8 songs), T-548 (12" LP - 12 songs), late 1954
Kaleidoscope, Capitol T-594, 1955
Tamboo!, Capitol T-655, 1956
La Femme, Capitol T-10015, 1956 [Compositions by Baxter, orchestra cond. by Franck Pourcel]
Caribean Moonlight, Capitol T-733, 1956
Skins! Bongo Party with Les Baxter, Capitol T-774, late 1956 or early 1957
'Round the World with Les Baxter, Capitol T-780, early 1957
Midnight on the Cliffs, Capitol T-843, 1957
Up through this record there were later "Duophonic" (i.e. simulated stereo) reissues with a DT prefix of most of these titles, meaning all of these were recorded in mono. The following recordings, except as noted, were available in both mono and true stereo versions, stereo releases having the ST prefix.
Ports of Pleasure, Capitol (S)T-868, 1957
Space Escapade, Capitol (S)T-968, 1958
Selections from "South Pacific", Capitol (S)T-1012, 1958
Confetti, Capitol (S)T-1029, 1958
Love is a Fabulous Thing, (S)T-1088, 1958
African Jazz, Capitol (S)T-1117, 1959
Jungle Jazz, Capitol (S)T-1184, 1959
Wild Guitars, Capitol (S)T-1248, 1959
The Sacred Idol, Capitol (S)T-1293, 1960
Les Baxter's Teen Drums (S)T-1355, 1960
Baxter's Best, Capitol (D)T-1388, 1960 [in DT version, some tracks stereo, some duophonic]
Young Pops, Capitol (S)T-1399, 1960
Broadway '61, Capitol (S)T-1480, 1961
Jewels of the Sea, Capitol (S)T-1537, 1961
Wild Hi-Fi Drums, Capitol T-1553 [Wild Stereo Drums, Capitol ST-1553], 1961
Sensational, Capitol (S)T-1661, 1962
Original Quiet Village, [compilation] Capitol (D)T-1846, 1963
Sounds of Adventure, [double LP compilation], Capitol 90984, mid-late 60's
The Exotic Moods of Les Baxter, Capitol CD 37025, 1996

Reprise Recordings

Voices in Rhythm, Reprise R(S)-6036, 1962
The Primitive and the Passionate, Reprise R(S)-6048, 1962
Les Baxter's Balladeers, Reprise R(S)-6064, 1963
Academy Award Winners 1963, R9-6067, 1963
Soul of the Drums, Reprise R(S)-6100, 1963

Soundtrack Recordings

Master of the World, Vee Jay LP 4000, 1959
Alakazam the Great, Vee Jay LP 6000, 1961
Barbarian, American International LP-1001
The Dunwich Horror, American International ST-A-1028
Bora Bora, American International A-1029
Cry of the Banshee, Citadel CTV 7013
Hell's Belles, Sidewalk 5919

Alshire Recordings

Que Mango! (with 101 Strings), Alshire S-5024 (also released as Latin Holiday, Quad Spectrum QS-17)
Million Seller Hits (with 101 Strings), Alshire S-5188
Movie Themes (with 101 Strings), Alshire S-5324 1975

Other Recordings

Brazil Now, Crescendo GNP 2036
Love Is Blue, Crescendo GNP 2042
African Blue, Crescendo GNPS 2047
Moog Rock, Crescendo GNP 2053
The Forum, The River Is Wide, Mira Records MLPS 3014, 1967 (Produced, arranged, and composed 4 cuts)
Bugaloo In Brazil: Warm exotic Latin American moods - wind, voices and percussion KPM LP1070, 1970
Neil Norman, Not Of This Earth, GNP Cresendo GNPS 2111, 1978 (Composed, arranged, and plays keyboards on "Re-Entry" and "Galactic Vortex")

Compact discs

Les Baxter, Madacy CD (reissue of Que Mango!
The Best of Les Baxter, EMI/Capitol Special Products CD
By Popular Request, Dionysus/Bacchus Archives CD
Colors of Brazil/African Blue, GNP/Crescendo CD
The Exotic Moods of Les Baxter, EMI/Capitol 2CD set
The Lost Episode, Dionysus/Bacchus Archives CD
The Pop Side of Les Baxter, Collector's Choice CD
Tamboo/Skins, Collectable Records CD
---
Search for Records and CDs
New CDs
Used Records and CDs


Search GEMM for old recordings by Les Baxter.
---
S p a c e A g e P o p M u s i c
Home · Listener's Guide · The Songs · Who's Who · Liner Notes · Selected Tracks · What's New · Search
© spaceagepop 2010. All rights reserved.