---
Born 13 Sept 1925, Chicago, Illinois
Died 5 June 1999, Los Angeles, California
---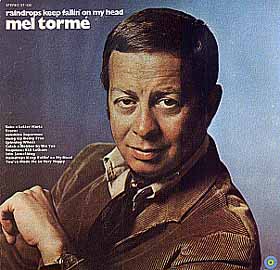 Mel Torme was among the most enduring singers from the big-band era, maligned by some as the epitome of lounge singer, acclaimed by many more as one of a talented and serious vocalist.
Legend has it that Torme began singing for his supper a Chicago restaurant when he was four and was working the vaudeville circuit soon after. He worked as a child actor on radio, and began writing songs in his early teens. In the early 1940s, he quit high school to became a boy singer (and drummer and part-time arranger) with Chico Marx's band.
His first fame coincided with Frank Sinatra's, and the two appeared together in their first film, "Higher and Higher." He wanted to be a jazz singer, "but I got sidetracked," he said. His manager "felt the way to the gold was for me to become a crooner. For a long period I was singing mushy, sentimental songs." His publicist coined the name, "The Velvet Fog," to describe his smooth style but he hated it (hecklers called him "The Velvet Frog").
In 1944, he formed his own vocal group, the Mel-Tones, which included a young Les Baxter and Henry Mancini's future wife, Ginny O'Connor. The Mel-Tones had several hits, on their own as well as paired with Artie Shaw's band. "What is This Thing Called Love?," which later became a jazz standard, was their biggest. The Mel-Tones were among the first of the jazz-influenced vocal groups, setting the direction later followed by the Hi-Los and the Manhattan Transfer.
In 1947, he broke out as a solo artist, and has stayed in fairly steady, if not spectacular, demand, since then. He had one #1 hit, "Careless Love," in 1949, and several minor hits, among them "Mountain Greenery" in 1956. He recorded several LPs in the mid-1950s with the Marty Paich Dektette, a collection of some of the best West Coast jazz performers, that are considered his best work. In 1962, he had a surprise hit with "Comin' Home, Baby," arranged by Claus Ogerman, a driving R&B-flavored number that more than a few mistook for something by Ray Charles, particular with its call-and-response bits with a female back-up group sounding remarkably similar to the Raelettes. Quincy Jones and Kai Winding both had hits with killer instrumental covers of this great tune. Ethel Waters, a great jazz and gospel singer, once said that Torme "is the only white man who sings with the soul of a black man."
Torme never stopped working on his vocal technique and he was always conscientious about protecting his voice: no smoking, only an occasional glass of wine, careful avoidance of drafts. "Before I sing I force myself to have seven or eight hours of sleep." As one writer put it, over the years, "The 'Velvet Fog' has lifted in recent years and has been replaced by a deeper, richer, more flexible sound."
Torme was always been willing to stretch out of the traditional pop standards. He recorded tunes such as "Homeward Bound," "Red Rubber Ball," and "Raindrops are Falling on My Head" in the late 1960s that either leave you in awe of his range and flexibility or cringing at his attempt to bridge a generation gap. His rendition of Donovan's "Sunshine Superman" is a highlight of Rhino's tongue-in-cheek "Golden Throats" compilation, but personally, I think his take on "Secret Agent Man" is the epitome of "spy lounge."
Torme wrote his own songs on occasion. In particular, his "The Christmas Song" ("Chestnuts roasting on an open fire, Jack Frost nipping at your nose"), first recorded in 1946 by Nat King Cole, is a true Christmas standard. He and his frequent lyricist Robert Wells wrote the song on a sweltering summer day:
I saw a spiral pad on his piano with four lines written in pencil," he recalled. "They started, `Chestnuts roasting ... Jack Frost nipping ... Yuletide carols ... Folks dressed up like Eskimos.' Bob didn't think he was writing a song lyric. He said he thought if he could immerse himself in winter he could cool off. Forty minutes later that song was written. I wrote all the music and some of the lyrics."
In all, Torme wrote over 300 songs. He also worked as an actor and writer. He had a TV talk show for a while in the '50s, and he was nominated for a best supporting actor Emmy in 1956 for a role in "The Comedian," a "Playhouse 90" production. He has also written a number of books, including a biography of drummer Buddy Rich, a remembrance of Judy Garland's disastrous television series, an autobiography, and a loving tribute to singers who influenced him, My Singing Teachers.
Torme's roughest period was in the late 1960s, when he seriously considered changing professions and becoming an airline pilot. But slowly, he rebuilt his following through a long series of club appearances. In the early 1980s, he collaborated with George Shearing on several excellent albums. "An Evening With George Shearing and Mel Torme" and "Top Drawer" earned him the Grammy for Best Male Jazz Vocalist in 1982 and 1983. Until suffering a stroke in August 1996, Torme performed constantly, moving comfortably from Las Vegas to jazz clubs to "The Simpsons." He's also known as the subject of fanatical devotion by Harry Anderson's character of the judge on the TV series, "Night Court."
My personal favorite of Torme's performances is "Ho-Ba-La-La" on his 1964 Columbia album arranged and conducted by Robert Mersey, "That's All." A true hep cat.
---
Recordings
I Wished on the Moon, Metro MS532
Comin' Home, Baby!, Atlantic SD 8069
Sunday in New York, Atlantic SD 8091
It's a Blue World, Atlantic SD 18129
With the Marty Paich Dek-Tette, Bethlehem BCP 34 FS
California Suite, Bethlehem BCP 52 FS
That's All, Columbia CS 9118
Broadway Tonight!, Columbia CS 9318
Right Now!, Columbia CS 9335
Ole Torme--Mel Torme Goes South of the Border, Verve V6 2117
My Kind of Music, Verve V6 8440
I Dig the Duke--I Dig the Count, Verve V6 8491
A Day in the Life of Bonnie and Clyde, Liberty LST 7560
Raindrops Keep Fallin' on My Head, Capitol ST 430
Songs of New York, Atlantic 80078
Christmas Songs, Telarc Jazz CS33315
---
Search for Records and CDs
New CDs
Used Records and CDs


Search GEMM for old recordings by Mel Torme.
---
S p a c e A g e P o p M u s i c
Home · Listener's Guide · The Songs · Who's Who · Liner Notes · Selected Tracks · What's New · Search
© spaceagepop 2015. All rights reserved.