---
Born 16 April 1924, Cleveland, Ohio
Died 14 June 1994, Beverly Hills, California
---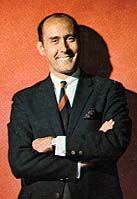 Mancini was probably the most successful film composer of his time. Between 1958 and 1964, Mancini so dominated the television and film music scene that everything else seemed to be either an attempt to clone his sound or a reaction against it. The secret to his success was simple, though: he wrote catchy tunes. If you set aside Mancini's hit tunes like "Peter Gunn" and "Moon River," you find music that's not dramatically different from, say, Elmer Bernstein's. Nelson Riddle once quipped, though, that he'd take the royalties from one Mancini song over everything he'd ever earned on his own arrangements.
Mancini was raised in the mill town of West Aliquippa, Pennsylvania. His father taught him the flute and piccolo, and after some initial resistance, gave him perhaps his biggest break ever by setting him up with lessons from Max Adkins. Adkins, a Pittsburgh concertmaster and jazz fan, was a major influence on local musicians, and among Mancini's fellow students were the great Billy Strayhorn and Joshua Feldman (later known as Jerry Fielding). Adkins encouraged Mancini's efforts and even introduced him to Benny Goodman as a potential arranger for Goodman's band. After graduating from high school, he decided to study music, and he attended the Carnegie Institute of Technology and later went to Juilliard in New York City. Among his jobs while attending Juilliard was ghosting for pianist and bandleader Vincent Lopez.
Drafted into the Army in World War Two, Mancini was able get switched from infantry to band and worked with singer Tony Martin and others. He also made connections with Glenn Miller's Army Air Corps band, although he did not serve with them. After the war, though, he was hired as a pianist and arranger by Tex Beneke, who was leading the Miller band on behalf of Miller's widow. In 1947, Mancini married Ginny O'Connor, a singer with the Miller band, who'd previously worked with Mel Torme's vocal group, the Mellolarks, and the couple settled in Los Angeles.
Mancini spent the next few years scraping by as a free-lance arranger and musician. He worked on radio shows, played in studio sessions, and took on the odd orchestration or conducting job. He even provided music for Billy Barty's vaudeville act. He hooked up with choreographer Nick Castle and provided backing arrangement for the nightclub acts of numerous Hollywood singers and actors. One such job led to his publishing the tune, "Soft Shoe Boogie" and earning his entry into ASCAP, the American Society of Composers and Performers, which would later name an annual award after him.
In 1952, Mancini was hired to do fill-in work for an Abbott and Costello movie, and ended up becoming a house arranger for Universal-International films. Much of the work was routine, but it proved an excellent school, as Mancini worked on over 100 films:
I once referred to the music department at Universal as a salt mine. But it was a good salt mine, and younger composers in film today do not have access to that kind of on-the-job training. Being on staff there I was called upon to do everything. I mean, everything. Whenever they needed a piece of source music, music that comes from a source in the picture, such as a band, a jukebox, or a radio, they would call me in. I would do an arrangement on something that was in the Universal library, or I would write a new piece for a jazz band or a Latin band or whatever. I guess in every business you have to learn the routine--in film scoring, the cliches--before you can begin to find your own way.
With his big band background, Mancini was tapped to be the lead arranger for the two best-known swing biopics, "The Glenn Miller Story" in 1954 and "The Benny Goodman Story" in 1956.

The real breakthrough came, though, on Orson Welles' film noir, "Touch of Evil," in 1958. Welles wanted a gritty, realistic tone for his film and insisted on using nothing but source music for the soundtrack. Although Mancini and Welles had virtually no interaction, the job inspired Mancini, and he convinced Universal to let him bring him some ace jazz performers--Shelley Manne, Conrad Gozzo, and Jack Costanzo--to supplement the studio players. Conflicts between Welles and his producer eventually led to the film being drastically altered from the director's cut, but Mancini always said that, "'Touch of Evil' was one of the best things I did in that period of my life. It's one of the best things I've ever done." It was also his last job for Universal.

A former editor at Universal, Blake Edwards, remembered Mancini's work on this film and asked him to write music for a television series he was now directing: "Peter Gunn." Since he was working on a small budget, Edwards asked Mancini to write for a jazz ensemble of 11 players.

Mancini's music--particularly the pounding, menacing theme--proved almost as popular as the series, and RCA rushed out an album featuring the title song and other pieces. Mancini credits Shorty Rogers for this opportunity, since he refused RCA, which first offered the recording job to him, and insisted they use the composer himself. Although television soundtracks had been released on albums before, Music from "Peter Gunn" was a phenomenon. It reached #1 on Billboard's chart, stayed there 10 weeks, and stayed on the list for the next two years. It was so successful, RCA put together a sequel soon after. Mancini received an Emmy nomination for the theme and won two Grammys for the album.

Edwards hired him to repeat the trick for his new series, "Mr. Lucky." Although the series failed, the album sold well, and Mancini won two more Grammys. The title trackm featuring a distinctive organ lead played by Buddy Cole became a popular instrumental. RCA gave him a contract to record under his own name, and his first release, Blues and the Beat, also won a Grammy.

With these successes, Mancini was able to operate as a freelancer. Beginning a long and very productive film partnership, Edwards hired him to do the music for his 1961 film, "Breakfast at Tiffany's". He and lyricist Johnny Mercer wrote "Moon River" for a reflective scene with Audrey Hepburn, and the song became a huge hit. Andy Williams' cover outsold the original, and "Moon River" eventually became one of the biggest sellers of the 1960s, with over 500 covers.

Mancini and Mercer repeated the feat in 1962 with the theme song to Edwards' "The Days of Wine and Roses." Both songs won Oscars. Mancini then provided two memorable instrumental singles for the films "Hatari" ("Baby Elephant Walk") and "The Pink Panther" ("The Pink Panther Theme"). By early 1964, Mancini had become the best known and most successful film composer around.

Mancini's knack with songwriting often overshadowed his talents as a composer. He wrote for a wide variety of genres, from western to slapstick comedy, from sensitive dramas to musicals. He often experimented with unusual instrumentation, such as a steam-driven calliope for "Baby Elephant Walk," the cymbalum in "Experiment in Terror," sitars and fuzz guitars in "Arabesque," and aboriginal percussion in his score for the television miniseries, "The Thorn Birds."

He continued to concentrate on film scoring until the early 1980s. He scored all of the Pink Panther sequels and most of Blake Edwards' other films. He also became active as a conductor, appearing with a number of symphonies and leading the Fourth of July concert on the Capitol grounds through most of the 1980s. He also recorded over 40 albums for RCA until 1978, winning a total of 20 Grammys, 7 gold records, and 4 Oscars. His cover of the "Theme from 'Romeo and Juliet'" was the #1 single of 1969 and won the Grammy for Best Song for that year.

Mancini's work has inspired many of today's generation of lounge musicians. Over 20 bands collaborated on the 1996 tribute CD, Shots in the Dark, and bands such as Oranj Symphonette, Joey Altruda, and Combustible Edison have covered and paid their own tributes to Mancini's music.
---
Recordings
The Versatile Henry Mancini, Liberty LRP 3121
The Mancini Touch, RCA Victor LSP 2101
The Blues & the Beat, RCA Victor LSP-2147
Mr. Lucky Goes Latin, RCA Victor LSP-2360
Our Man in Hollywood, RCA Victor LSP-2604
Uniquely Mancini, RCA Victor LSP-2692
The Best of Mancini, RCA Victor LSP-2693
Mancini Plays Mancini, RCA Camden CAS-2158
Concert Sound of Henry Mancini, RCA Victor LSP-2897
Dear Heart and Other Songs, RCA Victor LSP-2990
Theme Scene, RCA Victor LSP-3052
Debut Conducting the Philadelphia Orchestra, RCA Victor LSP-3106
The Best of, Vol. 3, RCA Victor LSP-3347
The Latin Sound of Henry Mancini, RCA Victor LSP-3356
Pure Gold, RCA Victor LSP-3667
Mancini Country, RCA Victor LSP-3668
Mancini '67, RCA Victor LSP-3694
Music of Hawaii, RCA Victor LSP-3713
Brass on Ivory, RCA Victor LSP-3756
A Warm Shade of Ivory, RCA Victor LSP-3757
Big Latin Band, RCA Victor LSP-4049
Six Hours Past Sunset, RCA Victor LSP-4239
Theme music from Z & Other Film Music, RCA Victor LSP-4350
Big Screen-Little Screen, RCA Victor LSP-4630
Music from the TV Series "The Mancini Generation", RCA Victor LSP-4689
Brass, Ivory & Strings (with Doc Severinsen), RCA APL1-0098
The Theme Scene, RCA AQLI-3052
Country Gentleman, RCA APD1-0270 (Quadraphonic)
Hangin' Out, RCA CPL1-0672
Symphonic Soul, RCA APD1-1025 (Quadraphonic)
Mancini's Angels, RCA CPL1-2290
(with Johnny Mathis), The Hollywood Musicals, Columbia FC 40372
The Pink Panther Meets Speedy Gonzales, Koch Schwann CD
The Legendary Henry Mancini, BMG Australia 3 CD set
Soundtrack albums

Music from Peter Gunn, RCA Victor LSP 1956
More music from Peter Gunn, RCA Victor LSP 2040
Music from Mr. Lucky, RCA Victor LSP 2198
Breakfast at Tiffany's, RCA Victor LSP-2362
Experiment in Terror, RCA Victor LSP-2442
Hatari!, RCA Victor LSP-2559
Charade, RCA Victor LSP-2755
The Pink Panther, RCA Victor LSP 2795
The Great Race, RCA Victor LSP-3402
Arabesque, RCA Victor LSP-3623
What Did You Do in the War, Daddy?, RCA Victor LSP-3648
Two for the Road, RCA Victor LSP-3802
Gunn, RCA Victor LSP-3840
The Party, RCA Victor LSP-3997
Me, Natalie, Columbia OS 3350
Visions of Eight, RCA Victor ABL1-0231
The Great Waldo Pepper, MCA 2085
---
Search for Records and CDs
New CDs
Used Records and CDs


Search GEMM for old recordings by Henry Mancini.
---
S p a c e A g e P o p M u s i c
Home · Listener's Guide · The Songs · Who's Who · Liner Notes · Selected Tracks · What's New · Search
© spaceagepop 2015. All rights reserved.