---
Born 24 Sept 1922, Chicago, Illinois
---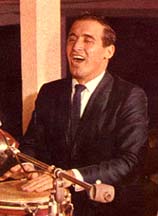 Like Cal Tjader, Costanzo started as a dancer, touring as a team with his wife before World War 2. After his discharge from the Navy, he worked as a dance instructor at the Beverly Hills Hotel when Latin band leader Bobby Ramos heard him playing bongos in a jam session and gavie his a job. Through the end of the 1940s, Costanzo worked with a number of Latin bands, including a revived version of the Lecuona Cuban Boys, Desi Arnaz, and Rene Touzet.
Costanzo's first real fame came when he joined the Stan Kenton Orchestra in 1947. Ace Kenton arranger Pete Rugolo wrote "Bongo Riff" to showcase Costanzo's talents. Costanzo was a featured soloist on a number of other Kenton recordings from this period, including "Chorale for Brass, Piano, and Bongo," "Fugue for Rhythm Section," "Unison Riff," "Journey to Brazil," and "Harlem Holiday."
He left Kenton to work with Nat King Cole from 1949 to 1953, when he became a studio musician. Among the more noteworthy recordings he played on were Nat King Cole's last straight jazz recording, "After Midnight" (on which Juan Tizol also appears), and "Mucho Calor," an influential West Coast jazz collaboration featuring compositions by Bill Holman and Johnny Mandel and solo work by Art Pepper. During the bongo craze, Costanzo was hired by several different labels to record albums under his own name that spotlighted his bongo and conga work. Costanzo also acted occasionally, appearing in the television series "Staccato" and movies such as "Thrill in Brazil" and the Jerry Lewis version of Gore Vidal's "Visit to a Small Planet."
---
Recordings
Mr. Bongo Plays in Hi-Fi, Tops 1564
Latin Fever, Liberty LRP-3093
Bongo Fever, Liberty LRP-3109
Afro Can Can, Liberty LRP-3137
Learn--Play Bongs, Liberty LRP-3177
Naked City, Liberty LST-7195
Cha Cha Cha, Clarity 804
Bongo Cha-Cha-Cha!, Golden Tone C 4061
Bongo Fever!, Sunset SUS-5134
Mr Bongo Has Brass, Zephyr 12003
Jack Costanzo and His Afro Cuban Band, GNP Crescendo GNP-19
Vivo Tirado, GNP Crescendo GNPS 2057
Mr. Bongo Afro Cuban Band, Palladium PLP 126
---
Search for Records and CDs
New CDs
Used Records and CDs


Search GEMM for old recordings by Jack Costanzo.
---
S p a c e A g e P o p M u s i c
Home · Listener's Guide · The Songs · Who's Who · Liner Notes · Selected Tracks · What's New · Search
© spaceagepop 2015. All rights reserved.