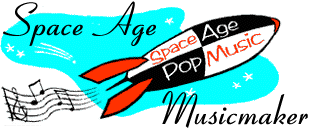 Pete Rugolo
---
Born 25 Dec 1915, Patti, Sicily
---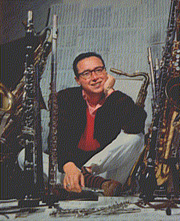 Rugolo's parents emigrated to the US in 1920 and settled in Santa Rosa, California. He followed his father's example and started in music playing the baritone, but quickly picked up other instruments, including the French horn and piano. He took a bachelor's degree in music at San Francisco State College and then studied composition with Darius Milhaud at Mills College in Oakland (as did Dave Brubeck after the war). Veteran jazz trombonist and studio musician Milt Bernhart has said that "Pete is without question Milhaud's prime disciple. To call what Rugolo has written 'jazz' would be somewhat off-base. I would call it 'good' and leave it at that.
After graduating, he was hired as an arranger and composer by guitarist and band leader Johnny Richards. Drafted in 1942, he spent most of his time in an Army band at Fort Scott in San Francisco, playing alongside later Brubeck cohort Paul Desmond. He went to work full-time for Kenton after his discharge in 1945, and in the following 4 years, wrote some of Kenton's most famous and innovative arrangements.
In 1949, he was hired by Capitol Records to be its East Coast music director, and had great success as an arranger and A&R man, backing Nat King Cole, Mel Torme, June Christy, Woody Herman, Peggy Lee, and others. He also produced serious jazz recordings by Lennie Tristano and others. He came up with the title for the legendary Miles Davis/Gil Evans/Gerry Mulligan recording, "The Birth of the Cool."
Rugolo left Capitol and moved to Hollywood, where he served as a staff composer and arranger for MGM studios and as musical director for Mercury Records. His main focus became scoring for movies and television, but he briefly attempted to lead a touring band as well. Like Henry Mancini and Elmer Bernstein, he was in constant demand by the studios, but like Mancini, he was also able to negotiate a recording contract--with Mercury in his case--that allowed him to release a series of LPs featuring his own arrangements and compositions. In his own recordings, Rugolo was enjoyed experimenting with odd combinations of instruments, as the titles of his Mercury LPs suggest.
Rugolo's TV work ranks up with the best of his era. Among the series he scored for were "The Thin Man," "Richard Diamond," "The Stranger," "The Fugitive," "Run for Your Life," "Lie Detector," "Felony Squad," and "Family." He won an Emmy for his scoring work on the rotating doctor-lawyer-adventurer series, "The Bold Ones." He also wrote scores for the films "Glory Alley," "The Strip," "Easy to Love," Jack the Ripper," "The Sweet Ride," and "Everything I Have is Yours."
By the early 1960s, studio work consumed all of Rugolo's energies, and he stopped recording except for soundtrack albums. He recently came out of semi-retirement to compose and conduct the score for "This World, Then the Fireworks," and otherwise-unsuccessful adaptation of a Jim Thompson novel.
---
Recordings
Les Baxter's"The Passions" featuring Bas Sheva, Capitol LAL 486 (Rugolo was uncredited arranger and orchestrator)
Adventures in Rhythm, Columbia CL-604
Introducing Pete Rugolo, Columbia CL-635
Rugolomania, Columbia CL-689
New Sounds, Harmony HL-7003
Reeds in Hi-Fi, Mercury MG-20260
Brass in Hi-Fi, Mercury MG-20261
Gigi, Mercury MG-20367
TV's Top Themes, Mercury MG-20706
Music for Hi-Fi Bugs, Mercury MG-36082
Percussion at Work, Mercury MG-36122
Plays Kenton, Mercury MG-36143
The Music from "Richard Diamond," Mercury MG 36162
Out on a Limb, Mercury MG-36225
Music from Out of Space, Mercury SR 60118
An Adventure in Sounds--Reeds, Mercury MG 60039
An Adventure in Sounds--Brass, Mercury MG 60044
10 Trombones Like 2 Pianos, Mercury PPS 2001
10 Trumpets and 2 Guitars, Mercury PPS 2016
10 Saxophones and 2 Basses, Mercury PPS 2023
Behind Brigitte Bardot, Warner Brothers WBS-8001
Soundtracks
Jack the Ripper, RCA Victor LSP-2199
Thriller, Time Series 2000 52034
The Sweet Ride, 20th Century Fox S4198
This World, Then the Fireworks, Varese Sarabande VSD-5860
With the Four Freshmen
Four Freshmen/Five Trombones, Capitol T683 (arrangements)
Four Freshmen/Five Saxes, Capitol T844 (arrangements on Side 1)
Voices in Latin, Capitol T 922
More 4 Freshmen and 5 Trombones, Capitol T 2168
With Patti Page
In the Land of Hi Fi, Mercury SR 80000
The East Side, Mercury SR 60114
The West Side, Mercury MG 36136
With Billy Eckstine
Billy Eckstine's Imagination, Mercury MG 36129
With Ruth Olay
Olay!, Mercury SR 60085
With June Christy
Something Cool, Capitol T 516
The Misty Miss Christy, Capitol T 725
June, Fair and Warmer!, Capitol T 833
Gone for the Day, Capitol T 902
This is June Christy, Capitol T 1006
The Song is June, Capitol T 1114
Recalls Those Kenton Days, Capitol T 1202
Off Beat, Capitol T 1498
This Time of the Year, Capitol T 1605
---
Search for Records and CDs
New CDs
Used Records and CDs


Search GEMM for old recordings by Pete Rugolo.
---
S p a c e A g e P o p M u s i c
Home · Listener's Guide · The Songs · Who's Who · Liner Notes · Selected Tracks · What's New · Search
© spaceagepop 2015. All rights reserved.