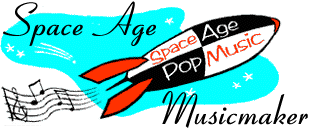 Stan Kenton
---
Born 19 February 1912, Wichita, Kansas
Died 25 August 1979, Los Angeles, California
---
It looks like Stan Kenton's reputation has finally outlasted the criticisms of those who considered him a pox on the house of jazz. Instead, Kenton is now recognized as an innovator who remained amazingly open and supportive of a wide variety of performers, arrangers, composers, and styles, and one of the main reasons big band music survived the 1960s and 1970s.
Kenton moved with his family to Los Angeles as a child, and began performing and arranging professionally with local bands in his late teens. After a few years working with several different bands, he formed his own group in 1941. The group soon garnered a lot of attention for its performances at the Rendezvous Ballroom in Balboa Beach, and released a few singles on Decca. His big breakthrough came in 1943, however, with his theme song, "Artistry in Rhythm," which was one of Capitol Records' first releases. Kenton hired vocalists to round out the band's repertoire, among them the great jazz singers Anita O'Day and June Christy, and his vocal numbers like "And Her Tears Flowed Like Wine" and "Tampico" sold very well. He hired Pete Rugolo as an arranger, and by 1945, the band was one of the leading groups in the business.
Kenton stood out from the crowd with his focus on the music as something other than a background for dancing. In fact, his appearances became famous for the cluster of fans who stood in from of the bandstand for the entire show, never once attempting to dance. Kenton's soloists, who included Art Pepper, Shelly Manne, and Kai Winding, and even his arrangers developed their own fan clubs.
Kenton had to fold the group in 1947 when he suffered from a brief illness, and he stayed off the road until 1950. This time, he took on the challenge of exploring new musical territory with a relish. He added a string section, titled his show "Innovations in Modern Music," and made a point of avoiding dance halls on his tour stops. Chris Connor and Ann Richards (who later married Kenton) replaced Christy and O'Day, and Kenton championed composers such as Bob Graettinger, who attempted to develop a musical style that combined jazz and modernist classical music, and Gene Roland, Johnny Richards, Bill Russo, Bill Holman, and Shorty Rogers. Not everyone applauded Kenton's experiments, however. Music critic John S. Wilson panned one of Kenton's albums from this period as "appallingly pretentious pap."
Kenton loved Latin music, and he brought Latin tunes, themes, musicals, and styles into his band. Laurindo Almeida, Jack Costanzo, Mike Pacheco, and Carlos Vidal all played with Kenton, and one of his most famous albums, Cuban Fire is a blazing session of Latin tunes and Johnny Richard originals.
As his big band competition disappeared in the late 1950s, Kenton carried on, rising to the top of the Playboy jazz All Stars list of bandleaders in 1962. Even more noteworthy is the number of Kenton alumni who showed up in Playboy's lists: 41!
One reason Kenton topped the list in 1962 is that he stayed on the road years after most of the other bands gave it up. In 1961, Time Magazine followed Kenton and his band through a grueling 24 hours on the road in the Midwest:
At 3:30 AM the bus stopped at an all-night diner for a 45 minute breakfast break (the band hadn't eaten since 6 PM). By 9:30 AM the bus was within "4 hands" of Cleveland (distances are invariably measured in poker hands) and the bandsmen hoped they might have time for some sleep before the concert. As it turned out, they had time only for showers before piling out into 90-degree heat into a big tent where they were to play. For all that, the band blew its lungs out for 2 hours: in such numbers a "Malaguena" and "Waltz of the Prophets," it produced the most exciting big band sound around.
Kenton was never one to take the safe road to success if it didn't suit his musical drive, though, and the very next thing he tackled was a country-Western album with the venerable Tex Ritter (with Alvino Rey sitting in to provide the right touch with his console steel guitar)! The result was an utter flop: both Ritter and Kenton's fans hated it. Ironically, Kenton said he'd been planning it for years, hoping to get Red Foley to do it. He said his goal was to "break down some of the bigotry in music." Unfortunately, though, as he recalled, the typical response was, "How come that thing with Tex? What the hell were you thinking about?"

Soon after that, he followed up with an even bigger musical belly flop, the dreaded Kenton/Wagner, which featured a 25-piece group tackling Johnny Richards arrangements of themes from Richard Wagner's operas, including "Ride of the Valkyries." To a jazz fan, this is one of the most execrable recordings in the archives. To space age pop fans, of course, its morbid allure is almost irresistable, although it's the kind of record you love to have in your collection but keep far away from the turntable.

By the mid-1960s, the audience for big band music had largely dried up, and most bands folded, trimmed down to an affordable combo, or attempted resuscitation by appealing to the rock audience. Kenton, on the other hand, just started rowing harder against the current. Shorty Rogers recalled,
I have him in my mind as kind of the Keeper of the Flame. There was nothing going on at that time; even Count Basie had cut down to a quintet or sextet. Big bands were just folding up and disappearing, and that was when Stan decided to do one of his most ambitious things.
Kenton formed "The Neophonic Orchestra" in late 1964 and held a series of concerts at the Los Angeles Music Center. Kenton attracted some of the finest players and composers in Los Angeles, many of them seeing the venture as a refreshing break from the studio grind. The list of composers who contributed original pieces to the orchestra's 1966 season is pretty amazing: Marty Paich, Oliver Nelson, Pete Rugolo, Hugo Montenegro, Lalo Schifrin, Bill Holman, Russ Garcia, Nelson Riddle, Dizzy Gillespie, Claus Ogerman, Shorty Rogers, Gerald Wilson, Ralph Carmichael, Bob Florence, Van Alexander, Gil Melle, Mel Torme, George Shearing, Frank Comstock, Lennie Neihaus, and Bob Cooper. Sadly, only one recording of the orchestra was ever released, and the effort died in late 1966, leaving Kenton over $30,000 poorer for it.

He recorded several more albums, most of current pop material, for Capitol, including a version of "Hair" arranged by Carmichael. But in 1970, frustrated by the label's lack of support for his more adventurous material, Kenton negotiated a unique arrangement that gave him the right to reissue his Capitol recordings under his own label, Creative World. Creative World marketed to the small but loyal audience of fans who continued to support big band music--and audience beginning to be reinforced by a new generation of fans who came to know it through high school jazz bands.

Although Kenton was often criticized, unfairly, for being too serious to swing (by which it followed, by implication, that his music don't mean a thing), he had a deep sense of humor. He could make fun of his own stiff image, aided, in fact, by a straight-faced, deadpan delivery, as in this ad-lib from a 1970 London concert captured on Stan Kenton Today:
I haven't been here since '63. Four years of that time, I was in the penetentiary. Then I ... someone turned me on to a new kind of drink called bourbon and clorox. I tried that for three years.
One of Kenton's unsung contributions to jazz was his long-standing support of high school and college musicians and ensembles. He began collaborating with schools, attending workshops at which he and his musicians would tutor younger musicians. I had the great fortune of attending one of these myself in 1973. While the popular recording world had left the form behind, these school ensembles and workshops developed hundreds of performers, arrangers, and composers who would go on to become professional musicians. Some of the biggest names in jazz today (including, I hate to say it, Kenny G.) came out of this movement.

Kenton continued to keep a touring band going until the mid-1970s, when his health began to fail. He released 3-4 new albums a year on Creative World, often recordings of concerts at schools such as Redlands University. His last public appearance, at California State University at Northridge, was a reunion of many of his former bandmembers, including Milt Bernhart, Laurindo Almeida, Lennie Neihaus, and Richard Maltby. He suffered a massive stroke in August 1979 and died a week later. One of the true nobility of jazz and space age pop.
---
Recordings
Encores, Capitol T-155
Artistry in Rhythm, Capitol T-167
A Concert In Progressive Jazz, Capitol T-172
Innovations In Modern Music, Capitol W-189
Stan Kenton Presents, Capitol T-248
Stan Kenton Classics, Capitol T-358
New Concepts in Artistry in Rhythm, Capitol T-383
Popular Favorites, Capitol T-421
Skethces on Standards, Capitol T-426
Portraits of Standards, Capitol T-462
The Kenton Era, Capitol WDX-569
Duet: Kenton/Christy, Capitol T-656
Contemporary Concepts, Capitol T-666
Stan Kenton in Hi Fi, Capitol W-724
Cuban Fire!, Capitol T-731
Kenton with Voices, Capitol T-810
Rendezvous with Kenton, Capitol T-932
Back to Balboa, Capitol T-995
The Ballad Style Of Stan Kenton, Capitol ST-1068
Lush Interlude, Capitol ST-1130
The Stage Door Swings, Capitol T-1166
The Kenton Touch, Capitol ST-1276
Viva Kenton!, Capitol SW-1305
Kenton Live From The Las Vegas Tropicana, Capitol ST-1460
The Modern Touch, Capitol ST-1533
Standards in Silhouette, Capitol ST-1394
Kenton's West Side Story, Capitol ST-1609
A Merry Christmas!, Capitol ST-1621
Stan Kenton & Tex Ritter, Capitol ST-1757
Adventures in Jazz, Capitol ST-1796
Adventures in Time, Capitol ST-1844
Artistry in Bossa Nova, Capitol ST-1931
Adventures in Blues, Capitol ST-1985
Artistry in Voices and Brass, Capitol ST-2132
Kenton/Wagner, Capitol ST-AO 2217
Stan Kenton's Greatest Hits, Capitol DT-2327
Stan Kenton Conducts the Los Angeles Neophonic Orchestra, Capitol ST-2424
Stan Kenton Plays for Today, Capitol ST-2655
Stan Kenton Today, London Phase 4 SP-44179-80
---
Search for Records and CDs
New CDs
Used Records and CDs


Search GEMM for old recordings by Stan Kenton.
---
S p a c e A g e P o p M u s i c
Home · Listener's Guide · The Songs · Who's Who · Liner Notes · Selected Tracks · What's New · Search
© spaceagepop 2015. All rights reserved.