---
Born Alvin McBurney, 1 July 1908, Oakland, California
Died 23 February 2004, Salt Lake City
---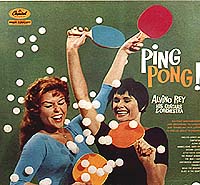 If all you knew of Alvino Rey was seeing him on the King Family variety show--possibly the only show on television more whitebread than Lawrence Welk's, you'd never guess there was a hep cat's heart beating inside his stolid exterior. But Alvino Rey's is a name to be remembered by exotica fans.
He began performing under his own name, playing guitar with sweet bands like Russ Morgan's, Freddy Martin's, and Horace Heidt's. He became a star of Heidt's band when he began playing the steel guitar, which he later modified and came to call the console guitar. He changed his name to Alvino Rey and struck out on his own in 1939, taking with him Heidt's trio of singing King Sisters, having married Louise King a few years earlier.
In 1942, he reshaped his band, anticipating Stan Kenton with a huge brass section and six saxophones. Although this band quickly failed when the musician's union imposed its recording ban in 1943, included future arrangers Ray Conniff, Neal Hefti, Billy May, and Johnny Mandel. His sax section included Al Cohn, Zoot Sims, and Herbie Stewart, who went on to form 3/4ths of Woody Herman's famous "Four Brothers" line-up. This band did make a couple of quickie musicals for Hollywood, but by the end of 1943, Rey was out of business, working as a mechanic in the Lockheed aircraft factory in Burbank.
He joined the Navy in 1944 and was assigned to lead a service band. After he separated in 1946, he formed another band, which earned a contract with Capitol and placed a few numbers like "Cement Mixer" in the pop charts. He broke up this band around 1950 as the interest in big bands began to fade, and he performed with a smaller combo, mostly in the Southern California area, sometimes with his brother-in-law, Buddy Cole, throughout the 1950s.
In the early 1960s, Rey and the King Sisters put together a concept for a variety show aimed squarely at the middle of the road, featuring lots of patriotic and spiritual numbers, and "The King Family Show" ran for over 5 years. Rey produced a number of albums featuring the sisters and other ensembles from the show. Avoid these LPs at all costs.
Rey and Louise moved to Salt Lake City in the early 1990s. He formed a quartet that played jazz in small venues in the Salt Lake City area in the mid-1990s, and Louise would occasionally sit in, billed as "girl singer." She died in 1997.
For exotica fans, Rey's greatest fame is as one of the pivotal session men of exotica. The other worldly Theremin-like sounds he coaxed from his console guitar were sought out by Esquivel, George Cates, and others. Rey also played alongside Jack Costanzo, Irv Cottler, Emil Richards, and Jimmy Rowles in the Surfmen, a session-man supergroup that recorded three albums of killer Martin Denny knock-offs for budget labels Alshire and Somerset.
Be sure to check out Dana Countryman's King Sisters page.
---
Recordings
The Uncollected Alvino Rey (and his Orchestra 1946) Vol. 1, Hindsight HSR 121
The Uncollected Alvino Rey (and his Orchestra 1946) Vol. 2, Hindsight HSR 167
The Uncollected Alvino Rey (and the King Sisters) Vol. 3, Hindsight HSR 196
Spotlight on Alvino Rey, Joyce 4012
Swingin' Fling, Capitol ST-1085
Ping-Pong!, Capitol ST-1262
That Lonely Feeling, Capitol ST-1395
As I Remember Hawaii, Dot LP
Refreshing Melodies, Sacred LP-78007
Dance with Me, Alysa Records R-1000
---
Search for Records and CDs
New CDs
Used Records and CDs

<! -- here GEMM code starts>

Search GEMM for old recordings by Alvino Rey.
---
S p a c e A g e P o p M u s i c
Home · Listener's Guide · The Songs · Who's Who · Liner Notes · Selected Tracks · What's New · Search
© spaceagepop 2015. All rights reserved.