---
Born 29 October 1922, Hastings, Nebraska
Died 11 October 2008, Los Angeles, California
---
Sent home by Woody Herman when he tried to join Herman's Herd while still in high school, Hefti won performance competitions as a trumpeter and moved to New York City after graduation. Charlie Barnet hired him in 1940, but Hefti didn't hang around long, and over the next few years, he was in and out of Muggsy Spanier's, Earl Hines', Bobby Byrne's, and Charlie Spivak's bands. He quickly took up arranging as well, and one of his first pieces, "Pin Up Girl," was a hit for Horace Heidt.
He finally did get to work with Herman in 1944, and he became a "name" arranger of the late swing era with numbers like "The Good Earth" and "Wild Root". He moved to Los Angeles and worked in radio for a short while, then returned to the Herman Herd. After marrying Herman's lead girl singer, Frances Wayne, Hefti went back to Hollywood, but within a year, he was back on the road, touring with Harry James. In 1951, he formed his own band with Wayne as lead vocalist, but despite critical acclaim, the band barely broke even, and Hefti called it quits in 1953, returning to the security of arranging and taking studio work.
Among jazz fans, Heft is best remembered for his work with Count Basie's "New Testament" band--the big band he formed in the mid-1950s following a break of several years of working with just a small combo. Hefti actually began writing original compositions and arrangements for Basie during the small-group period, but his pieces such as "Little Pony," "Splanky," "Cute," "The Kid from Red Bank"--featured on the legendary The Atomic Mr. Basie album--have become jazz standards. "Lil Darlin'," which Basie slowed down even more than Hefti had intended, turning it into a languid, sexy slink, is probably the best known of his compositions next to "Batman." John Hendricks applied lyrics to "Little Pony" and it became one of Lambert, Hendricks, and Ross' biggest hits. Hefti also earned his place in the Politically Incorrect Hall of Fame by penning the unforgettably awful "Girl Talk" with Bobby Troup.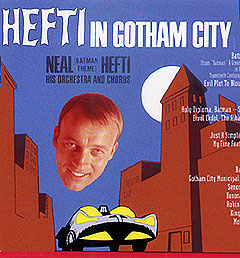 Hefti also recorded an occasional studio album during the late 1950s and early 1960s, while living in New York City. Two featured the Ray Charles Singers in arrangements of his own (Pardon My Doo-Wah) and others' (Singing Instrumentals) hits from the swing era. Both are wonderfully light and effervescent and rate among some of the very best vocal group albums.
While working as a producer for Reprise, Hefti worked with Frank Sinatra on two albums: Sinatra and Swingin' Brass and Sinatra-Basie: An Historic Musical First. Hefti didn't really care for the experience, though: "... When you tell me, 'Do this and have it tomorrow [Sinatra rarely planned recordings more than a few weeks in advance] and that's that,' I never liked that process. To me, it's like an order." Hefti never worked with a singer after these albums.
Hefti enjoyed tremendous popular success as a writer for film and television during the 1960s. His title theme for the series Batman is by far his best-known piece of work. Although Nelson Riddle and others actually did most of the scoring for the individual episodes, Hefti was hired to write the theme. It's rock-em, sock-em, power-packed go go music that's aged better than just about anything else from the show. Both Hefti's own Batman album and his Hefti in Gotham City albums are must-haves for now sounds fans.
Hefti really struggled with the tune. "Hardest piece I ever wrote," he later commented. "I agonized over it for six weeks." "I couldn't get inspired (to do the song)," he says. "I'd watched two hours of film footage and thought, 'This is the campiest thing I've ever seen.' But then I felt what I was writing was not as good as the show. I never had a moment of 'Eureka!'" When he met with the show's producers, he went "... reluctantly, apologetically, shuffling my feet and looking like Tom Sawyer. I thought they would throw it back in my face." Once the tunes' success was proved by reaching the pop Top 40 charts and winning the Grammy for Best Instrumental Song of 1966, Hefti could breathe a little easier. He carried the style over into his score for O Dad, Poor Dad!--"This is Mother" sounds like an outtake from Batman.
In the 1970s, his theme for the movie, The Odd Couple was reprised for the television series, and it remains one of the best-remembered of that era.
---
Recordings
Coral Reef, Coral CRL-56083
The Hollywood Song Book, Coral CRL-57241
Music, U.S.A., Coral CRL-757256
A Salute to the Instruments, Coral CRL-757286
The Young at Bop, Emarcy 26001
Leisurely Loveliness, Movietone 72006
Presenting Neal Hefti and his Orchestra, Vik LX-1039
Concert Miniatures, Vik LX-1092
Light and Right, Columbia CS 8316
Hefti Hot 'n' Hearty, Epic LN-3187
Singing Instrumentals, Epic LN-3113
Pardon My Doo-Wah, Epic LN-3210
Themes from TV's Top 12, Reprise LP
Jazz Pops, Reprise R9-6039
Definitely Hefti, United Artists UAS 6573
Hefti in Gotham City, RCA Victor LSP-3621

Soundtrack albums

Barefoot in the Park, Dot DLP 25803
Boeing Boeing, RCA Victor LSO-1121
O Dad, Poor Dad, Mom's Locked You in the Closet and I'm Feeling So Sad, RCA Victor LSP-3750
How to Murder Your Wife, United Artists UAS 5119
Lord Love a Duck, United Artists UAS 5137
Duel at Diablo, United Artist UAS 5139
Sex and the Single Girl, Warner Brothers WBS-1572
Harlow, Warner Brothers WBS-1599
Synanon, Liberty LST-7413
The Odd Couple, Dot DLP-25862
---
Search for Records and CDs
New CDs
---
S p a c e A g e P o p M u s i c
Home · Listener's Guide · The Songs · Who's Who · Liner Notes · Selected Tracks · What's New · Search
© spaceagepop 2015. All rights reserved.