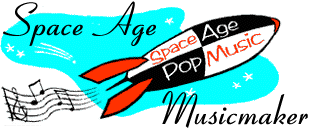 Ray Conniff
---
Born John R. Conniff, 6 November 1916, Attleboro, Massachusetts
Died 12 October 2002, Escondido, California
---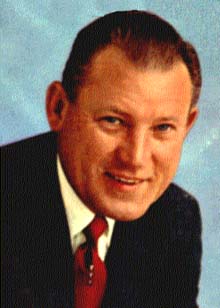 If Mantovani is the epitome of elevator music, Ray Conniff is the epitome of supermarket music. Like Liberace and others among these lists, Conniff made a conscious choice to stick with a formula that guaranteed commercial success. But the quality, and at times, the humor, of his work shouldn't be disregarded.
Conniff first became known as one of the best trombonists of the big band era. He played with Bunny Berigan, Bob Crosby, Art Hodes, and Artie Shaw, and several of his solos are still cited as some of the best of the period. Having studied arranging through a correspondence course, he also contributed occasional arrangements to all three bands.
After serving in the Army in World War II, which included working under composer and arranger Walter Schumann, he joined Harry James' band as an arranger, but quit and moved to Hollywood to get steadier work that would support his wife and three kids. He bumped around the studios for a few years until Mitch Miller hired him as a house arranger with Columbia in 1951. He mainly did fill-in work for other arrangers until Miller asked him to arrange a single, "Band of Gold," for crooner Don Cherry (no relation to the jazz trumpeter who worked with Ornette Coleman). Conniff used a tightly harmonized chorus in place of a string section, and the sound was an instant hook, taking the single to #5 on the Top 40 and giving Cherry his biggest hit.
Finally, in 1956, Columbia decided to try out Conniff as a featured performer with his first LP, "S'Wonderful." He combined a chorus of four men and four women with an traditional big band mix of 18 instruments, including guitarists Al Caiola and Tony Mottola. "S'Wonderful" was one of the best-selling instrumental albums of the time, and Columbia contracted for more of the same. Conniff's formula was to substitute the women's voices for the trumpet section from a fairly standard big band arrangement and the men's voices for the sax section. At first, these were wordless vocals that backed the melody, but he quickly moved them to the front, giving them the melody and often the words.
Conniff recorded with two groups: his "Orchestra and Chorus" and his "Singers." The former was a typical big band line-up of saxes, trumpets, trombones, and rhythm section and a chorus of four men and four women. The latter was a chorus of 25 singers--12 women and 13 men--with minimal instrumental backing. As described in a 1962 McCall's article,
In effect, these singers "play" their voices as though they were instruments ... more like subtly fluted woodwinds than singing.
Despite his reputation as an easy-listening artist, Conniff did not use a string section until his most recent CD. Conniff's use of the vocal chorus influenced many other arrangers and established a solid following for later groups such as the Anita Kerr Singers and the Johnny Mann Singers to profit from. I suspect his "do-do-do" vocals were also an inspiration for Esquivel's "zu-zu-zu" effects.

Conniff produced 25 straight Top 40 LPs for Columbia during the 1950s and 1960s. Although the first were strictly compilations of standards, he began introducing current pop hit songs in the late 1950s and within a few years had made these the mainstay of his repetoire.

For as much as his work is maligned, Conniff doesn't deserve the bad rap. He never took his work too seriously--on the same album as his biggest--and one of his drippiest--singles, "Somewhere My Love" (an adaptation of Maurice Jarre's "Lara's Theme" from "Doctor Zhivago") is faithfully silly cover of Rolf Harris' immortal "Tie Me Kangaroo Down, Sport." He was also a risk-taker in his private life: in his mid-50s, he got interested in off-the-road racing and ended up competing in several Baja 500 races.

His willingness to take on just about any material is impressive--or frightening, depending on your perspective. He loves to tinker with the classics, and has released at least three albums of adaptations of classical pieces. He'll cover whatever's popular at the moment, which creates some striking contrasts as we move into the 1970s: On You Are the Sunshine of My Life, we find his interpretation of "Dueling Banjos" opposite a bubbling take on Strauss' "Also Sprach Zarathustra," titled "Bah Bah Conniff Sprach." He can ingest musical styles and content ranging from "I Write the Songs" to the "Theme from 'Shaft'" and produce a consistency of output rivaling an industrial shredder. Being able to achieve essentially the same musical effect whether the source is Beethoven's "Fur Elise" or "The Night the Lights Went Out in Georgia" is something else. I leave it to you to decide just what that something is.

Conniff's singers were usually an anonynmous bunch of session singers, but a couple of Hollywood's better-known studio vocalists get cover credits, particularly on later albums. In the 1960s, Loulie Jean Norman and B.J. Baker were Conniff regulars, and from around 1970 on, Jackie Ward usually took the rare solos. Among the men, Jay Meyer assisted as conductor in the 50s and 60s, and John Bahler and Ron Hicklin, who also had a hand in the Love Generation, the Partridge Family, and other studio soft pop vocal group creations, came on board in the late 60s and early 70s. Conniff himself was his favorite soloist, but he credited a few other instrumentalists. The trumpet appears to have been his next favorite instrument, and he featured Bernie Glow in the 50s, Conrad Gozzo, Dick Cathcart, and Ollie Mitchell in the 60s, and John Best from the 70s on. West Coast jazz vets Jimmy Rowles and Pete Jolly, along with Welk vet Bob Ralston and Bobby Hammack, handled most of the keyboard duties, although Conniff loved to toss in his own clavietta solos. Jolly was still working with him in the late 90s. And powering his heavyweight strolling "Happy Beat," Al Hendrickson provided the strong rhythm guitar through dozens of albums.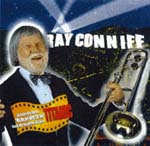 Conniff continued to produce a steady stream of albums, although with fewer sales than before. Like Percy Faith, he was particularly inspired by Latin music and released several albums with Spanish language versions of popular hits. One of his later CDs, marking his 40th anniversary as a recording artist, featured Latin numbers and styles as well as an adaptation of "The Chorus of Slaves" from Verdi's opera "Nabucco" and Ray's own trombone solos--not bad for an 80 year-old guy.
Conniff has an active international fan club that meets holds an annual convention he usually attends and performs at. His first use of a string section after all these years was at the 1995 convention in Basel, Switzerland. He worked and played at a pace to put most of us to shame right until the end, playing concerts in Brazil less than a year before his death. In one of his last appearances, he performed "Somewhere My Love" at the wedding of David Gest and Liza Minnelli in March 2002.
---
Recordings (all on Columbia unless otherwise indicated)
S'Wonderful, CL 925
Dance the Bop, CL 1004
S'Marvelous, CL 1074
S'Awful Nice, CS 8001
Concert in Rhythm, CS 8022
Broadway in Rhythm, CS 8064
Hollywood in Rhythm, CS 8117
It's the Talk of the Town, CS 8143
Conniff Meets Butterfield, CS 8155
Christmas With Conniff, CL-1390/CS-8185
Young at Heart, CS 8281
Say It With Music, CS 8282
Memories Are Made of This, CS 8374
Somebody Loves Me, CS 8442
So Much in Love, CS 8520
S'Continental, CS 8576
Rhapsody in Rhythm, CS 8678
We Wish You A Merry Christmas, CL-1892/CS-8692
The Happy Beat, CS 8749
You Make Me Feel So Young, CS 8918
Speak To Me of Love, CS 8950
Friendly Persuasion, CS 9010
Invisible Tears, CS 9064
Love Affair, CS 9152
Here We Come A Caroling, CL-2406/CS-9206
Happiness Is, CS 9261
World of Hits, CS 9300
Somewhere My Love, CS 9319
This Is My Song, CS 9476
Hawaiian Album, CS 9547
It Must Be Him, CS 9595
Honey, CS 9661
Turn Around Look At Me, CS 9712
I Love How You Love Me, CS 9777
Concert in Stereo/Live at the Sahara Tahoe, G 30122
We've Only Just Begun, CS 30410
Love Story, CS 30498
I'd Like to Teach the World to Sing, KC 31220
Alone Again (Naturally), KC 31629
Charlotte's Web, Columbia C 32413
Ray Conniff In Britain, CBS 65885
You Are the Sunshine of My Life, KC 32376
Harmony, KC 32553
The Way We Were, KC 32802
The Happy Sound of Ray Conniff, KC 33139
Laughter in the Rain, KC 33332
Another Somebody Done Somebody Wrong, KC 33564
Love Will Keep Us Together, KC 33884
Send in the Clowns, KC 34040
I Write the Songs, KC 34040
Theme from S.W.A.T. and Other TV Themes, KC 34312
After The Lovin', PC 34477
Exitos Latinos, Caytronics CYS-1502
Plays the Bee Gees and Other Great Hits, JC 35659
I Will Survive, JC 36255
The Perfect 10 Classics, JC 36749
Exclusivamente Latino, Discos CBS International DIL-10312
Siempre Latino, Discos CBS International DIL-10323
Entre Amigos, CBS 138505
The Nashville Connection, FC 38072
Musik Für Millionen, CBS 24013
Amor Amor, Discos CBS International DIL-10328
Fantastico, Discos CBS International DIL-10342
Supersonico, Discos CBS International DIL-10363
Campeones, Discos CBS International DIL-10380
Say You Say Me, FC 40384
30th Anniversary Edition, Discos CBS International DIL-10464
Always In My Heart, C 44152
Interpreta Manuel Alejandro, Discos CBS International DIL-80163
Ray Conniff Plays Broadway, Discos CBS International DIL-80470
's Always Conniff, Legacy AK53140
Latinisimo, Sony Discos International CDZ-81161
40th Anniversary, Sony Discos International CDZ-81650
Live In Rio, Ivy Music 537892-2
I Love Movies, Ivy Music 557399-2
My Way, Ivy Music 559 236 2
's Country, Abril Music 5208001-2
Do Ray para o Rei, Abril Music 5208003-2
Ray Conniff in Moscow, Boheme CD
Tico Tico, Saludos CD
Cancion de Amor, Saludos CD
---
Search for Records and CDs
New CDs
Used Records and CDs

<! -- here GEMM code starts>

Search GEMM for old recordings by Ray Conniff.
---
S p a c e A g e P o p M u s i c
Home · Listener's Guide · The Songs · Who's Who · Liner Notes · Selected Tracks · What's New · Search
© spaceagepop 2015. All rights reserved.