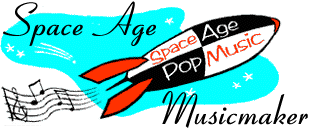 Johnny Mann
---
Born 30 August 1928, Baltimore, Maryland
---
The clean, clear, strong unison voices of the Johnny Mann Singers gave mothers and fathers reassurance that not all hope was lost while America seemed to be going to hell in a handbasket during the 1960s. While sullen, unkempt rock stars sang crazed lyrics "as if they hated their mothers," as Vic Mizzy put it, the Johnny Mann Singers, dressed in clean white pants and skirts, red V-neck sweaters, and white turtlenecks, proudly called for America to "Stand Up and Cheer" on their weekly television series. It was this same celebration of the status quo that appealed to its sponsors, who regularly turned to Johnny and his singers for hearty paens to laundry detergent, toothpaste, and cars. An accurate soundscape of the 1960s needs to include not just Jim Morrisona nd Jimi Hendrix but "This is My Country." Student revolution and free love may have made a People's Park out of a vacant lot in Berkeley, but Ronald Reagon and Ed Meese brought in the National Guard to kick them out. And you can guess whose albums were in Ron and Nancy's collection.
I don't mean to slight the unmistakable skill reflected in Johnny Mann's impressive body of work. A graduate of the Peabody Conservatory in Baltimore, he settled in Hollywood after serving in an Army band during the Korean War. After first working as a orchestrator for Columbia, Warners, and other studios, he returned to his first love, choral music, for the NBC series, "Comedy Hour." An early addition to Liberty Records' roster, Mann racked up a catalog of albums rivaled only by Martin Denny's. Of these, five were nominated for Grammys for Best Performance by a Vocal Group, and two of them won it. He returned to television to work as musical director for "The Joey Bishop Show," ABC's attempt to compete with "The Tonight! Show" (and one of Regis Philbin's first series). Although the Bishop show died after a couple of years, ABC liked Mann, and the success of the ultra-patriotic album, This is My Country, led to the creation of "Stand Up and Cheer."
Mann also had a big part in the creating the sound of the sixties as heard on radio and television commercials. Working with Hugh Heller's production house, Mann composed and recorded signature jingles for numerous radio stations, including San Francisco station KSFO's well-remembered "The Sound of the City." AM radio listeners heard these jingles as much or more than any Top 40 tune. Mann also created hundreds of commercials and was certainly the leading West Coast source for ad music that required a vocal group. The wonderful Heller-Ferguson sampler, Johnny Spots, Private Ear, includes "The Sound of the City" and other Mann radio jingles.
So the next time you decide to pop on a Martin Denny album and do a little Tiki mood-setting, try a little stereo-verite experiment. First pop on a Johnny Mann Singers album. If you're looking to reproduce the sensation of being in Dad's den, I guarantee you it will be frighteningly real!
---
Recordings
(with Si Zentner) Great Band With Great Voices, Liberty LSS-14009
(with Si Zentner) Great Band With Great Voices Swing The Great Voices Of The Big Bands, Liberty LSS-14017
Night, Liberty LRP-3021
Alma Mater, Liberty LRP-3134/LST-7134
Roar Along with the Singing Twenties, Liberty LRP-3149/LST-7149
Swing Along with the Singin' 30s, Liberty LRP-3156/LST-7156
Ballads Of The King (Songs Of Elvis Presley), Liberty LRP-3198/LSP-7198
Ballads of the King, Vol. 2 (Songs of Frank Sinatra), Liberty LRP-3217/LST-7217
Golden Folk Song Hits, Vol. 1, Liberty LRP-3253/LST-7253
Golden Folk Song Hits, Vol. 2, Liberty LRP-3296/LST-7296
Golden Folk Song Hits, Vol. 3, Liberty LRP-3355/LST-7355
Invisible Tears, Liberty LRP-3387/LST-7387
Beatle Ballad Sound, Liberty LRP-3391/LST7391
If I Loved You, Liberty LRP-3411/LST-7411
Roses and Raindows, Liberty LRP-3422/LST-7422
I Remember You, Liberty LRP-3436/LST-7436
Daydream, Liberty LRP-3447/LST-7447
Countryside, Liberty LRP-3476/LST-7476
Perfect Blend, Liberty LRP-3490/LST-7490
A Man and a Woman, Liberty LRP-3490/LST-7490
This is My Country, Liberty LRP-3505/LST-7505
We Wish You a Merry Christmas, Liberty LRP-3522/LST-7522
We Can Fly!, Liberty LRP-3523/LST-7523
Don't Look Back, Liberty LRP-7535/LST-7535
Love Is Blue, Liberty LRP-3553/LST-7553
This Guy's in Love With You, Liberty LST-7587
Goodnight My Love, Liberty LST-7620
Golden Hits, Liberty LST-7629
The Four Freedoms, Light LS-5682-LP
OuterSpace InnerSpace, Light LS-5691
---
Search for Records and CDs
New CDs
Used Records and CDs


Search GEMM for old recordings by Johnny Mann.
---
S p a c e A g e P o p M u s i c
Home · Listener's Guide · The Songs · Who's Who · Liner Notes · Selected Tracks · What's New · Search
© spaceagepop 2015. All rights reserved.