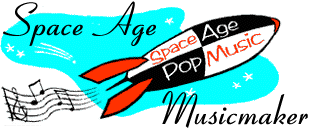 Si Zentner
---
Born Simon H. Zentner, 13 June 1917, New York City
Died 31 January 2000, Las Vegas, Nevada
---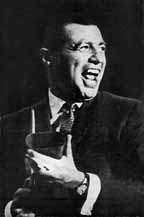 Although he started learning the violin at the age of 4, Zentner switched to trombone and won a college scholarship for his playing ability. In the beginning, he was a classical musician, but he moved into more commercial music after playing on a session with Andre Kostelanetz. He joined Les Brown's big band in 1940, then moved on to work with Harry James and Jimmy Dorsey.
He settled in Los Angeles during the war to raise his family and worked in the studio system. From 1949 to 1955, he was on the staff of MGM, working on such films as "Singing in the Rain" and "A Star is Born." He wanted to lead his own band, though, and he got a contract with Liberty Records in 1959. At a time when most big bands had withered up and died, Zentner staffed a full-sized swing ensemble and took it on the road. Working colleges as well as the usual ballrooms and clbus, the band succeeded in keeping a steady stream of gigs going. At one point during this period, he claimed to have played 178 one-night stands in a row.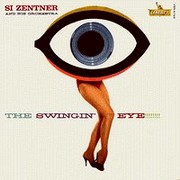 Zentner not only made a go of his enterprise, but garnered both commercial and critical awards. His band won 13 straight Downbeat polls as best big band and Zentner himself was picked as the top trombonist in Playboy's Jazz Reader's Poll. In 1961, a Bob Florence-arranged twist version of Hoagy Carmichael's "Up a Lazy River" reached the top 40 pop charts, won the Grammy Award as Best Instrumental Number, and became his signature tune. The next year, he and Florence collaborated with Martin Denny on Exotica Suite, a big band setting of Les Baxter compositions. He switched labels briefly, releasing three albums on RCA in 1965, but returned to Liberty soon thereafter.
Even Zentner couldn't fight the odds against a touring big band, though, and in 1965, he moved to Las Vegas and was hired to open the Tropicana Hotel's 500-seat lounge, the Blue Room, playing behind Mel Torme. In 1968, he began the musical director for the "Folies Bergere," one of Vegas' longest-running floor shows. Once again, though, he couldn't resist the lure of the road, and he formed another touring group, this time working cruise ships and retirement communities in addition to colleges, clubs, and casinos. You can hear this band in action on the 1996 CD, Road Band. "While trombonists were not known much for their longevity in the business, Si was an exception," recalled Las Vegas Sun columnist Joe Delaney. "He was even playing well to the end of his career." Although battling leukemia the last two years of his life, Zentner stayed active, performing up to six months before his death.
---
Recordings
Introducing Si Zentner and his dance band, Bel Canto SR 1007 (stereo)
High Noon Cha Cha Cha, Bel Canto SR 1011 (stereo)
Swing Fever, Bel Canto SR 1014 (stereo)
Sleepy Lagoon (with Russ Garcia), Liberty LRP 3055
A Thinking Man's Band, Liberty LST 7133
Suddenly It's Swing, Liberty LST 7139
The Swingin' Eye, Liberty LST 7166
Big Band Plays the Big Hits, Liberty LST 7197
Up a Lazy River, Liberty LST 7216
The Stripper and Other Big Band Hits, Liberty LST 7247
Desafinado, Liberty LST 7273
Waltz in Jazz Time, Liberty LST 7284
Rhythm Plus Blues, Liberty LST 7290
More, Liberty LST 7326
Si Zentner Plays Big Band Hits, Liberty LST 7350
From Russia with Love, Libert LST 7353
Si Zentner in Full Swing, Liberty LST 7397
The Best of, Liberty LST 7427
The Best of, Vol. 2, Liberty LST 7457
Swingin' Country, Liberty LST 7481
A Perfect Blend (with the Johnny Mann Singers), Liberty LST 7483
Warning Shot (soundtrack), Liberty LST 7498
Right Here! Right Now! The Big Mod Sound of, Liberty LST 7531
(with Johnny Mann Singers) Great Band With Great Voices, Liberty LSS-14009
(with Johnny Mann Singers) Great Band With Great Voices Swing The Great Themes Of The Big Bands, Liberty LSS-14017
Swing Fever, Smash SRS-67013 (stereo)/MGS-27013 (mono)
My Cup of Tea, RCA Victor LSP-2992
It's Nice to Go Travelling, RCA Victor LSP-3388
Put Your Head on My Shoulder, RCA Victor LSP-3484
Big Band Brilliance, Sunset 5110
Country Blues, Klavier CD 55001 (1995)
Road Band, Klavier CD 55003 (1996)
Blue Eyes Plays Ol' Blue Eyes (Frank Sinatra tribute), Klavier CD 77021 (1998)
Swing Fever (compilation of Bel Canto tracks), Fresh Sounds CD 18725 (2007)
---
Search for Records and CDs
New CDs
Used Records and CDs


Search GEMM for old recordings by Si Zentner
---
S p a c e A g e P o p M u s i c
Home · Listener's Guide · The Songs · Who's Who · Liner Notes · Selected Tracks · What's New · Search
© spaceagepop 2015. All rights reserved.