---
Born 11 March 1903, Strasburg, North Dakota
Died 17 May 1992, Santa Monica, Calif
---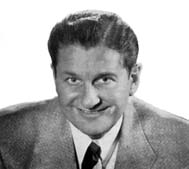 Although viewed as the musical epitome of the culture that produced Wonder Bread, American cheese, and "Fun with Dick and Jane" books, Lawrence Welk doesn't deserve to be written off as a stereotype entirely. Within the stream of products Welk put out over a period of 30-odd years can be found a few gems--mostly in his 60s material on Dot Records. Whether it's worth the effort to weed through all the junk to find them is another question.
Welk was raised in a German-speaking hamlet in North Dakota, and did not learn English until he was 21, accounting for his distinctive accent. He began performing professionally at the age of 13, playing the accordion. After leaving high school, he went into music full-time, eventually forming two groups, the Biggest Little Band in America and the Hotsy-Totsy Boys. Within a few years, he joined the big band movement with a group that toured Midwest.
Although written off as a hick by music critics, Welk was a shrewd businessman. He was a demanding taskmaster dedicated to producing a nostalgic, wholesome show. He maintained a roster of musical regulars, including ragtime pianist JoAnn Castle, accordion player Myron Floren, singer Norma Zimmer and Joe Feeney, organist Bob Ralston, guitarist Buddy Merrill, and the singing group the Lennon Sisters. George Cates was Welk's musical director throughout the show's 25-year run.
The Lawrence Welk Show was a staple of ABC for many years, but the network dropped the show in the 1970s because programmers thought its audience was too old and moving away from its core viewing target. Welk promptly signed a lucrative syndication contract and went right on producing the show for a number of years thereafter, with even greater financial reward.
Welk accumulated a vast real-estate empire and acquired royalty rights to 20,000 songs, including the entire body of Jerome Kern's work. He established a retirement resort outside San Diego, Lawrence Welk Village, that's now home to many of his fans. Welk's two autobiographies are named after his trademark phrases, Wunnerful, Wunnerful! (1971) and Ah-One, Ah-Two! (1974).
---
Recordings
A small sampling...
Dance with Lawrence Welk, Dot DLP 3528
Sweet and Lovely, Dot DLP 3296
Double Shuffle, Dot DLP 3318
Last Date, Dot DLP 3350
Calcutta!, Dot DLP 3359
Yellow Bird, Dot DLP 3389
Moon River, Dot DLP 3412
Young World, Dot DLP 3428
A Lawrence Welk Sing-a-Long Party, Dot DLP 3432
Baby Elephant Walk, Dot DLP 3457
Waltz Time, Dot DLP 3499
1963's Early Hits, Dot DLP 3510
Scarlett O'Hara, Dot DLP 3528
The Lawrence Welk Television Show 10th Anniversary, Dot DLP 3591
My First of 1965, Dot DLP 3616
Apples and Bananas, Dot DLP 3629
The Happy Wanderer, Dot DLP 3653
Lawrence Welk Plays Everybody's Music, Hamilton SHLP 12125
---
Search for Records and CDs
New CDs
Used Records and CDs


Search GEMM for old recordings by Lawrence Welk.
---
S p a c e A g e P o p M u s i c
Home · Listener's Guide · The Songs · Who's Who · Liner Notes · Selected Tracks · What's New · Search
© spaceagepop 2015. All rights reserved.