Born Peter Ceragioli, 5 June 1932, New Haven, Connecticut
Died 6 November 2004, Pasadena, California
---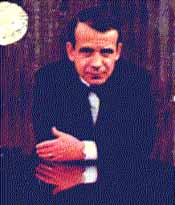 Pete Jolly lived a double life as studio ace by day and jazz cat by night for over 40 years. A member of the musicians union since his teens, he settled in Los Angeles in his early 20s and became a member of Shorty Rogers' Giants, one of the leading West Coast jazz groups. He also began working as a studio musician in the mid-1950s and decided to divide his energy between the security of studio work and the artistic satisfaction of playing jazz in local clubs in Los Angeles.
Jolly's father, also named Peter, was a superb accordion player, and he started the boy on the instrument not long after weaning. By the time Jolly was seven, his father was taking him by train to New York City once a week to take lessons from the great Joe Biviano, and when he was eight, he made his first broadcast appearance, billed as "The Boy Wonder Accordionist" on CBS Radio's "Hobby Lobby." The show's emcee messed up his name, announcing him as "Pete Jolly," but the boy liked the sound of it and used it ever after.
Jolly moved with his family to Phoenix, Arizona, where he became friends with another future studio ace, guitarist Howard Roberts. While still in high school, Jolly managed to get a regular job leading the house trio at a local club, the Jazz Mill, where he played behind such touring jazz starts as Chet Baker and Benny Carter.
After graduating, he kept working at the Jazz Mill, but after a few years, Roberts, who'd moved to Los Angeles, convinced Jolly to move west. In 1954, he arrived, and within days, was hired to play with one of the hottest stars of West Coast Jazz, Shorty Rogers. In a town with no shortage of good piano players, Jolly's exceptional technical skills, rock-solid rhythm, and somewhat self-effacing style made him a hot commodity among jazz stars looking to round out a combo. Over the next ten years, he recorded with most of the best talents passing through L.A.: Gerry Mulligan, Mel Torme, Red Norvo, Buddy De Franco, Terry Gibbs, Art Pepper, Anita O'Day, and Marty Paich.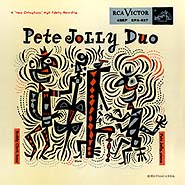 He also began his own long recording career, with a 1955 album, Jolly Jumps In for RCA. Over the next forty-five years, Jolly would record over twenty albums, but rarely more than twice with the same label. The highlight of his career came in 1963, when his bossa-nova flavored composition, "Little Bird," recorded for Ava Records, earned him a Grammy nomination.
Ironically, the peak of his recording career also marked the beginning of nearly three decades of steady, well-paying, but often anonymous, work as a studio musician. Among studio players, Jolly wasn't far behind Carol Kaye, Roberts, Tommy Tedesco, and Hal Blaine when it came to quantity and quality. He was a favorite of artists ranging from Neal Hefti and Don Costa to Herb Alpert and the Tijuana Brass and Anita Kerr. Ray Conniff used Jolly for piano and organ on virtually all his recordings from the early 1960s on, and their association continues today with Conniff's latest CDs.
Jolly played on the soundtracks of hundreds of films and television series, including "Butch Cassidy and the Sundance Kid," "M*A*S*H," "Dallas," "I Spy," "Mannix," "The Love Boat," and "Get Smart." He was also Herb Alpert's favorite pianist, and can be heard on the opening bars of Alpert's 1968 #1 hit, "This Guy's in Love."
While keeping up a heavy schedule of studio sessions, Jolly never lost the need to exercise his jazz chops on a regular basis. He, bassist Chuck Berghofer, and drummer Nick Martinis, who were also busy on the studio scene, kept the trio they'd begun around the time of "Little Bird" going.

They played their first club session at the Red Chimney in 1964, and in 1965, they opened the famed Los Angeles jazz club Donte's, where they remained a club staple for over 20 years. VSOP Records released several CDs in the mid-1990s that featured live recordings by the trio made at Donte's. As one club folded, the group just moved along to another one. In the end, they managed to appear at least once a month for forty years, right up to the time of Jolly's hospitalization for bone marrow cancer in August 2004.
Alpert paid his compliments to Jolly's jazz talents by releasing three albums on his A&M record label, the sole mainstream jazz albums on the label until Alpert lured in producer Creed Taylor and his stable of artists from Verve. On the last of these, Seasons, Jolly displays his prowess with an array of keyboards, including the Wurlitzer electric piano, the Hammond Organ, the Musette, the Sonovox, and the accordion.
Despite his early mastery of the accordion, Jolly's recordings with the instrument are few or anonymous. He pumps a mean squeezebox on Continental Jazz by "Les Cinqs Moderne," a Gallic version of Somerset's Hawaiian super group, The Surfmen. Among musicians in the L.A. area, though, Jolly was considered one of the best accordion players around.
It's a shame that Jolly never got the popular recognition as a soloist he deserved. His style is so sure yet so light and flowing, it belies the depth of skill behind it. There are pianists--most notoriously, Oscar Peterson--who build their style around an ability to play exceptionally fast and well. Jolly could play every bit as fast as Peterson, but always let the tune take the showcase.
The same is true of Berghofer and Martinis--they never used a solo to show off, which may be why the three worked together so well. That means, however, that their work tended to get overlooked by audiences who preferred flashier acts. But take a listen to Jolly's wonderful version of Bacharach's "Windows of the World" elsewhere on this site, and you'll have to agree that it fits Mickey McGowan's definition of a great record: it can be played in the background without disturbing you, and played in the foreground without boring you.
It will be a long time before another pianist like Pete Jolly comes around.