Born March 31, 1935, Los Angeles, California
---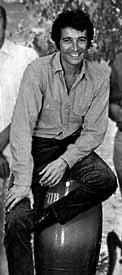 If only for reviving "The Third Man Theme" as an exotica standard in the mid-1960s with his snappy version of it on "Going Places," Herb Alpert would deserve mention in these pages. Come to think of it, maybe that is the only reason.
Seriously, Herb Alpert's discovery of a gimmick of taping a second trumpet part just slightly off key from the lead part proved one of the most lucrative and influential flukes in music history. If you were alive in the U.S. in the late 1960s, you would have to be deaf not to be exposed to the sound of Alpert and the Tijuana Brass. They were everywhere: on radio, on Muzak, and on television. When linked to that milestone of the sexual revolution, "The Dating Game," "Tijuana Taxi" and "Spanish Flea" became lodestones of cultural symbolism. But remember that the daters always traveled with a chaperone and often went to such mundane places as Bakersfield. In the same way, the TJB sound never strayed too far from the mainstream. Herb Alpert saved middle-of-the-road music for millions of Americans--including my parents--just when rock and roll and soul began to get a wee bit too threatening.
Alpert grew up in L.A. and joined the U.S. Army after high school. He ended up in an Army band, and used his G.I. benefits to attend the University of Southern California after he got out. He soon dropped out of college, though, and knocked around until he got a job with Keen Records, whose leading star was early soul great Sam Cooke. While working at Keen, Alpert wrote "Wonderful World" for Cooke, and it became one of Cooke's all-time hits. Alpert also dabbled in acting during this time, and even got a bit part in The Ten Commandments.
Alpert set up a small recording studio in his garage and was playing around with overdubbing with a tune called "Twinkle Star" when he happened to hear a mariachi band in Tijuana. Alpert adopted the trumpet style to the tune and mixed in crowd cheers and other noises to suggest a bull fight, and renamed the tune, "The Lonely Bull." He paid out of his own pocket to press the record as a single, and it spread through radio DJs until it caught on and became a Top Ten hit in 1963. Alpert formed A&ampM Records with Jerry Moss to back the record, and followed up quickly with an album of "The Lonely Bull" and other titles. It also took off and the profits allowed A&ampM begin building a repertoire of artists like Chris Montez and The Sandpipers.
By the end of 1964, a growing demand for live appearances by the Tijuana Brass, Alpert auditioned and hired a team of crack session men and put together a complete revue that included choreographed moves and comic routines written by Bill ("Jose Jimenez") Dana. The band debuted in 1965 and quickly became one of the highest-paid acts then performing.
The Tijuana Brass' records sold better than almost anything on the market. Its first sixth albums, released in rapid succession, racked up over 11 million copies sold in just three years. A&M even took advance orders from stores for forthcoming albums--to the tune of over 1 million copies for "What Now, My Love" alone. Which explains why it's hard to find a thrift store in America without a few copies. It's unlikely that anyone who wanted to own a TJB album didn't get one.
Alpert released 15 albums, including several compilations, with the group before disbanding it in 1972 to concentrate on running A&M. He married singer Lani Hall, who'd been the original lead singer with one of A&M's hottest groups, Sergio Mendes and Brasil '66, in 1973. Alpert continued to record on his own intermittently, and eventually expanded his entertainment enterprise to include radio and television productions. He also hit the charts again in the mid-1980s with his single, "Rise." In the late 1980s, he funded the first production of the Tony Award-winning play, "Angels in America."
For more about the Tijuana Brass and the many, many clone bands they inspired, read "Herb Alpert and the Ti-wannabes", which first appeared as an article in Cool and Strange Music Magazine. Also check out the excellent sites on A&M Records and the Tijuana Brass at http://www.tijuanabrass.com and http://www.amcorner.com.
---
Recordings
The Lonely Bull, A&M Records SP 4101, 1962
Herb Alpert and the Tijuana Brass, Vol. 2, A&M Records SP 4103, 1963
South of the Border, A&M Records SP 4108, 1965
Whipped Cream and Other Delights, A&M Records SP 4110, 1965
Going Places, A&M Records SP 4112, 1965
What Now, My Love?, A&M Records SP 4114, 1966
S.R.O., A&M Records SP 4119, 1966
Sounds Like, A&M Records SP 4124, 1967
Herb Alpert's Ninth, A&M Records SP 4134, 1967
Best of the Brass, A&M Records SP 4146, 1968
Christmas Album, A&M Records SP 4166, 1968
Warm, A&M Records SP 4190, 1969
Brass Are Comin', A&M Records SP 4228, 1969
Greatest Hits, A&M Records SP 4245, 1970
Summertime, A&M Records SP 4314, 1971
Solid Brass, A&M Records SP 4341, 1972
Definitive Hits, Universal/A&M CD
---
Search for Records and CDs
New CDs
Used Records and CDs

<! -- here GEMM code starts>

Search GEMM for old recordings by Herb Alpert.
---
S p a c e A g e P o p M u s i c
Home · Listener's Guide · The Songs · Who's Who · Liner Notes · Selected Tracks · What's New · Search
© spaceagepop 2015. All rights reserved.