This article first appeared in Issue #9 of Cool and Strange Music Magazine.
Someone joked recently that NASA announced that among the discoveries uncovered by the Mars Pathfinder mission was a copy of "Whipped Cream and Other Delights" by Herb Alpert and the Tijuana Brass. If a thrift store, garage sale, or flea market has at least one album for sale, chances are it's a TJB album (although Andy Williams runs a close second). You'd have to have been deaf in the mid-60s not to have heard "Tijuana Taxi" or "The Mexican Shuffle" or "Spanish Flea"--over and over and over. They were everywhere: on pop radio, on TV commercials and game shows, piped into elevators, supermarkets, and department stores, and in heavy rotation on our parents' turntables.
Between 1963 and 1969, when Alpert broke up the TJB in both its studio and touring incarnations, the group racked up sales and airplay of their singles and albums to rival the Beatles and Frank Sinatra. At one point in 1966, they had five of the Top 20 best-selling albums on Billboard's charts, and at various times, held the #1 spot for a total of 26 weeks between 1965 and 1968. "Whipped Cream and Other Delights" stayed on the Top 40 album chart for nearly three years.
Working on the fringes of the entertainment business in L.A., Herb Alpert spent years trying and failing to build a string of successes into a steady income. He tried the acting bit and landed one job that allowed him to show off his musical talents as well: as the guy beating the drums as Charlton Heston comes down from Mount Sinai in "The Ten Commandments." He co-wrote Sam Cooke's "What a Wonderful World" but quickly fell back into scraping for free-lance producing jobs. He threw together a group billed as Dante and the Evergreens to cover the hit "Alley-Oop" by the Hollywood Argyles, but the Argyles were one-shot wonders who dropped out of fashion about as fast as the socks they were named for, and the Evergreens wilted.
Tinkering around in a home studio built in his garage, Alpert began using a composition by his friend, Sol Lake, called "Twinkle Star" to play around with tape effects. He found he could emulate the trumpet sound of Mexican mariachi bands by overdubbing his own trumpet track with another slightly off key. Bullfighting was bubbling up in the popular mind with the exploits of Manolete, matador and Euro sex symbol, so Alpert tossed in some crowd noises and titled the cut as "The Lonely Bull." The single was the first release for A&M Records, which Alpert had just formed with partner Jerry Moss (the M in A&M).
Although the single hovered in and around the Top 100 for a number of months after its release, this looked like yet another isolated success for Alpert. He cut a batch of numbers to round out an album (including covers of such early 60s hits as "Never On Sunday," "Desifinado," and "Limbo Rock"). It sold well but not great, and "The Tijuana Brass" were no more than whatever batch of studio musicians he happened to hire for that session.
He cut a second album, "Marching to Madrid," with much the same sound and with a little less success. His third LP, "South of the Border," featured a sound that moved away from the basic mariachi brass band sound and used bouncing and shuffling electric bass lines to liven things up. No one much noticed the difference at first and the TJB appeared to be heading the way of Alpert's other ventures.
Fate, in the form of ads for Clark's Teaberry Chewing Gum, intervened. They used a TJB number, "The Mexican Shuffle," renamed "The Teaberry Shuffle," in a series of TV commercials, all showing people launching into a little dance like Muhammad Ali's patented shuffle step at the taste of Teaberry gum. Whatever they did for gum sales, the ads certainly gave Alpert's career a kick, as people found out the cut was already out on vinyl.
Not missing a beat, Alpert cut a fourth album with a mix of Sol Lake originals and covers (including "Whipped Cream" by Naomi Neville, songwriting pseudonym of ace New Orleans producer Allan Toussaint)--all vaguely lumped together by the theme of foo--and rushed it out to stores. Alpert's shuffle version of Bobby Scott's "A Taste of Honey," one of the much-covered tunes of the early 1960s, took off like a skyrocket.
Suddenly, TJB tunes were like potato chips. "Whipped Cream" dragged its three predecessors out of the doldrums and like any smart business man, Alpert was ready to keeping pumping out product for the customers. With the exception of their Christmas record, the rest of the TJB albums followed a proven formula: one part TJB originals (Sol Lake, supplemented by Ervan "Bud" Coleman, Julius Wechter, and band guitarist John Pisano); one part contemporary covers ("The Shadow of Your Smile," "All My Loving," "With a Little Help From My Friends,") and one part pop warhorses ("Tangerine," "Anna," "Flamingo").
TJB sales stuffed A&M's bank accounts and Alpert began building a stable of artists for the label, starting with a TJB variant, the Baja Marimba Band, led by Wechter. Although the Baja Marimba Band's sound was more discreet than the TJB's, the band's appearance was not. Huge sombreros and big fake black mustaches were added to the band members' mariachi outfits. Decades before NAFTA, this image was not, unfortunately, that far from the average American's view of Mexicans.
In some ways, the TJB represents the last brilliant burst of space age pop before it flamed out as schizophrenia took over and America's musical tastes split between the radical disaffection of psychedelic rock and the Silent Majority safety of "The Lawrence Welk Show." Grab a handful of choice exotica and space-age bachelor pad albums and compare song selections with TJB albums. It doesn't come until album number 5, "Going Places," but eventually we find irrefutable evidence. The smoking gun: "'The Third Man' Theme"! Darned near the ultimate example of space age pop kitsch. Is there a "Quiet Village" cover lurking somewhere among the TJB's basement tapes?
As Living Biography noted in its 1967 piece on Alpert, the TJB audience had demographics to die for: teenagers, young professionals, and middle-aged home owners. After the success of "A Taste of Honey," Alpert realized there was a live audience to be tapped into and quickly pulled together a performing group culled from L.A.'s best session men. He hired now politically-incorrect comic Bill Dana (then big for his "My name Jose Jimenez" routines) to script a series of slapstick comic routines and put the band through emergency dance training to add some slick steps to their show. To top it off, the band dressed up in matching outfits that looked like a cross between matadors and mariachi band members.
They played to sell-out audiences, but these weren't your typical rock concerts. Just check out the photo on the back of their "SRO" album. Look closely. Notice that much of the audience is between 30 and 50. The men wear white shirts. Everyone is seated. No one is dancing in the aisles. Yes, this is your father's Sixties.
As is so often the case in the entertainment biz, success breeds imitators, and no other group or sound of the 1960s was so widely, shamelessly, and ineptly imitated as the Tijuana Brass. Virtually every major and minor label spawned its own version of the TJB after "A Taste of Honey" started a pop Gold Rush. Even the famous West Coast jazz label World Pacific trotted out a series "Mariachi Brass" albums featuring trumpeter Chet Baker (wandering around the studio in a haze, from the sounds of it).
It takes a few simple rules to spot a TJB clone. First, you have the name. Take the word Brass and paste some Mexican name (Bravado, Mariachi, Mexicali, Texicali, Tampico, Guadalajara, Fiesta, Tequila) in front of it. Authorized variations include substituting "Trumpets" for "Brass" (Trumpets Unlimited, Trumpets Ole') or an adjective for the Mexican word (Living, Sizzling, Fantabulous). A minor variation was to substitute saxes (Sonora Saxes, Mexican Saxes). Somerset/Alshire, home of the 101 Strings, uncharacteristically parted from the pack with its "Los Norte Americanos," although all these albums blared across the top, "That Band I Heard in Tijuana" in case the prospective buyer couldn't otherwise make the connection.
Second, you will find at least one cover of a TJB tune. Now, this is not a hard and fast rule. Many of the lesser labels such as Crown, Diplomat, and Surrey specialized in repackaging public domain material with deceptive covers and budget prices. "The Sizzling Brass," for example, is TJB tune-free, featuring instead what sounds to be 3-4 cuts by some some nameless 50s mambo band and an equal number of mariachi tunes by a similarly anonymous (and undoubtedly different) group. My favorite of all these no-name cuts is "Beatle Hair," a chunking ska/bluebeat instrumental I've found on albums by Trumpets Unlimited, The Toronadoes, The Sizzling Brass, and something completely uncredited and titled, simply, "Discotheque."
If there are absolutely no composer or performer credits and the back of the album features ads for other albums instead of liner notes, beware. You're probably looking at an example of just how low some companies will stoop to grab a piece of somebody else's action. On the other hand, at thrift store prices, you can afford to take a chance in hopes of finding some unknown gem. And there are goodies to be found amongst the junk.
The best of the batch is RCA's Living Brass series, which were arranged by space age pop master Ray Martin and produced by Ethel Gabriel as part of her commercially pioneering Living (Strings, Voices, Jazz, Trio, Guitars, Organ, etc.) series on RCA Camden. You can safely pass on the first Living Brass album, "A Taste of Honey," which is a faithfully exact and dull clone of the TJB sound. In subsequent albums, Martin began inching away, creating a goofy, bouncy sound that could fit right into the soundtrack of the next Austin Powers movies. His Living Brass "A Henry Mancini Tribute" is a must-find, featuring a grrrl group chorus doing an "in your face" vocal version of "Peter Gunn":
Every night your line is busy,
All that buzzing makes me dizzy.
Couldn't count on all my fingers
All the times you've had with swingers

Bye, Bye.
Bye, Baby.
I'm gonna kiss you goodbye and go right through that doorway.
Veteran Latin Jazz arranger Chico O'Farrill spent some time slumming in TJB land to produce "That Tijuana Sound" with the New Glenn Miller Orchestra led by jazz clarinetist Buddy DeFranco. The group covers a dozen TJB hits, including "'The Third Man' Theme," which starts out sounding like the intro to "Moonlight Serenade" before it kicks into TJB mode.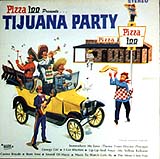 Worth mentioning for the entertainment value if not the music are George Garabedian's TJB clone albums, recorded on his Mark 56 label for a in-store sales and promos by fast-food chains such as Taco Bell, Der Wienerschnitzel, and Pizza Inn, as well as for Squirt, Diet Pepsi, and other sodas. For the most part, the music is a weak imitation of the TJB sound, but you can usually find a few groaners in the liner notes. The one to look for is "Tijuana Picnic" for Kentucky Fried Chicken, which features Colonel Sanders enjoying a dejeuner sur les herbes on the front and his observations about people and places on the back.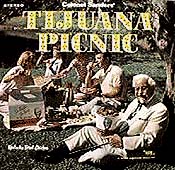 Another gem is "Al Tijuana and His Jewish Brass," a Capitol LP put out by comedian Lou Jacobi (who would later immortalize the line, "You cut the turkey!" in the movie, "Avalon"). TJB standards such as "What Now, My Love?" start out in Tijuana but quickly veer off to the Bronx with klezmer clarinets, violins, and a chorus of kazoos. Meanwhile, Jacobi interjects color commentary as bandleader Al Tijuana:
Buenos naches, amigos and amigettes!

Dat's not the sveetest music this side of the Rio Grende?
Dat's the sveetest music eidah side of the Rio Grende!
This album includes another great cover of Mancini's "Peter Gunn" that includes the classic couplet:
Good vill live!
Evil vill die!
Says Al Tijuana, Private Eye!
The TJB sound inspired stoops to new artistic as well as commercial lows. Almost no self-respecting mainstream pop act passed up the opportunity to cover at least one TJB tune. "Spanish Flea" and "Tijuana Taxi" were the hands-down favorites, earning renditions by acts ranging from Lawrence Welk and the Ray Conniff Singers to the Ventures.

The vocal versions are particularly fascinating in their awfulness. The New Classic Singers and Ray Conniff simply translated the tunes to choral arrangements, but Paula Kelly and the Modernaires, who had their heyday in the 1940s with the Glenn Miller Orchestra devoted an entire album--"Salute the Mods!"--to TJB tunes, providing lyrics to melodies that were better off without them:
So you're not impressed, you say By that beat-up Chevrolet And that driver man Jose. It's the world-renowned Tijuana cab.
The Doodletown Pipers, one of the great slices of 60s whitebread pop, rendered their own account of the happy-go-lucky "Spanish Flea," which was commemorated by Homer in a "Simpsons" episode a few years ago.

The TJB paved the way for a brief resurgence of other brass instrumentals. Liberty Records took another catchy tune, this time for Alka Seltzer, and copped a hit ("No Matter What Shape Your Stomach's In") and a series of albums by the T-Bones. Liberty then cloned their own act a year of two later with Trombones Unlimited and had the nerve to state in the liner notes,
New musical aggregations are certainly nothing unusual, so when one arrives on the scene it had better have something to say or its tenure in a recording studio will be very short-lived. For Trombones Unlimited, the door will remain open...
Not.

Legendary studio saxman Phil Bodner followed the same route by forming the Brass Ring to capitalize on the popularity of the tune, "The Disadvantages of You," from ads for Benson & Hedges' cigarettes. The best of these 60s brass groups, in my opinion, and most undeservedly forgotten now is the Brass Impact, led by Chicago fluegel horn player Warren Kime. Recording on Enoch Light's Command label, with production and arrangements by Command vets Bobby Byrne and Robert Andrews, the Brass Impact is one of those groups whose music can still knock you out of your seat three decades later. Byrne and Andrews miraculously interleave the brass parts with a trio of backing vocalists lead by Warren's wife, Donna, in a high-energy, sock-it-to-you "now" sound that leaves its competitors hanging on the ropes. Here's hoping some reissue label brings The Brass Impact out of obscurity soon.

For many people, the rise of the Tijuana Brass marked the last time it was safe to buy records. These were records you could buy in drug stores and furniture stores--and hear at the same time over the Muzak. Records soon retreated to strange boutiques where scary posters hung from the walls, freaked-out guitars blasted at you, and the clerks wore sunglasses no matter what time of the day it was. The Reader's Digest, the Longines Symphonette Society, and the Columbia Record Club offered an alternative to those willing to venture out to their mail box, but when Herb Alpert packed up the TJB, he took a whole chunk of the record buying public with him. And he robbed the clone labels of both material and markets they'd never see again until the rise of disco.

Buenos naches, amigos and amigettes!

For more information on the Tijuana Brass and their clones, check out the excellent Tijuana Brass Corner.