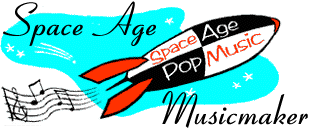 Enoch Light
---
Born 18 August 1907, Canton, Ohio
Died 31 July 1978, New York City
---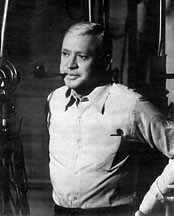 Enoch Light began as a light classical violinist after graduating from Johns Hopkins University, performing in the US and Europe. After a near-fatal car accident in 1940 and World War II interrupted his classical career, he organized his own dance band, "The Light Brigade," and worked in clubs and hotels around the Northeast, including the Grill Room of the Hotel Taft. It was a conservative band, what was known as a "sweet band," specializing in music for middle-aged dancers. He recorded with this band for RCA and Columbia.
He broke up the band toward the end of the 1940s and went into management, working for several record companies before becoming president of Waldorf Music Hall Records in 1954. He founded his own label, Grand Award, in 1956 and had several successes with Dixieland and honky-tonk piano albums by such anonymous groups as the "Charleston City All-Stars" and "Knuckles O'Toole" (aka Dick Hyman). Grand Award featured some of the ugliest covers and worst presentations ever put out--which was remarkable, considering Light's next venture: Command Records.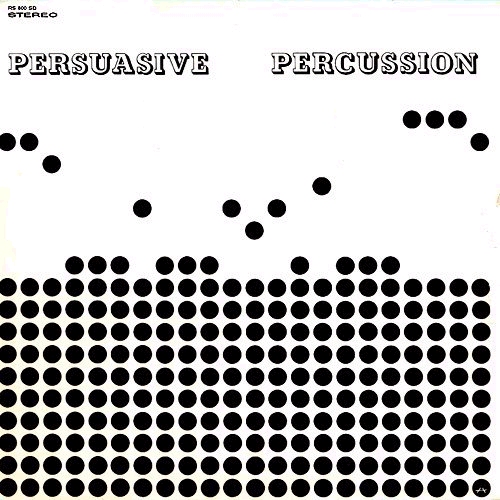 Light sold Grand Award to ABC Records and formed Command in 1959 with the specific aim of capitalizing on the emerging market of stereo fanatics. He wanted his recordings to take maximum advantage of left-right channelization without stooping to tricks like "ping-pong" effects. He was a meticulous engineer and put as much effort into the quality of his recording equipment and production systems as into the music itself. He tested a number of New York studios before selecting , and he was the first to arrange the musicians to suit the audio effects he wanted to achieve. He devoted a considerable amount of prose to describing the acoustic aspects of each number--to the point that he started a new LP packaging format, the gatefold, to fit it all in. Finally, he set Command LPs apart on the store racks with bold abstract designs, the first few by the artist Josef Albers.
The first Command LP, "Persuasive Percussion," was a huge hit. It was unlike anything before it because its sales came almost exclusively from retail exposure--its numbers received relatively little airplay on the mono AM radio. Joel Whitburn lists "Persuasive" as one of the 25 best-selling albums of the modern era. The comments of Hi Fi magazine's reviewer R.D. Darrell capture the impact of "Persuasive Percussion" on its target audience:
This new label's debut in the audiophile-showpiece stakes certainly lives up to its name with its arresting black-and-white dotted cover and the bold claims of its album notes for the dynamic channel-balancing and transient-response-checking virtues of its contents. And the fancy Lew Davies novelty arrangements not only effectively exploit the extraordinarily (even in these days) wide dynamic frequency range and marked channel differentiations of the recording, but also--with the help of dramatic channel switching--do indeed provide useful and rigorous playback system tests. ... Among these infinite varieties of jingle-jangle, the omnivorous sound fancier will certainly find a few new sonic titillations.(November 1959 issue)
As Darrell's comments suggest, Light always stressed both musical and technical aspects in his recordings. As High Fidelity wrote in a 1961 profile,
He spends almost as much time in the control booth with the engineer as he does on the podium, and he makes a practice of letting his orchestra, after a thorough rehearsal, play through the entire program, without him, while he listens with the engineer and explains what effects he wants.
Light lavished attention on the recording techniques because, in his words, "Stereo is like an open umbrella. Every rib is exposed and any flaw in the silk is right there in front of your eyes." (In the same article, Light claims that his use of abstract art on his covers was a reaction to the fashion of having "too many girls in too few clothes" on album covers.)

Light produced a steady stream of Command releases, under a variety of names, sometimes featuring musicians such as Tony Mottola or Dick Hyman, sometimes under anonymous groups like "Los Admiradores." He also followed his love of classical music by releasing a series of recordings by William Steinberg and the Pittsburgh Symphony Orchestra that are considered among the finest of the early stereo era. He continued to experiment with techniques, becoming one of the first to use 35mm film to record instead of magnetic tape. One big advantage of film over tape was that distortions due to the drag of the original tape across the recording head ("wow" and "flutter") were reduced dramatically.

In 1965, he sold Command to ABC Records, which was itself bought by MCA a few years later. You can easily mark the end of Light's reign at Command: ABC dropped the gatefold package like a hot potato. Later, it stopped bothering with any of the interior liner notes. MCA further junked the label by making it a budget label, pressed on recycled vinyl, until it discontinued selling Command entirely in the mid-1970s. William Steinberg once remarked of the MCA management, "Gangsters! That's all they are: gangsters!"

Light returned to the scene within months of leaving Command with a new label, Project 3, and quickly picked up many of his former Command lineup of musicians. Like Command, Project 3 featured immaculate recordings and beautiful glossy gatefold designs. Overall, though, Project 3 recordings are more conventionally easy-listening and rely far less on dramatic contrasts between channels and dynamic extremes. Project 3's library was bought by Essex Entertainment and many of its recordings by Light and Tony Mottola are now available on CD. Light retired in 1974.

For more information on Enoch Light, Command, and Project 3, check out the Spaced Out web site: http://easyweb.easynet.co.uk/~rcb/light/
---
Recordings
Show Spectacular, Grand Award GA 228 SD
I Want to Be Happy Cha-Cha's, Grand Award 388 SD
All the Things You Are, Grand Award GA 399 SD
Provocative Percussion, Command RS 800 SD
Million Dollar Sound of the World's Most Precious Violins, Command RS 802 SD
The Million Dollar Sound of the World's Most Precious Violins, Volume 2, Command RS 804 SD
The Private Life of a Private Eye, Command RS 805 SD
Provocative Percussion Vol 2, Command RS 810 SD
Bongos/Flute/Guitars, Command RS 812 SD
Pertinent Percussion Cha-Chas, Command RS 814 SD
Persuasive Percussion Vol 3, Command RS 817 SD
Big Bold and Brassy, Command RS 818 SD
Reeds and Percussion, Command RS 820 SD
Provocative Percussion Vol 3, Command RS 821 SD
Far Away Places, Command RS 822 SD
Stereo 35/MM, Command RS 826 SD
Persuasive Percussion Vol 4, Command RS 828 SD
Stereo 35/MM Vol 2, Command RS 831 SD
Vibrations, Command RS 833 SD
Provocative Percussion Vol 4, Command RS 834 SD
Great Themes from Hit Films, Command RS 835 SD
Enoch Light & His Orchestra at Carnegie Hall Play Irving Berlin, Command RS840SD
Big Band Bossa Nova, RS 844 SD
Far Away Places Vol 2, Command RS 850 SD
Let's Dance the Bossa Nova, Command RS 851 SD
1963: The Year's Most Popular Themes, Command RS 854 SD
Rome 35/MM, Command RS 863 SD
Dimension 3, Command RS 867 SD
Great Themes from Hit Films, Command RS 871 SD
Discotheque Dance, Dance, Dance, Command RS 873 SD
A New Concept, Command RS 879 SD
Discotheque Vol 2, Command RS 882 SD
Persuasive Percussion 1966, Command RS 895 SD
Musical Explorations in Sound, Command RS 970 SD
Spanish Strings, Project 3 PR 5001 SD
Enoch Light's Action, Project 3 PR 5004 SD
Film Fame, Project 3 PR 5013 SD
Enoch Light and the Glittering Guitars, Project 3 PR 5028 SD
Enoch Light & the Brass Menagerie, Project 3 PR 5042 SD
Spaced Out, Project 3 PR 5043 SD
The Best of the Movie Themes 1970, Project 3 PR 5046SD
Permissive Polyphonics, Project 3 PR 5048 SD
The Big Band Hits of the 40s, Project 3 PR 5056 SD
Big Hits of the 20's, Project 3 PR 5059 SD
The Brass Menagerie 1973, Project 3 PRQD 5060
Movie Hits, Project 3 5063 QD
Charge! 4 Channel Dynamite, Project 3 PR 5068 QD
The Big Band Hits of the 40s and 50s, Project 3 5076 SD
Future Sound Shock, Project 3 5077 SD
Beatles Classics, Project 3 PR 5084 SD
Great Hits from the Great Gatsby Era, Project 3 PR 5086 SD
Feelings at the Movies, Project 3 PR 5099 SD
---
Search for Records and CDs
New CDs
Used Records and CDs

<! -- here GEMM code starts>

Search GEMM for old recordings by Enoch Light.
---
S p a c e A g e P o p M u s i c
Home · Listener's Guide · The Songs · Who's Who · Liner Notes · Selected Tracks · What's New · Search
© spaceagepop 2015. All rights reserved.