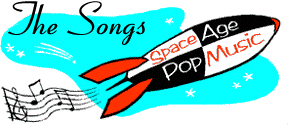 The Foreign Film Theme
---
"The Third Man Theme" 1949
Music written and performed by Anton Karas, based on a melody Karas found in a book of zither etudes.
Director Carol Reed was looking for a sound that would evoke the atmosphere of Vienna but wasn't waltz music. He heard Anton Karas, a zither player, performing in a beer garden as Reed was scouting out locations for the film. He asked Karas to score and perform for the film's sountrack, and Karas agreed, though he had no experience beyond playing in beer and wine gardens. The zither was a new, catchy yet odd sound for English and American audiences and provided a perfect atmosphere for the film, which was very much the story of a stranger in a strange land. And the melody stayed with audiences, quickly becoming a popular request. Karas released the tune as a single, but Guy Lombardo's version, with a guitar playing the lead, was the best-selling. The Faber guide estimates over 40 million recordings of different covers of the song have been sold. "The Third Man Theme" may also take credit for winning an audience for film music on its own. Following its success, it became standard practice to seek out catchy tunes for movie themes and to release them as singles. And virtually every soundtrack compilation through the mid-50s included a version of "The Third Man Theme." One source claims that, collectively, over 40 million copies of different renditions of the tune have been sold. Check with your neighbor if you don't own one.
The fact that Anton Karas took his melody from a practice book may hold the secret to the popularity of this song. It's one of the few standards that, as far as I know, no one ever attempted to put words to--which means it was material solely for instrumentalists. But what do instrumentalists have to offer the listener? Either fairly faithful renditions of popular melodies (for those for whom "the words get in the way") or demonstrations of technical proficiency in performance or arrangement. "The Third Man Theme" offers both.
For more information about "The Third Man Theme," particularly its fascination for guitar bands, check out the following site (in dutch): http://home.hetnet.nl/~pmouse/thirdman.htm
"Anna (El Negro Zumbon)" 1953
Music, words by Vatro Roman, F. Giordano
English words by William Engvick
Taken from a 1951 Italian drama starring Silvana Magnano and Raf Vallone. "Anna" was one of the earliest foreign films to enjoy much success in the U.S.--due in large part to Magnano's sensuality and the more open treatment of sexuality than accepted in contemporary American films. Magnano plays a nun who meets two former lovers when one shoots the other in her hospital. She flashes back to her life as a dancer in a smoky nightclub while nursing one back to health, but decides to stick with the spiritual life. The ending obviously helped make the sex palatable to the American audiences. The song had greater longevity than the film: into the late 1960s, even Herb Alpert and the Bob Crewe Generation included "Anna" covers next to more contemporary hits like "Sunny" and "Music to Watch Girls By." A light and bouncing tune, it fit right in there alongside "The Third Man Theme," and the two songs can be found on many of the same compilations.
"Never On Sunday" 1960
Music and Greek words by Manos Hadjijakis
English words by Billy Towne
"Never On Sunday" kicked off the foreign film rage in the United States in the 1960s, and its theme song introduced American listeners to Greek music. The timing was perfect: the rise of stereo created a ready market for anything novel, so bouzouki samplers soon found their place alongside Italian and belly-dancing albums. Now, the film's success in the U.S. probably had more to do with the racy plot and Melina Mercouri's sexy clothes, which made it a perfect movie for couples looking for something more "adult" than westerns and Cinerama spectacles. The song won the Oscar for Best Song of 1960.
"More" (Theme from "Mondo Cane") 1963
Music by Riz Ortolani and N. Oliviera
English words by Norman Newell
"More" is one of the sappiest exotica melodies, right up there with "Feelings," yet the Italian film from which it came, "Mondo Cane," was an unlikely source of easy listening. "Mondo Cane" (translation, "A Dog's World") was a documentary about the endless struggle for survival among species. To call it a documentary, though, is misleading--imagine "Koyaanisqatsi" directed by Russ Meyer. It switched from scenes of tribal rituals to a Hollywood pet cemetery to graphic scenes of animal combat and carnage, and the shock value of these scenes probably accounted more than anything for its success.

"More" was original strictly an instrumental number, but something in the overwrought emotions of the melody must have had an irresistable pull on lyricist Norman Newell, who turned this theme song for a documentary on animal slaughter into an assertion of a love that's "more" than anyone else's love (or anyone else's anything, for that matter).

The result gave "More" a guaranteed place among the exotica standards: a song that could be performed as an overwrought instrumental or sung with exaggerated drama by a series of good and bad singers. In fact, BMI lists "More" among the less than 10 songs its database shows as having been played over 5 million times on radio and television.
---
S p a c e A g e P o p M u s i c
Home · Listener's Guide · The Songs · Who's Who · Liner Notes · Selected Tracks · What's New · Search
© spaceagepop 2015. All rights reserved.