---
Born 13 February 1918, New York City, New York
Died 8 August 1989, Rancho Mirage, California
---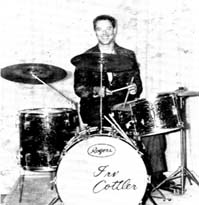 Dubbed "The Best in the Business" by no less than Frank Sinatra, Cottler was considered to have the most reliable sense of rhythm of all studio drummers. "Irv as a great big-band drummer. I mean, the tempo didn't move--it stayed where it was supposed to be," recalls engineer Lee Hirschberg in Will Friedwald's Sinatra! The Song is You.
Cottler got his start in the late 1930s, playing with Red Norvo's band at first, then moving through a series of jobs with bands such as Larry Clinton, Jimmy Dorsey, and Les Brown. In the late 1940s, he quit touring and settled in Los Angeles, where he worked in radio, TV, movies, and commercial recordings and quickly became a "first-call" session man--meaning he had his pick of studio jobs. The list of films scores and TV shows he played on includes many of the most familiar names of the 1950s and 1960s: Mary Poppins, The Jungle Book, The Smothers Brothers Comedy Hour, The Milton Berle Show, and The Dinah Shore Show. Cottler also played on countless television commercials--those are his tom-toms on the old Hamm's Beer bear ads.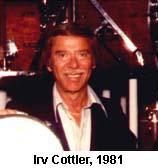 Both Billy May and Nelson Riddle adopted Cottler as one of their favorite musicians, which led to his playing on most of Frank Sinatra's classic Capitol albums of the late 1950s and 1960s. Cottler quickly became Sinatra's favorite drummer. Sinatra hired him to play in his touring band in 1962, and Cottler remained with Sinatra through all the various forms of touring ensembles until his death in 1989. He also performed on virtually all of Sinatra's Reprise recordings.
Cottler was proud of his standing among session men. Friedwald recounts Billy May's story of Cottler laying down the law to Bobby Darin:
Anyhow, the first date we did started out with some bright tune, and it had a big fat introduction, and Irv had a drum break in bars seven and eight of this introduction. So we played the introduction, and Irv played the drum break. Then Darin, who was a smart asshole kid, stopped the band and walked over to Irv and said, "Now I'll tell you how I want this played." Oops! And Irv stood up and stared him down and said, "You sing the songs, I play the drums, see? Don't fuck with me." That was the end of it. There was no trouble after that.
Cottler made one solo recording--Around the World in Percussion--on Somerset that's a classic piece of exotica--no wonder DCC featured two cuts from it on their CD compilation, Music For a Bachelor's Den.
---
Recordings
Around the World in Percussion, Somerset P-13900
I've Got You Under My Skins: Irv Cottler Salutes The Chairman of the Board, Big Band Archive II
---
Search for Records and CDs
New CDs
Used Records and CDs


Search GEMM for old recordings by Irv Cottler.
---
S p a c e A g e P o p M u s i c
Home · Listener's Guide · The Songs · Who's Who · Liner Notes · Selected Tracks · What's New · Search
© spaceagepop 2015. All rights reserved.