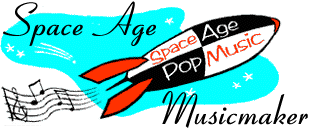 Hugo Montenegro
---
Born 2 September 1925, New York City, New York
Died 6 February 1981, Palm Springs, California
---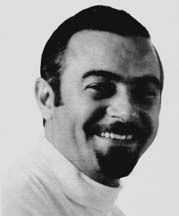 One of the great chameleons of space-age pop, Montenegro could be wild, innovative, swinging, sedate, tame, or mundane, depending on what the contract called for. After serving in the U.S. Navy, where he arranged for bands, he attended Manhattan College, studying composition. While in college. he began leading his own band for school dances, which led into professional gigs on a full-time basis. This was quickly interrupted, however, by a two-year stint in the U.S. Navy, most of which he spent as the arranger for the Newport Naval Base band in Rhode Island.
Andre Kostelanetz heard this band and met Montenegro during this time. When Montenegro left the Navy, Kostelanetz hired him as a staff manager and occasional arranger. He moved on to work for Harry Belafonte as the arranger and conductor for his live act.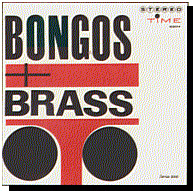 While in New York City, Montenegro was hired by Time Records as a musical director, and produced a whole slew of albums for the label. Some, such as Bongos and Brass and Boogie Woogie and Bongos are frenzied examples of stereo/percussion showcase music. His arrangement of Grieg's In the Hall of the Mountain King is one of my favorite cuts.
Montenegro moved to Los Angeles in the early 1960s and began working in the studio system. Belafonte helped get him the job of scoring Otto Preminger's Hurry Sundown. He also worked for RCA, producing a series of albums that included both his soundtracks and covers of others'. His 1968 recording of Ennio Morricone's theme from the classical Sergio Leone spaghetti Western, The Good, the Bad, and the Ugly, featuring whistling by Muzzy Marcellino's, sold over a million copies and hit #2 on the Top Ten chart as a single. Montenegro's version also features an electric violin (played by Elliott Fisher), a piccolo trumpet (played by Manny Klein), an electronic harmonica, an ocarina, a vocal group, and Montenegro himself grunting nonsense Italian-sounding syllables.
Montenegro scored such classics of 60s Hollywood machismo as Dean Martin's two Matt Helm adventures, The Ambushers and The Wrecking Crew, Frank Sinatra's two films as the Miami private eye, Tony Rome and The Lady in Cement, and the Elvis Presley Western, Charro. He also ventured into some odd mixes of space-age pop, electronics, and rock with such albums as Moog Power, Mammy Blue, and The Dawn of Dylan. Montenegro contracted severe ephysema and was forced to retire from recording in the late 1970s.
---
Recordings
Loves of My Life, 1957
Hugo Montenegro, Ellington Fantasy, Vik LP
Velvet Violins, Lush and Lovely, Movietone MTS 2008
The Montenegro Brand, 20th Century Fox ST-91522
Bongs and Brass, Time Series 2000 S/2014
Cha Chas for Dancing, Time Series 2000 S/2018
Boogie Woogie Bongos, Time Series 2000 S/2020
Arriba!, Time Series 2000 S/2030
Overture ... American Musical Theatre, Vol. 1: 1924-1935, Time S/2035
Overture ... American Musical Theatre, Vol. 1: 1935-1945, Time S/2036
Overture ... American Musical Theatre, Vol. 1: 1946-1952, Time S/2037
Overture ... American Musical Theatre, Vol. 1: 1953-1960, Time S/2038
Great Songs from Motion Pictures Vol. 1, Time S/2044
Great Songs from Motion Pictures Vol. 2, Time S/2045
Great Songs from Motion Pictures Vol. 3, Time S/2046
In Italy, Time S/2051
Hugo Montenegro and His Orchestra, Time S/2062
Country and Western, Time S/2071
Bold Brass Broadway, Time S/2139
Black Velvet, Time S/2196
Mira!, Mainstream S/6092)
Montenegro Magic (2 LP set), Mainstream SOBO 91646
In a Sentimental Mood, RCA Camden CAS-729
Hurry Sundown, RCA Victor LOC 1133
Russian Grandeur, RCA LPM-2902/LSP-2902
The Young Beat of Rome, RCA Victor LSP-2958, 1964
Candy's Theme and Other Sweets, RCA Victor LSP-3332, 1965
The Man from U.N.C.L.E., RCA Victor LSP 3475
Come Spy With Me, RCA Victor LSP 3540
More from The Man from U.N.C.L.E., RCA Victor LSP 3574
Others by Brothers, RCA Victor LSP 3784
Music from "A Fistful of Dollars" and "The Good, The Bad and The Ugly," RCA Victor LSP-3927
Hang 'Em High, RCA Victor, Stereo LSP-4022
Moog Power, RCA Victor LSP-4170
Good Vibrations, RCA Victor LSP-4104 (1969)
Lady in Cement (soundtrack), 20th Century Fox S4204
Colours of Love, RCA Victor LSP-4273
Music from the Comedy Hit, "Viva Max!", RCA Victor LSP-3927
The Best of Hugo Montenegro, RCA Victor LSP-4361
Dawn of Dylan, 1970
People ...One to One, RCA Victor LSP-4537 (1971)
This is Hugo Montenegro, RCA Victor VPS-6036 (1971)
Mammy Blue, RCA Victor LSP-4631 (1972)
Love Theme From The Godfather, RCA APD1-0001
Hugo in Wonderland, RCA Victor APD1-0413
Neil's Diamonds, 1973
Hugo in Wonder-land, 1974
Rocket Man [Elton John covers], 1975
---
Search for Records and CDs
New CDs
Used Records and CDs

<! -- here GEMM code starts>

Search GEMM for old recordings by Hugo Montenegro.
---
S p a c e A g e P o p M u s i c
Home · Listener's Guide · The Songs · Who's Who · Liner Notes · Selected Tracks · What's New · Search
© spaceagepop 2015. All rights reserved.