---
Born 27 November 1912, San Francisco, California
Died 11 June 1997, Sherman Oaks, California
---
The great whistler of the space-age pop era. Marcellino's strong yet mellifluous whistling was employed to distinctive effect on hit recordings from the theme from The High and the Mighty to Hugo Montenegro's cover of Morricone's theme to The Good, the Bad, and the Ugly. Esquivel used Marcellino on his Stereo Action album, Latin-esque and was struck by his very precise pitch. If you hear whistling featured on a Hollywood studio recording from the 1950s or 1960s, chances are, you're hearing Muzzy Marcellino.
Marcellino actually started out as a guitar player and singer. Around 1932, he joined the Lofner-Harris orchestra, which was the house band at San Francisco's classy St. Francis Hotel. Several years later, he was hired by Ted Fio Rito, with whom he appeared in several now-forgotten Hollywood musicals, including "The Sweetheart of Sigma Chi" and "Broadway Gondolier."
He returned to San Francisco in 1938 and started his own band, which had steady but unexceptional success. The band was best known for Marcellino's own smooth baritone voice--his whistling was, if anything, just a novelty tossed in from time to time.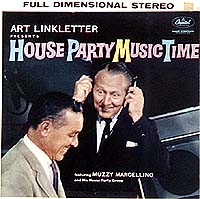 Marcellino finally folded the band in 1948, when he went to work on Dick Powell's radio show. Later, Marcellino was hired by television personality Art Linkletter to lead a small on-air combo featured on Linkletter's talk cum variety show, "House Party." He stayed as musical director for 19 years, until Linkletter ended the show in 1969 following his daughter's suicide. Marcellino recorded an album for Capitol with the "House Party" band, and one lively cut, "Big Chief," is included on Capitol's "Ultra-Lounge" CD series.
Eventually, Marcellino's whistling talents became well enough known among studio musical directors that he had a steady series of studio jobs in addition to his work on "House Party." During the heyday of Disney's "Mickey Mouse Club" television series, Marcellino collaborated with songwriter Jimmy Dodd on original musical numbers written for the show. Disney also hired him to record the bird calls for the legendary Tiki Room at Disneyland.
---
Recordings
Birds of a Feather (with Russ Garcia's Orchestra), Liberty LRP-3075
Art Linkletter Presents the Muzzy Marcellino Combo, Capitol T-1284
Whistling on the Beach at Waikiki, Coral CRL 57441
---
Search for Records and CDs
New CDs
Used Records and CDs


Search GEMM for old recordings by Muzzy Marcellino.
---
S p a c e A g e P o p M u s i c
Home · Listener's Guide · The Songs · Who's Who · Liner Notes · Selected Tracks · What's New · Search
© spaceagepop 2015. All rights reserved.