---
Born 18 May 1922, Aarhus, Denmark
Died 6 May 1983, Mew York City
---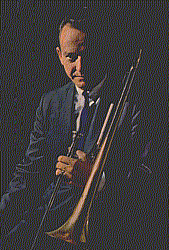 Winding moved to the United States with his family in 1934 and began working professionally with Shorty Allen's band in 1940. He played with Alvino Rey before joining the Coast Guard during World War II. After the war, he worked with Benny Goodman briefly before joining Stan Kenton's band and becoming a featured soloist. He left Kenton to work with small groups, including Miles Davis' ensemble on the influential Birth of the Cool session.
Winding is best remembered for two-trombone combo he led with J.J. Johnson from 1954 to 1956. Although the pair went their separate ways, they reunited often--at times anonymously--on numerous recordings by other artists and even released a reunion album for Impulse in 1964. Known as "K and JJ," their smooth blended sounds were as much imitated in the 1950s as Billy May's "slurping saxes."
Looking for more of a good thing, Winding then formed a four-trombone sextet which recorded on Impulse from 1956 to 1961. Winding then became the musical director for Hugh Hefner's chain of Playboy Clubs and was enticed by producer Creed Taylor to the Verve label. For the rest of the 1960s, Winding cranked out a steady flow of middle-of-the road popular jazz that latched onto every popular trend--bossa nova, countrypolitan, Beatles. Winding's cover of "More", featuring the spooky sounds of the ondioline, was a Top 10 single in 1963. Claus Ogerman provided most of the arrangements for Winding's Verve albums, which include some of the groovin'-est cuts of now sounds you could ever want to frug to.
Winding moved with Taylor to A&M briefly, then returned to more serious jazz work on a variety of labels in the 1970s. In the late 1970s, he joined forces with Curtis Fuller in the group "Giant Bones," which attempted to update the classic "K JJ" sound.
---
Recordings
(with J.J. Johnson) The Finest of Kai & J.J., Bethlehem BCP 6001
The Swingin' States, Columbia CL-1264
Dance to the City Beat, Columbia CL-1329
The Great Kai Winding Sound, Harmony HL-7341
The Incredible Kai Winding Trombones, Impulse A-3
Brass Fever, Impulse LP
Kai Ole, Verve V6-8427
Suspense Themes in Jazz, Verve V6-8493
The Solo Kai Winding, Verve V6-8525
More (also released as "Soul Surfing"), Verve V6-8551
Mondo Cane #2, Verve V6-8573
Modern Country Verve V6-8602
Rainy Day, Verve V6-8620
The In Instrumentals, Verve V6-V8639
More Brass, Verve V6-8657
Dirty Dog, Verve V6-8661
Penny Lane and More, Verve V6-8691
---
Search for Records and CDs
New CDs
Used Records and CDs


Search GEMM for old recordings by Kai Winding.
---
S p a c e A g e P o p M u s i c
Home · Listener's Guide · The Songs · Who's Who · Liner Notes · Selected Tracks · What's New · Search
© spaceagepop 2015. All rights reserved.