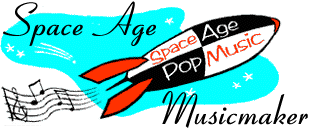 Jerry Fielding
---
Born Joshua Feldman 17 June 1922, Pittsburgh, Pennsylvania
Died 17 February 1980, Los Angeles, California
---
Something of a child prodigy arranger, Jerry Fielding was laying out charts for the pit band of Pittsburgh's Stanley Theatre before he was out of high school. By 18, Alvino Rey had scooped him up and taken him to New York City to write for his new band. Fielding moved out to Los Angeles with Rey, but soon broke off to work as a freelance. Through the mid-1940s, his arrangements could be heard being played by Tommy Dorsey, Kay Kyser, Charlie Barnet, and other popular swing bands. He also branched out into radio, writing for shows starring Bob Crosby, Hoagy Carmichael, Kate Smith, and the Andrews Sisters, and eventually wound up as the musical director of Jack Paar's radio show.
Fielding started recording under his own name in the early 1950s, coinciding with a short spell hosting his own musical show on television. Although television quickly passed him by as a performer, he would be a frequent contributor to television series as a composer and arranger for the rest of his life. Among his greater and lesser TV credits are "The Farmer's Daughter," "The Life of Riley," "Hogan's Heroes," "Bewitched," and the first season of "The Bionic Woman" (Joe Harnell replaced him after Fielding fell ill). In the early 1960s, he began trying his hand at films as well. Fielding's brassy sound must have had a special appeal for macho directors, as he ended up scoring a number of films by Sam Peckinpah and Clint Eastwood, including The Wild Bunch, The Gauntlet, The Enforcer and The Outlaw Josey Wales. He also kept up a steady business on the side writing arrangements for the night club acts of a host of singers ranging from Polly Bergen and Eddie Fisher to the Barry Sisters and Vic Damone.
Fielding recorded under his own name intermittently throughout the 1950s and 1960s, bouncing around labels after a stint with Decca. Of these albums, the one to look for is his sole record for Command, "Near East Brass," which combines relatively authentic interpretations of near Eastern standards such as "Misirlou" with his own original compositions.
---
Recordings
Sweet with a Beat, Decca DLP-8100
Swingin' in Hi Fi, Decca DLP-8371
Fielding's Formula, Decca DLP-8450
Hollywood Jazztet, Decca DLP-8669
After 8:00, Trip TL-1013
Dance Concert, Kapp KL-1026
The Hi-Los and the Jerry Fielding Orchestra, Kapp KL-1027
Magnificence in Brass, Time S 2042
Bit of Ireland, Time S 2059
We Like Brass, Time S 2119
Advise and Consent, RCA Victor LSO-1068
Hollywood Brass, ABC ABC-542
Near East Brass, Command RS-922-SD
Hogan's Heroes and Jerry Fielding, Sunset 5137
The Wild Bunch, Warner Brothers WS-1814
---
Search for Records and CDs
New CDs
Used Records and CDs


Search GEMM for old recordings by Jerry Fielding.
---
S p a c e A g e P o p M u s i c
Home · Listener's Guide · The Songs · Who's Who · Liner Notes · Selected Tracks · What's New · Search
© spaceagepop 2015. All rights reserved.