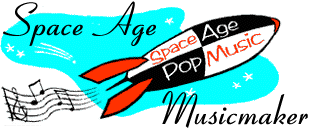 Yma Sumac
---
Born Zoila Emperatriz Chavarri del Castillo 13 September 1922, Inchocan, Peru
Died 1 November 2008, Los Angeles, California

---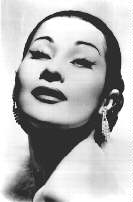 The five-octave queen of exotica. Sumac began performing on radio in Peru in her early teens. Bandleader and composer Moises Vivianco discovered her and began promoting her throughout South America. In 1947, Vivianco and Sumac married and moved to New York City. She performed with Vivianco's combo, Conjunto Folklorica Peruano, until she was contracted by Capitol Records in 1950.
Sumac made a series of records on the Capitol Records label mostly singing exotic Hollywood versions of Incan and South American folk songs. The combination of Sumac's extraordinary voice, her exotic, mysterious looks, and her stage personality made her a great hit for American audiences. During the height of her popularity, she appeared in the films Secret of the Incas and Omar Khayam.
Sumac has remained mostly out of the limelight since the late 1950s, performing intermittently. She did record a complete album, "Miracles," a Rock "tour de force" in 1971, as well as one cut on Hal Wilner's tribute to Disney music, "Stay Awake," in 1991.
Although at times Sumac was as notorious for her temper and personality quirks as her remarkable voice, her longevity eventually earned her the respect of as many generations as she had octaves. In the last decade of her life, she received numerous official honors from her native Peru--most notable the Order of "El Sol del Perú.

For more information about Yma Sumac, check out her official site, www.yma-sumac.com.
---
Recordings
Voice of the Xtabay, Capitol H-244 (10" LP)
Inca Taqui, Capitol L-243 (10" LP)
Voice of the Xtabay, Capitol W-684 (both of the above on one 12" LP)
Legend of the Sun Virgin, Capitol T-299
Mambo, Capitol T-564
Legend of the Jivaro, Capitol T-770
Fuego Del Andes, Capitol ST 1169
Miracles, London XPS 608
---
Search for Records and CDs
New CDs
Used Records and CDs


Search GEMM for old recordings by Yma Sumac.
---
S p a c e A g e P o p M u s i c
Home · Listener's Guide · The Songs · Who's Who · Liner Notes · Selected Tracks · What's New · Search
© spaceagepop 2015. All rights reserved.