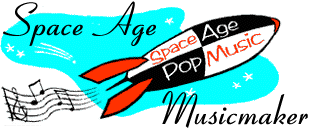 Keith Textor
---
Born 21 July 1929, Coon Rapids, Iowa
---
Textor attended St. Olaf College in Minnesota and studied with music theorist Tibor Serly after graduation. In 1946, he formed his own singing group, the Honey Dreamers, and toured and recorded with moderate success. Textor and his wife Sylvia then joined Fred Waring's Pennsylvanians in 1951 and came to national attention as featured singers on his early 1950s television show. After leaving Waring, he formed his own vocal group, ala the Ray Charles Singers, and recorded several albums for RCA, including one entry in the Stereo Action series. He also became partners with Marilyn Scott in Scott-Textor Productions. The firm specialized in providing radio and television commercial music for Madison Avenue, and Textor's songwriting skills were exercised on such unforgettable tunes as "Air Force Blue" for the U.S. Air Force. Textor also wrote for television shows and contributed the theme song for Allen Funt's long-running comic show, "Candid Camera."
---
Recordings
Garry Moore Presents That Wonderful Year--1940 (choral arrangements and direction), Warner Brothers WS-1282
Sounds Terrific!, The Chorus and Percussion of Keith Textor, RCA Stereo Action LSA-2365
Sounds Sensational!, RCA Stereo Action LSA-2425
Dancing By the Firelight, Warner Brothers WB-1245
Measure the Valleys, ARC 7100
---
Search for Records and CDs
New CDs
Used Records and CDs


Search GEMM for old recordings by Keith Textor.
---
S p a c e A g e P o p M u s i c
Home · Listener's Guide · The Songs · Who's Who · Liner Notes · Selected Tracks · What's New · Search
© spaceagepop 2015. All rights reserved.