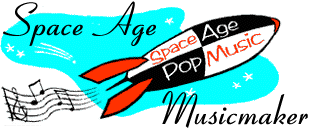 Sonny Lester
---
Born 15 November 1924, New York City, New York
---
Contrary to the Musichound's Guide to Lounge speculation that he was a fictitious creation whose name was taken from Sonny Rollins and Lester Young, Sonny Lester is a real person who's been an active and successful A&R man and producer throughout most of the last 50 years.
Like many of the musicians discussed on this site, Lester got his start as an instrumentalist in the big band days. In his case, he played in the trumpet section of several bands until he was drafted into the U.S. Army in 1943. He wasn't able to get into one of the many fine military bands active at the time, though, and slogged through France, Belgium, and Germany as an infantryman, earning a Purple Heart along the way. One of his duties as a dogface was turning prisoners over to his battalion's intelligence officer, Henry Kissinger, for interrogation. At the very end of the campaign, Lester was finally transferred into the band of the 84th Infantry Division. When the division was later presented with a Presidential Unit Citation, President Truman commented that he'd never seen so many combat decorations in a military band before.
After the war, he married and decided to settle in New York City rather than go back on the road. Having learned to arrange and orchestrate, he was able to make ends meet through a combination of writing and performing gigs. In 1954, he was hired into the Edwin Morris Music publishing company, where he worked on putting together music instruction folios. He quickly had something of a "smash hit" in the music publishing business with a novel packaging of a book of music with a companion record titled, Play or Sing Along with the NBC Rhythm Section. It sold over 100,000 copies and spawned a series of similar releases.
One of the company's executives, Sid Kornheiser, introduced Lester to record producers such as Bob Thiele and Mitch Miller, and soon after, Lester switched over to the record side of the business, joining the A&R team at Coral. Oddly enough, one of his very first jobs at Coral was to produce a record by President Truman's daughter Margaret. Margaret Truman was pregnant at the time, and Lester ended up using a vocal track by sax player Anthony Ortega on the actual release.
Around 1958, Lester switched labels along with Thiele, joining Dot Records. Although he continued to work with a wide range of acts, he had an affinity for jazz. Among his Dot projects was a series of jazz concerts at New York's Town Hall that were recorded and released as albums with the "Jazz Horizons" tag. Lester also teamed up with the legendary radio DJ, Al "Jazzbo" Collins, and produced jazz concerts at the Brooklyn Academy of Music.
A year later, Lester switched labels again, this time hired by ex-Coral exec Norman Weinstroer to join the Arthur Rank's new US affiliate, Top Rank Records. Although the label was short-lived, Lester had chart successes with a number of acts, including rocker Jack Scott, the Fireballs guitar band, and the Knightsbridge Strings. The Knightsbridge Strings had been a ho-hum seller in the UK, but Lester decided to incorporate a rock beat into their orchestration, and the resulting singles become steady sellers. He also produced a little-known album by Raymond Scott titled, "The Unexpected."
In the early 1960s, Lester decided to strike out on his own as an independent producer. He continued to work for a variety of record labels. You'll find his name popping up on such varying material as the Time "After Hours" series, the Roulette strip albums, and MGM's Fantabulous Strings albums. He also expanded into commercials, producing radio and TV ads, including a very successful series of Buick commercials for the McCann-Erickson agency. His chief arranger through most of his time as a producer was another Space Age Pop great, Manny Albam.
He had a regular contract with MGM to produce their budget line. Each summer, he would head to France, book Eddie Barclay's studio for the better part of two months, and record a years' worth of easy listening, anonymous rock and roll covers, and other material for the MGM and Lion labels.
Lester is best known among exotica fans for his numerous strip and belly dance albums on Roulette. Lester had a long-standing contract with Roulette owner Morris Levy. Levy, whose business affiliations were profiled in a chapter in Frederick Dannen's book, Hit Men, titled "The Lullaby of Gangland," would send Lester the wives and girlfriends of his, um, associates, to help them realize their dreams of becoming hit singers. Although the records usually sold, in Lester's words, "about three copies," the jobs earned him Levy's gratitude and free use of a first-class office in Manhattan.
One of the women Levy sent his way was Ann Corio, who was appearing in a Broadway revue, "This Was Burlesque." Poking around for ideas, Lester learned that her feature number in the show was a skit called "How to Strip for Your Husband." Lester decided to make that the theme of the whole album. He brought in a group of 11 musicians, adapted some stock arrangements, and cranked out the album in one session. Soon after, Corio appeared on "The Jack Paar Show" and plugged the album, and overnight the records started flying out of stores. Over 3,000 copies were sold in Boston alone the next day. Newspaper coverage of a woman who was caught shoplifting a copy from the record section at Macy's helped build the record's notoriety. How many husbands actually succeeded in convincing their wives to follow the enclosed instructions and perform forbidden dances in the living room (or the rumpus room) is unknown, but the success of the first album lead Roulette to release five more in its wake.
Sonny Lester's best album is After Hours: Middle East, which features a group of top New York session men such as Urbie Green playing such uncredited originals as "Rebecca from Mecca" and "Port Suez." The tunes were actually written by Lester, although he originally published them as Bill Grundy, a pseudonym he made up to pull in a few extra royalty checks. It's the ideal music for fez-wearing lounge lizards, and one of the greatest unknown space age pop albums.
In 1966, United Artists president Morton Lassiter approached Lester about heading a new jazz subsidiary label. Lester, engineer Phil Ramone, and music director Manny Albam picked up Enoch Light's torch briefly, forming the Solid State label and producing a series of gatefold albums featuring pristine stereo engineering and material straight out of the Command repertoire. The label folded after about three years when United Artists bought Libery Records and combined its jazz catalog under Blue Note, but it produced a number of memorable and now highly-coveted jazz albums, including Candido's The Thousand-Fingered Man, the Kokee Band's Exotica 1970, and the first releases from Chick Corea and the Thad Jones/Mel Lewis orchestra. (Lewis, incidentally, was Lester's main musical contractor, which means he hired the musicians for the sessions, for over 20 years).
Lester turned around and formed another label, Groove Merchant, which was distributed by Pickwick Records in the early 1970s. Jazz organist Jimmy McGriff was the anchorman of Groove Merchant, but Lester also produced the last recordings by the superb blues vocalist and harmonica player, Junior Parker, some excellent releases by the often-elusive saxman Lucky Thompson, and some of the early albums by pianist Chick Corea. Groove Merchant's catalog has been a rich source for today's generation of sampling DJs.
Groove Merchant folded almost as quickly as Solid State, but once again Lester popped up with another label, LRC. LRC has evolved over the last two decades from the "Lester Recording Corporation" into the "Lester Recording Catalog," and has had a series of reissuing deals through such labels as Laserlight and Naxos. Since 1996, LRC has had a worldwide marketing deal with Delta Music for over 100 of its best recordings. A copy of their most recent catalog can be found here. LRC recordings can also be purchased for downloading through the digital music services affiliated with IODA, the Independent Online Distribution Alliance.
Lester moved to Florida in the 1990s, but he continues to oversee licensing and release deals involving his substantial catalog of productions: Japanese label P-Vine, for example, recently negotiated an agreement to reissue a number of selections from the Groove Merchant days.
---
Recordings
Hawaiian Album, Colpix SCP-457
After Hours: Paris, Time S2093
After Hours: Spain, Time S2094
After Hours: Italy, Time S2095
After Hours: Middle East, Time S2096
with Ann Corio, How to Strip for Your Husband, Roulette SR-25186
Music to Keep Your Husband Happy, Roulette SR-42108
This Was Burlesque (Original Cast), Roulette SR-25185
Modern Dance Band Sounds of Country & Western Hits, Roulette SR-25190
How to Belly Dance for Hubby, Roulette SR-42066
How to Belly Dance for Your Husband, Roulette SR-25202 (reissued on SR-42021)
with Ann Corio, More How to Strip for Your Husband, Roulette SR-25224
More How to Belly Dance for Hubby, Roulette SR-25225
---
Search for Records and CDs
New CDs from Amazon.com

Used Records and CDs from GEMM.com


Search GEMM for old recordings by Sonny Lester.
---
S p a c e A g e P o p M u s i c
Home · Listener's Guide · The Songs · Who's Who · Liner Notes · Selected Tracks · What's New · Search
© spaceagepop 2015. All rights reserved.