Born 14 October 1927, Birmingham, Alabama
Died 15 July 1982, Nashville, Tennessee
---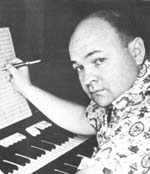 Justis was one of the cornerstones of the studio scene in Nashville. Like Chet Atkins, Floyd Cramer, Jerry Kennedy, Bob Moore, Harold Bradley, and others, Justis worked both sides of the business, collecting steady if anonymous paychecks as a session musician, A&R man, and producer while also releasing albums under his own name.
Justis grew up in Memphis and studied English and music at Tulane University. He played with local bands before Sam Phillips hired him for his legendary Sun label in 1957. Phillips released a raucous sax instrumental written and performed by Justis, changing its title from "Backwoods" to "Raunchy" and garnering Sun its only instrumental Top 40 hit. Billy Vaughn, Ernie Freeman, and others also had hits with their cover versions of "Raunchy." Its honking sax sound became a fixture of country pop music and was adopted by Boots Randolph as his trademark.
Justis never came close to the success of "Raunchy" with Sun, and he spent most of his time working as a musical director, organizing, arranging, and leading the backing groups for Jerry Lee Lewis, Johnny Cash, Roy Orbison, and other Sun stars. As an A&R man, he discovered Charlie Rich covering Frank Sinatra in a Memphis club and brought him to the label. Although Rich struggled throughout his career to keep his lounge side from being covered up with country, he quickly earned a hit with Justis' arrangement of "Lonely Weekends."
Justis left Sun around 1961 and briefly ran his own label, Play Me. He moved to Nashville and worked with Rich again as the singer hopscotched through labels in the 1960s. He joined Mercury Records and became one of the label's key Nashville staff members. Mercury had Justis record a series of instrumental albums that were steady sellers. Each album featured Justis' arrangements of then-current hits such as Booker T & the M.G.'s "Green Onions," Herbie Hancock's "Watermelon Man," Dave Brubeck's "Take Five," and Dick Dale's surf version of "Misirlou"--even "Quiet Village" got covered. For the most part, these are unexceptional renditions, but the albums are worth picking up if cheap, since a nice forgotten hit or catchy arrangement can be found on just about every side.