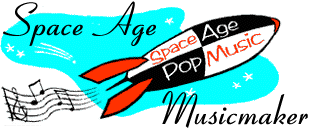 Lenny Dee
---
Born Leonard George DeStoppelaire, 5 January 1923, Chicago, Illinois
Died 12 February 2006, Saint Petersburg, Florida
---

Dee master of dee organ who made dee most of his dee-stinctive name. He was born in Chicago, where his father ran a tavern near Logan Square, but the family moved to Florida when he was a child, and Florida remained his home for most of his life. He began studying music in his early teens, taking accordion lessons. He was good enough to be working as a professional before he was drafted in 1943.
Dee put most of his savings from his Navy pay into buying a Hammond Model A organ, one of the first commercially-available electronic organs in the U.S. He returned to music, this time as an organist, but had only moderate success until the early 1950s, when country singer Red Foley heard him and convinced his label, Decca, to hire Dee as a corn-fed alternative to the lively Ethel Smith. Dee's biggest hit, "Plantation Boogie," came early in his career and was covered by dozens of other artists. Dee himself admitted that the tune was based on a riff from Pine Top Smith's "Pinetop's Boogie Woogie."
Although he never charted again, Decca kept him on contract for over 20 years. He recorded steadily, cutting two to four albums a year for Decca and its successor MCA, until MCA axed most of its easy-listening roster of artists in the early 1970s. While his later albums are strongly influenced by the "countrypolitan" Nashville sound, his early albums are marked by a charming goofiness, as shown by the litany of punning titles.
In the early 1950s, Dee built a home in Sarasota, Florida, and Florida became his base from then on. Dee gave acting a brief and forgettable try in the 1974 movie, Ride in a Pink Car, starring Glen Corbett and filmed near Palmetto, Florida. Dee's character arrives in the pink car of the title, dressed entirely in pink — probably the only memorable thing about the whole made-for-drive-in movie. His most famous album cover was also set in Florida. It showed Dee, seated at his Hammond, cruising through Cypress Gardens alongside one of the stunt water-skiers from that resort's famous shows.
His first love, though, was performing before live audiences, principally in night clubs along Florida's Pinellas coast. In the early 1960s, he moved to St. Peterburg Beach, where he invested in a beachside motel with its own nightclub. It was the first of a string of local venues he put his name to, including Lenny Dee's Den and Lenny Dee's Kings Inn. He appeared at one or another of these spots at least several times a week for a period of over 30 years.
In a way, he outlasted his fans: "My fans don't come out to nightclubs anymore," he told a reporter in the late 1990s. "They're afraid to drive at night. And they don't drink like they used to, so they can't support the kind of clubs I love." He eventually put up his Hammond B3000 for sale in a local want ad and went into retirement, although he still performed once in a while, at the demand of aging fans or a new generation of Space Age Pop listeners, until he succumbed to a terminal illness.
---
Dee-Lightful, Decca DL 8114
Dee-Lirious, Decca DL 8165
Dee-Licious, Decca DL 8275
Dee-Most!, Decca DL 8308
Hi-Dee-Fi, Decca DL 8406
Mr. Dee Goes To Town, Decca DL 8497
Dee-Beat! Decca ED 2552 (45 EP Album)
Dee-Day!, Decca, DL 8628
Dee-Frosting, Decca ED 2613 (45 EP Album)
Dee-Latin Hi-Fi Organ Decca, DL 8718
Mellow-Dee Decca, DL 78796
Lenny Dee Plays The Hits, Decca DL 78857
The Lenny Dee Show, Decca DL 78913
Songs Everybody Knows, Decca DL 78978
Golden Organ Favorites, Decca DL 74112
Happy Holi-Dee, Decca DL 74146
Lenny Dee In Hollywood, Decca DL 74315
Lenny Dee Down South, Decca DL 74365
By Popular Dee-Mand, Decca DL 74429
Something Special, Decca DL 74498
Most Requested!, Decca DL 74572
Sweethearts On Parade, Decca DL 74632
The Lenny Dee Tour, Decca DL 74654
My Favorite Things, Decca DL 74706
In The Mood, Decca DL 74818
Moving On!, Decca DL 74880
Relaxin', Decca DL 74946
Gentle On My Mind, Decca DL 74994
The Best Of Lenny Dee, Decca DL DXSB 7199 (Double Record Set)
Turn Around, Look At Me, Decca DL 75073
Little Green Apples, Decca DL 75112
Here's Lenny Dee At The Organ, Vocalion VL 73782
Spinning Wheel, Decca DL 75152
Easy Come, Easy Go, Decca DL 75196
Remember Me, Decca DL 75255
Easy Loving, Decca DL 75320
Where Is The Love, Decca DL 75366
Organ Special, Vocalion VL 73817
Organ Varieties, Vocalion VL 73819
Double Star Series Featuring Lenny Dee & Earl Grant, MCA Special Products 734702
Lenny Dee, MCA MCA 334
Lenny Dee, MCA MCA 379
Steppin' Out With Lenny Dee, MCA MCA 455
City Lights, MCA MCA 476
The Best Of Lenny Dee Vol.II, MCA MCA2 4084 (Double Record Set)
Lenny Dee Featuring I'll Play For You, MCA MCA 2162
Take It To The Limit, MCA MCA 2200
Misty Blue, MCA MCA 2236
Organ Magic, MCA MCA 2301
Organ Celebration, MCA MCA 2370
Treasury Of Favorites, Suffolk Marketing, Inc. SMI I-74
Melodies Of Love, Suffolk Marketing, Inc. SMI I-75
Golden Organ Memories, Good Music Record Company MSD2 37209 (2-CD Set)
Double Dee-Light, Jasmine JASCD 427 (2-CD Set)
Lenny Dee In Dee-Mand, Jasmine JASCD 468 (2-CD Set)
Lenny Dee's Christmas Cracker, Submarine Records DSOY905 (CD)
Ride In A Pink Car Starring Lenny Dee, Genesis Home Video GV 52 (Movie 87 Min.)
Mr. Entertainer The Lenny Dee Show, No Video Company Name (Video app. 90 Min.)
Mr. Entertainer 2 The Lenny Dee Show, No DVD Company Name (DVD app. 90 Min.)
Lenny Dee: The Man And His Music, Showcase Productions SP 111 (Video 95 Min.)
S' Wonderful, Lenny Dee, Mike Tyo & Dennis Awe, Showcase Productions (Video)
---
Search for Records and CDs
New CDs
Used Records and CDs


Search GEMM for old recordings by Lenny Dee.
---
S p a c e A g e P o p M u s i c
Home · Listener's Guide · The Songs · Who's Who · Liner Notes · Selected Tracks · What's New · Search
© spaceagepop 2010. All rights reserved.