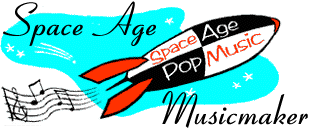 Ethel Smith
---
Born 22 November 1910, Pittsburgh, Pennsylvania
Died 10 May 1996, Palm Beach, Florida
---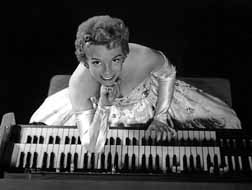 Ethel Smith was probably the first to achieve success as a pop organist. Spotted by a talent agent while working as the house organist at the St. Regis Hotel in New York City, she began appearing on radio in the late-1930s, she moved to Hollywood in 1940 and appeared in a string of minor musicals, including "Cuban Pete" with Desi Arnaz in 1941 and "Bathing Beauty" with Esther Williams in 1944. She co-wrote the theme song to "Cuban Pete" and recorded the best-selling cover of "Tico Tico," which later became her own theme song. She recorded and appeared on television through the 1950s and had a lively nightclub act, adding dancing, singing, brightly colored dresses and outlandish hats, and comedy routines to her already spicy organ playing. She also formed her own publishing company and put out a series of instructional books on the Hammond organ. She continued to perform at local clubs in the Palm Beach area after retiring in the mid-1970s.
---
Ethel Smith's Cha Cha Cha Album, Decca DL 8164
Christmas Music, Decca DL 8187
Galloping Fingers, Decca DL 8456
Latin From Manhattan, Decca DL 8457
Miss Smith Goes To Paris, Decca DL 8640
Dance To The Latin Rhythm's Of Ethel Smith, Decca DL 8712
Waltz With Me, Decca DL 8735
Lady Fingers, Decca DL 8744
Bright And Breezy, Decca DL 8799
Seated One Day At The Organ, Decca DL 78902
Bouquet Of The Blues, Decca DL 78955
Ethel Smith On Broadway, Decca DL 78993
Ethel Smith Swings Sweetly, Decca DL 74095
The Many Moods Of Ethel Smith, Decca DL 74145
Make Mine Hawaiian, Decca DL 74236
Lady Of Spain, Decca DL 74325
Rhythm Antics!, Decca DL 74414
At The End Of A Perfect Day, Decca DL 74467
Hollywood Favorites, Decca DL 74618
Ethel Smith's Hit Party, Decca DL 74803
Ethel Smith, Vocalion VL 3669
Organ Holiday, Vocalion VL 73778
Silent Night--Holy Night, Vocalion VL 73882
Parade, MCA Coral CB 20021
---
Search for Records and CDs
New CDs
Used Records and CDs


Search GEMM for old recordings by Ethel Smith.
---
S p a c e A g e P o p M u s i c
Home · Listener's Guide · The Songs · Who's Who · Liner Notes · Selected Tracks · What's New · Search
© spaceagepop 2015. All rights reserved.