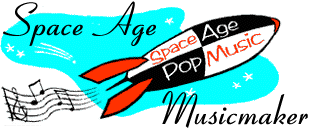 Al Caiola
---
Born Alexander Emil Caiola, 7 Sept 1920, Jersey City, New Jersey
---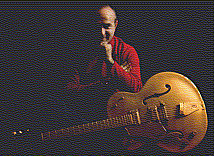 Along with Tony Mottola, the "first call" guitarist in New York City for over thirty years. Both men were prolific studio musicians and the stalwarts of countless "Percussion" albums: Mottola's for Command, Caiola's for Time.
Caiola served in the Marines during World War Two, where he played alongside Bob Crosby and toured much of the Pacific Theater, until the bandmembers were assigned to active combat in the assault on Iwo Jima. After the war, he used the G.I. Bill to study music composition and theory at the New Jersey College of Music.
Not long after graduating, Caiola was hired as a staff musician by CBS radio in New York City, and he has spent much of the subsequent fifty years working in recording and broadcasting studios up and down Manhattan.
The list of artists Caiola worked with is so long and so star-studded that it becomes a bit mind-numbing. It's safe to say that he worked with just about every other New York musician in these pages, as well as pop artists from Tony Bennett to Andy Williams, and most of the mainstream singers in between.
Among his better known collaborations with a singer is the 1958 Columbia album, Open Fire, Two Guitars, on which he and Mottola, both playing acoustical guitars, accompanied Johnny Mathis on an exceptionally warm and beautiful set of ballads.
Cailoa recorded under his own name on a variety of labels: singles on RCA in the early 1950s, small jazz groups on Savoy in the mid-1950s, but he's best known for his very long string of LPs--mostly covers of then-current hits--on United Artists in the 1960s. His covers of the theme songs from "Bonanza" and "The Magnificent Seven" were top 40 hits in 1960-1. Like the Ventures, though, Caiola's own original tunes were often far more interesting to listen to.
At the same time he was recording under his own name for United Artists, Caiola was arranging and leading the Living Guitars for producer Ethel Gabriel's series of Living groups (Strings, Voices, Marimbas, etc.) on RCA's budget label, Camden. A quick glance at the discography below suggests that like fellow session maniacs Dick Hyman and Phil Kraus, Caiola never left the studio between 1961 and around 1972.
Beginning in the 1980s, Caiola cut back on his schedule and began to take a few touring jobs. In 1985, he was the lead guitarist in the band that accompanied Frank Sinatra on his tour of Europe, and he regularly appears with Steve Lawrence and Eydie Gorme in their nightclub and concert performances.
Caiola's best album is undoubtedly Sounds for Spies and Private Eyes, which features a stellar Caiola original, "Underwater Swim," that rates as one of the all-time best spy music tunes and has been included on Capitol's Ultra Lounge series of compilation CDs. Most of the other UA albums are worth a listen, and The Power of Brass, which teams Caiola with a Miami-based brass ensemble of the same name, is a terrific example of genuine "now sounds" music.
For more information on Al Caiola and how to arrange for him to play on your next world tour, check out http://www.zyworld.com/AlCaiola.
---
Recordings
Deep in a Dream, Savoy MG-12033
Serenade in Blue, Savoy MG 12057
Music for Space Squirrels, Atco 33-117
High Strung, RCA Victor LPM-2031 (mono)
The Guitar Style of Al Caiola, RCA CAS-710 (probably a reissue of the above)
Roman Guitar, Roulette R42008
Salute Italia, Roulette SR-25108
Percussion and Guitars, Time S/2000
Percussion Espanol, Time S/2006
Gershwin and Guitars, Time S/2010
Italian Guitars, Time S/2023
Percussion Espanol, Time S/2026
Soft Guitars, Time S/2052
Guitars Woodwinds & Bongos, United Artists WWS8503
Guitars, Guitars, Guitars, United Artists UAS 6077
Theme from "The Magnificent Seven" and Other Favorites, United Artists UAS 6133
Golden Hits Instrumentals, United Artists UAS 6142
Hit Instrumentals from TV Western Themes, United Artists UAS 6161
Solid Gold Guitar, United Artists UAS 6180
Midnight in Moscow, United Artists UAS 6200
Midnight Dance Party, United Artists UAS 6228
Golden Guitar, United Artists UAS 6240
City Guy Plays Country, United Artists UAS 6255
with Ralph Marterie, Acapulco 1922 & The Lonely Bull, United Artists UAS 6256
Paradise Village, United Artists UAS 6263
Ciao, United Artists UAS 6276
Greasy Kid Stuff, United Artists 6287
Cleopatra & Jazz, United Artists UAS 6299
50 Fabulous Guitar Favorites, United Artists UAS 6330
50 Fabulous Italian Favorites, United Artists UAS 6354
On the Trail, United Artists UAS 6362
Tuff Guitar, United Artists 6389
King Guitar, United Artists MS 189 (radio station promo release for "King Guitar Month," whenever and whatever that was. Not the same as the commercial release of the same title. A sampler of his UA catalog.)
Guitar for Lovers, United Artists UAS 6403
Solid Gold Guitar Goes Hawaiian, United Artists UAS 6418
Tuff Guitar English Style, United Artists UAS 6434
Sounds for Spies and Private Eyes, United Artists UAS 6435
Tuff Guitar Tijuana Style, United Artists UAS 6473
Caiola Romantico, United Artists UAS 6527
All Strung Out, United Artists UAS 6553
The Return of the Seven, United Artists UAS 6560
King Guitar, United Artists UAS 6586
Sound of Christmas (with Riz Ortolani), United Artists UAS 6617
It Must Be Him, United Artists UAS 6637
The Power of Brass, United Artists UAS 6666
Let the Sunshine In, United Artists UAS 6712
Warm and Mellow, United Artists 21003
Theme from The Magnificent Seven Ride, Avalanche AV-LA058-F
Bonanza Guitars, Avco Embassy AVE 33019
Al Caiola and Don Arnone, Great Pickin', Chancellor CHLS-5008
Italian Street Songs, Golden Circle PO2001CD
Lovers' Guitars, Mad Bag Productions R-BS 101 (TV marketed two-record set)
Music from The Godfather, RCA Camden CAS-2569
Al Caiola Plays Superstar, Two Worlds TW-9101
The Master's Touch, Tree Top TTSLP 4001
Los Mejores Exitos, Carib Musicana CCD-2084 (CD)
---
Search for Records and CDs
New CDs
Used Records and CDs

<! -- here GEMM code starts>

Search GEMM for old recordings by Al Caiola.
---
S p a c e A g e P o p M u s i c
Home · Listener's Guide · The Songs · Who's Who · Liner Notes · Selected Tracks · What's New · Search
© spaceagepop 2015. All rights reserved.