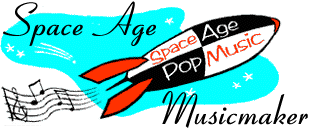 Ralph Marterie
---
Born 24 December 1914, Accerra, Italy
Died 10 October 1978, Dayton, Ohio
---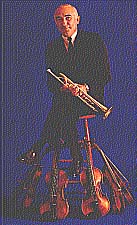 Ralph Marterie hit the road in 1949 and stayed there for most of the next 30 years. Long after most other big bands had traded in their buses for studio gigs and other sources of steady employment, Marterie was still touring, mostly through the Midwest, playing country clubs and American Legion halls and any other venue with a bandstand.
Marterie migrated with his parents to the U.S. in the early 1920s, and the family settled in Chicago, where his father played with the Civic Opera Orchestra. Music rubbed off early on, and by high school, he was leading a dance band culled from his fellow students and friends. After graduation, he got a job playing trumpet in NBC Radio's studio orchestra in Chicago, where he stayed until World War Two.
He joined the Navy and spent most of the war in charge of a fleet band. He enjoyed leading a band and after the war, he returned to Chicago and was able to get the job of conducting ABC Radio's Chicago studio ensemble. This led to his being offered a contract with Mercury Records, for whom he began recording occasional singles in 1948.
His records sold well enough to convince him to form a touring band and set out on his own. He started working in Wisconsin, Michigan, and other nearby states, a circuit he would return to towards the end of his career. In 1952, his cover of "Caravan" stayed on Billboard's list of top 40 juke box hits for over 10 weeks. He had a few minor hits through the end of the 1950s, all of them covers of current favorites such as "Guaglione," "Tequila," and "Skokiaan."
Marterie's output for Mercury (and later, United Artists and Musicor) is pretty impressive, considering that the market for big band music was steadily diminishing throughout his career. Marterie did relatively little original material--that wasn't what his audiences were interested in, anyway. Many of his recordings are standard swing fare, walking a mid-line between syrupy and jazz, but his stereo era recordings are excellent illustrations of the superb audio engineering that characterized Mercury and other labels in the late 1950s and early 1960s.
---
Recordings
Sweet and Lovely, Mercury MG 20010
Alone Together, Mercury MG 20054
Dance Band in Town, Mercury MG 20066
Swing Baby, Mercury MG 20124
On Bandstand Number One, Mercury MG 20125
Salute to the Aragon, Mercury MG 20128
Love Themes of the Classics, Mercury MG 20174
Young America Dances, Mercury 20198
Dance Date, Mercury MG 22053
Jumpin' Trumpet, Mercury MG 20294
Music for a Private Eye, Mercury MG 20437
Dance Album, Mercury/Wing MGW-12179
Soft Tender Trumpet, Mercury/Wing MGW-12185
Marvelous Marterie, Mercury/Wing MGW-12511
Dance Party, Mercury SR60004
College Dance Favorites, Mercury SR60035
Hi-Fidelity Concert, Mercury SR 60036
Sing Baby, Mercury SR60124
Big Band Man, Mercury SR 60183
88 Strings, United Artists WWS 8506
Big Band Themes with 88 Strings and a Golden Horn, United Artists UAS 6177
Dance to the Music Man, United Artists UAS 6235
Dancer's Choice, United Artists UAS 6285
50 Dance Favorites, United Artists UAS 6349
51 Country Club Favorites, Musicor MS 3011
Motion Picture Hits, Musicor MS 3049
---
Search for Records and CDs
New CDs
Used Records and CDs


Search GEMM for old recordings by Ralph Marterie.
---
S p a c e A g e P o p M u s i c
Home · Listener's Guide · The Songs · Who's Who · Liner Notes · Selected Tracks · What's New · Search
© spaceagepop 2009. All rights reserved.