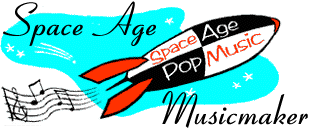 The Ventures
---
Original members
Bass: Bob Bogle, born 6 Jan 1934, Wagoner, Oklahoma
Lead guitar: Nokie Edwards, born 9 May 1935, Lahoma, Oklahoma
Rhythm guitar: Don Wilson, born 10 Feb 1933, Tacoma, Washington
Drums: Howie Johnston, born 1938, Olympia, Washington
Replaced in 1963 by Mel Taylor, born 24 Sept 1933, Brooklyn, NY; died 11 Aug 1996, Tarzana, California
---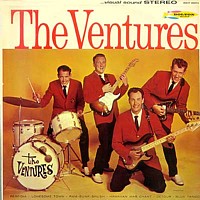 The Ventures are perhaps the most successful instrumental group of the rock era, having sold over 50 million records since 1960.
The group formed in Seattle in 1959, and soon recorded a cover of Chet Atkins' own cover of jazz guitarist Johnny Smith's "Walk, Don't Run." The initial release was on the Blue Horizon label, which was founded and funded by Wilson's mother. It quickly became a regional hit, however, and was picked up and rereleased nationally on the Dolton label. For most of the next 10 years, the Ventures would crank out an endless series of LPs on Dolton, mostly filled with covers of other vocal and instrumental hits. Their tremendous success in the early 1960s inspired countless teenagers to form their own guitar-led quartets, aided in no small part by the series of instructional books put out under Edwards', Wilson's, and Taylor's names.
Among the group's hits were "Perfidia" (1961), "Lullaby of the Leaves" (1962), "Walk Don't Run '64" (1964), and a cover of the theme to the television show, "Hawaii Five-O" (1969). Although their popularity in the USA faded by the late 1960s, the Ventures were enduring favorites in Japan, and continue to tour and record for the Japanese market to this day. They sold over 30 million albums in the Japanese market alone, many of these live albums recorded in Japan.
Virtually nothing the Ventures recorded is without something of interest, but their mid-to-late sixties material is definitely worth checking out, particularly now that much of it available in attractive 2-fer CD sets from One-Way Records. In many cases, the best stuff on these albums are not the covers, but the original tunes, such as "Night Stick" and "A Swingin' Creeper" from Ventures a Go-Go.
---
Recordings
Walk Don't Run, Dolton BST-8003
The Ventures, Dolton BST-8004
Another Smash, Dolton BST-8006
The Colorful Ventures, Dolton BST-8008
Twist with the Ventures, Dolton BST-8010 (later reissued as Dance!)
Dance with the Ventures, Dolton BST-8014 (also issued as The Ventures Twist Party, Vol. 2)
The Ventures Beach Party, Dolton BST-8016 (also issued as Mashed Potatoes and Gravy)
Going to the Ventures Dance Party, Dolton BST-8017
The Ventures Play Telstar and the Lonely Bull, Dolton BST-8019
Play Guitar with the Ventures, Dolton BST-17501
Surfing, Dolton BST-8022
Play the Country Classics, Dolton BST-8023 (later reissued as I Walk the Line)
Let's Go, Dolton BST-8024
The Ventures in Space, Dolton BST-8027
The Fabulous Ventures, Dolton BST-8029
Walk, Don't Run--Vol. 2, Dolton BST-8031
The Ventures Knock Me Out!, Dolton BST-8033
The Ventures on Stage, Dolton BST-8035
Ventures a Go-Go, Dolton BST-8037
Ventures Meet Bobby Vee, Liberty LST-7289
The Ventures Christmas Album, Liberty LST-8038
Where the Action Is, Liberty LST-8040
Batman Theme, Liberty LST-8042
Go with the Ventures, Liberty LST-8045
Wild Things, Liberty LST-8047
Guitar Freakout, Liberty LST-8050
Super Psychedelics, Liberty LST-8052
Golden Greats by the Ventures, Liberty LST-8053
$1,000,000 Weekend, Liberty LST-8054
Flights of Fantasy, Liberty LST-8055
The Horse, Liberty LST-8057
Underground Fire, Liberty LST-8059
More Golden Greats, Liberty LST-8060
Hawaii Five-O, Liberty LST-8061
Swamp Rock, Liberty LST-8062
Tenth Anniversary, Liberty LST-35000
New Testament, United Artists UAS-6796
Shaft, United Artists UAS-5547
JOY, United Artists UAS-5575
Rock & Roll Forever, United Artists UAS-5649
Only Hits, United Artists UA-LA 147
The Jim Croce Songbook, United Artists UA-LA217-C
The Ventures Play the Carpenters, United Artists UA LA231G
Now Playing, United Artists UA-LA471G
TV Themes, United Artists UA-LA717G
Rocky Road, United Artists UA-586G
NASA 25th Anniversary, Tridex TDX1003
Superpak, UXS-80
Radical Guitars, IL 1006
Greatest Hits, TDX 100
Legendary Masters, EMI E2 93451
The Compact Ventures, Garland GRZ003
Live in Japan '65, EMI E2 32820
Tele-Ventures, EMI 53738
In the Vaults, CDCHD 651
Surfing, GNP Crescendo GNPD 2246
Wild Again, GNP Crescendo GNPD 2252
New Depths, GNP Crescendo GNPD 2259
---
Search for Records and CDs
New CDs
Used Records and CDs


Search GEMM for old recordings by The Ventures.
---
S p a c e A g e P o p M u s i c
Home · Listener's Guide · The Songs · Who's Who · Liner Notes · Selected Tracks · What's New · Search
© spaceagepop 2015. All rights reserved.