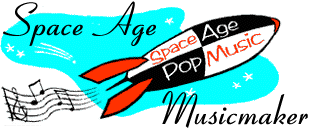 The Three Suns
---
Al Nevins, guitar (Born Albert Tepper 1915, Washington, DC; Died 25 January 1965, New York City, NY)
Morty Nevins, accordion (Born Morton Tepper 26 May 1917, Washington, DC; Died 20 July 1990, Beverly Hills, California)
Artie Dunn, organ (Born 14 March 1922, Dorchester, Massachussetts; Died 15 January 1996, Palm Springs, California)
---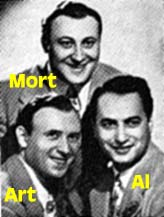 Reputed to be Mamie Eisenhower's favorite group, the Three Suns are the leading small group in exotica. Brothers Al and Morty grew up in Brooklyn, where they joined with their cousin, Artie Dunn, as a trio, Al switching from violin to guitar to pick up more gigs. After a year or two working around New York City, they got their first serious show at the Adelphia Hotel in Philadelphia in 1939 and then moved on the Circus lounge of the Hotel Picadilly in New York in 1940, where a two-week engagement turned into a seven-year stay.
They had their first hit in 1944, with "Twilight Time," and their cover of "Peg O' My Heart," released just after the Harmonicats' version came out, contended with it for the #1 spot.
The Three Suns were a concept as much as a group, since Al Nevins dropped and added players to suit the material. In the late 1940s, the group was a quintet, with a rhythm guitar and bass added. Their first big hit, "Twilight Time," written by Morty Nevins, went on to have over 3 million air plays, according to BMI. In 1951, they recorded as a quintet with Marty Gold on organ and Larry Green on piano. They also recorded as a quartet with Ray Bohr on pipe organ (and later, on "Swinging on a Star," with R&ampB sax legend King Curtis!), as a sextet, a septet (with Billy Mure on second guitar), a combo of 13 (on "Perdido," 1954), and with orchestral accompaniment. Nevins himself stopped performing live in 1954 and concentrated on producing and publishing. Johnny Buck and later Joe Negri replaced him on guitar. Artie Dunn then reformed the group for live performances in 1957 with Tony Lovello on accordion and Johnny Romano on guitar. Morty Nevins went into studio work as an arranger and composer, and Al Nevins formed a music publishing house, Aldon Music, with Don Kirshner.
Aldon Music, located at 1650 Broadway, was just across the street from the legendary Brill Building. Nevins and Kirschner signed many of New York's best young songwriters and Aldon Music placed over 200 songs on the Top 40 charts, including "Will You Still Love Me Tomorrow" and "Up On The Roof" by Gerry Goffin and Carole King, "Breaking Up Is Hard To Do" by Neil Sedaka and Howard Greenfield, and "Uptown" by Barry Mann and Cynthia Weil. Aldon Music was bought by Columbia Pictures-Screen Gems in 1964. Kirschner took over as head of the music company, and Al Nevins retired.
The Three Suns became considerably more experimental after Nevins formed Aldon Music. Al suffered a series of major heart attacks in the early 1960s that forced him out of performing, and he began to shift the producing work to others. Many of the later albums are credited to "Nevins, Kirschner Associate" and list no players. Al Nevins was willing to experiment with the best of them, and hired such bold arrangers as Sid Ramin, Marty Gold, and Roy Glover. He liked to toss in unusual instruments and sounds, such as the celestine, a theater pipe organ, castanets, vibes, a six-guitar combo, and what I think is a musical saw (on "One Enchanted Evening"). The best of the later albums were arranged by Charles Albertine. Nevins also recorded three albums of soft orchestral music for RCA under his own name. In the late 1960s, Morty Nevins revived the Three Suns, this time featuring Vinnie Bell on miscellaneous guitar paraphenalia and Fred Mendelsohn on organ, for Musicor Records.
Among cognoscenti, "Fever and Smoke," "Movin' and Groovin'," "On a Magic Carpet," "Twilight Memories," and "A Swingin' Thing" are considered the albums to seek out. "Danny's Inferno," from "Movin' and Groovin'," is included on more recent exotica compilations than perhaps any other cut and is one of the leading examples of a classical kitsch number.
For more information on the Three Suns in their various instantiations, check out Michael Toth's excellent website, the Three Suns Universe.
---
Recordings
Twilight Time, Rondo-lette A14 (Reissue of 1940s material)
The Three Suns in Three-Quarter Time, RCA Victor LPM-3
Hands Across the Table, RCA Victor LPM-28
The Three Suns Present Your Christmas Favorites, RCA LPM-52
The Happy-Go-Lucky Sound, RCA Camden CAL-454
At the Candlelight Cafe, RCA Camden CAL-513
Continental Affair, RCA Camden CAL-573
The Sounds of Christmas, RCA Victor LPM-1132 (reissued on RCA Camden CAL-633)
My Reverie,RCA Victor LPM-1173
High Fi and Wide, RCA Victor LPM-1249
Soft and Sweet, RCA Victor LPM-1303
Midnight for Two, RCA Victor LPM-1333
Things I Love, RCA Victor LSP-1543
Let's Dance with The Three Suns, RCA Victor LSP-1578
Love in the Afternoon, RCA Victor LSP-1669
Having a Ball with The Three Suns, RCA Victor LSP-1734
The Three Suns Swingin' on a Star, RCA Victor LSP-1964
A Ding Dong Dandy Christmas!, RCA Victor LSP-2054
Twilight Memories, RCA Victor LSP-2120
On a Magic Carpet, RCA Victor LSP-2235
Dancing on a Cloud, RCA Victor LSP-2307
Fever and Smoke, RCA Victor LSP-2310
Fun in the Sun, RCA Victor LSP-2437
Movin' 'n' Groovin', RCA Victor Stereo Action LSA-2532
Warm and Tender, RCA Victor LSP-2617
Everything Under the Sun, RCA Victor LSP-2715
One Enchanted Evening, RCA Victor LSP-2904
A Swingin' Thing, RCA Victor LSP-2963
Twilight Moods, RCA Victor LPM-3012
Busy Fingers, RCA Victor LPM-3040
Three Suns Christmas Party, RCA Victor LPM-3056
Slumbertime, RCA Victor LPM-3075
The Three Suns Present Pop Concert Favorites, RCA Victor LPM-3113
Country Music Shindig, RCA Victor LSP-3354
This is the Three Suns, RCA Victor VPS 6075
16 Greatest Hits, Musicor MS3090
Albums by Al Nevins and his Orchestra
Escapade in Sound, RCA Victor LPM-1166
Lights and Shadows, RCA Victor LSP-1475
Dancing with the Blues, RCA Victor LSP-1654
---
Search for Records and CDs
New CDs
Used Records and CDs


Search GEMM for old recordings by Three Suns.
---
S p a c e A g e P o p M u s i c
Home · Listener's Guide · The Songs · Who's Who · Liner Notes · Selected Tracks · What's New · Search
© spaceagepop 2015. All rights reserved.