Born Brooklyn, New York, around 1935
---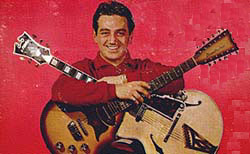 One of the two or three greatest guitar geeks of the Space Age Pop era, Vinnie Bell will go down in musical history as the inventor of the "watery" guitar sound that was a big fad in instrumental recordings of the late 1960s. Used most prominently on Ferrante and Teicher's 1969 Top Ten cover of the theme to "Midnight Cowboy," the effect became perhaps the most-copied technique among guitarists until the wah-wah pedal became standard equipment in the 1970s. Actually, Bell can probably take credit for the wah-wah pedal, too, as there is evidence that he built them as far back as the early 1950s. Constantly experimenting with home-made electronic devices to modify or distort electric guitar effects, Bell played on somewhere around a gazillion studio sessions in New York and Los Angeles throughout the 1960s and 1970s.
Bell picked up the guitar at an early age, and when he was still in his teens, was studying with two of the best players on the New York City scene, Carmen Mastren and Tony Mottola. Bell played in nightclubs in the New York City era into the early 1960s, but by 1962, he decided to devote his energies to working as a studio musician. Well before that, he was already sitting in as a session player on various recordings, often to take advantage of the unique guitar effects he was known for producing. His early wah-wah designs can be heard on such rare singles as "Jersey Bounce" by the Spacemen and "Smoke Rings" by the Overtones. A very early example of his "watery guitar" effect can be heard on "Barracuda," a 1959 single by the Gallahads on Vic (produced by Billy Mure, by the way).
Although he only recorded occasionally under his own name, Bell left his indelible mark on many recordings. He added the distinctive "chick" sound that comes of the end of each phrase on Dionne Warwick's "Walk On By" and also stands out on Frankie Valli's "Can't Take My Eyes Off of You." For one of Joe Harnell's albums, he combined a Greek bouzouki with electronics to produce the "bellzouki." Charles Fox leaned heavily on Bell for his score for the legendary Jane Fonda space sex kitten saga, Barbarella. Even Lester Lanin succumbed to Bell's spell, hiring him and Fox for his album, Narrowing the Generation Gap. Several decades later, his pedalboard tremolo was used to tremendous effect in the bass guitar part that leads off Angelo Badalamenti's atmospheric theme to David Lynch's television series, "Twin Peaks."
His first album, Whistle Stop, was a real showcase of his array of guitar effects. It was such a departure from its usual jazz fare that the label, Verve, felt compelled to include the following warning in the liner notes:
SPECIAL NOTE TO THE CONSUMER AND RECORD REVIEWER:
This album contains recordings by VINNIE BELL, at this writing New York's busiest studio guitar player. It is designed to show-case Vinnie's electronic genius and his musicianship. The album is based on the contemporary, popular, instrumental approach to recording. This is not a JAZZ recording.
Despite Verve's attempt to distance itself, the album's a terrific compilation of rockin' tunes. Arranged by Bell, Four Seasons arranger Charles Callelo, and Claus Ogerman, it stands up as one of the very best early "now sounds" albums. It's also of some historical significance as one of the earliest albums to use real-time electronic guitar effects instead of tape manipulation or multi-tracking.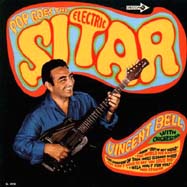 Bell invented a number of electric guitar models for Danelectro, Coral, and other companies. He designed perhaps the first electric 12-string guitar, and invented the electric sitar in 1967, using it on such hits as "Green Tambourine" by the Lemon Pipers, "Band of Gold" by Freda Payne, and "Heartbreaker" by Gene Pitney. His own album Pop Goes the Electric Sitar is a highly valued collectable, going for $50 and more a copy on eBay.
Bell, Al Caiola, Bucky Pizzarelli, Tony Mottola, and several other busy session guitarists set up an informal partnership known as the Manhattan Guitar Club in the mid-1960s. To avoid the cost of paying a cartage company to haul their amplifiers around to the various studios in the city, the group bought amps that they left in each studio under padlock. Someone on the studio engineering staff had the key, along with instructions about who was allowed to use it. However, it was no secret that a fair number of non-club members were able to sweet-talk their way into getting it unlocked.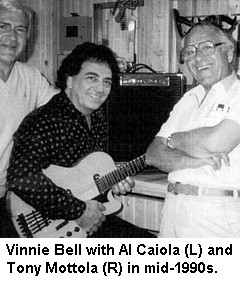 Although primarily based in New York, Bell regularly flew out for L.A. sessions, ranging from "I'm a Believer" by the Monkees to Frank Sinatra's late-career set, Trilogy. He also performed on hundreds of soundtracks, from "The Godfather" to "Twin Peaks," and more recently, "Everyone Says I Love You" and "Holy Smoke." And his work on television and radio commercial probably comprises over a thousand ads. He was voted Most Valuable Player on Electric Guitar seven times by the New York chapter of National Academy of Recording Arts and Sciences (NARAS) and given their Emeritus award in the late 80's.
Bell was one of the few session men to regularly rate a mention in an album's credits or liner notes, at least when his special effects were a major ingredient. On the other hand, for every credit, there were hundreds of sessions, ranging from Herman's Hermits to Perrey and Kingsley's landmark Now Sounds from Outer Space album, for which his name was never mentioned. For space age pop fans, the sight of Vinnie Bell's name on an album is usually a sure sign of something well worth a listen.
For more information, check out Vinnie's own website: www.vinniebell.com.