---
Born Francisco de Asis Javier Cugat Mingall de Bru y Deulofeo 1 January 1900, Gerona, Spain
Died 27 October 1990, Barcelona, Spain
---
Cugat's family emigrated to Cuba when he was five. He trained as a classical violinist and played with the Orchestra of the Teatro Nacional in Havana. Cugat moved to New York somewhere between 1915 and 1918, where he had his first brush with success during the tango craze with a band called "The Gigolos." When the craze ended, the band folded, and he picked up odd jobs as a violinist. Eventually, he went to work for the Los Angeles Times as a cartoonist (Cugat's caricatures would later be syndicated by King Features). In the late 1920s, as sound began to be used in movies, he assembled another tango band that had some success in very early musical shorts. By the early 1930s, he began appearing with some incarnation of his group in feature films with such memorable titles as "In Gay Madrid."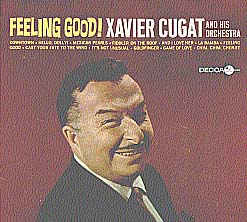 Cugat took his band to New York to open the new Waldorf Astoria Hotel and it became the hotel's resident group. His success was as much due to his showmanship (he dressed the band in flaming red jackets and kept up a lively patter in between a steady flow of novelty numbers mixed with dance tunes. Cugat never had any regrets about his artistic compromises: "I would rather play Chiquita Banana and have my swimming pool than play Bach and starve."
He worked the LA-New York circuit regularly for most of the next 30 years, alternating hotel and radio dates with movie appearances. In 1940, he recorded the song "Perfidia" with singer Miguelito Valdes and had a huge hit. Cugat had few Top 10 hits, but he was never one to miss a trend, quickly turning out records to share in the success of the conga craze, the mambo craze, the cha-cha craze, the twist craze--you name it.
Cugat was a notorious womanizer. He had four wives and always put attractive women in his groups. He gave Rita Hayworth one of her first jobs, and later appeared with her in the film "You Were Never Lovelier."His Mercury recordings of the 1950s often featured his then-wife (#3), blonde bombshell and singer Abbe Lane. In the mid-1960s, he took another blonde (with the aid of chemistry) under his tutelage, and the result this time was Charo--who appeared in skin-tight gold lame pants and stiletto heels, billed as a folk singer.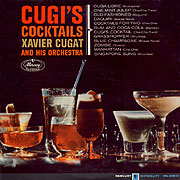 Cugat's later work is among his most interesting and listenable. His Mercury albums of the early 1960s feature some audacious stereo arrangements. "Cugie's Cocktails" is a must for your next lounge party, with all its cuts oriented about the cocktail theme ("Manhattan," "Cuba Libre," "Creme de Menthe," as well as several terrific originals). Switching to Decca in the mid-1960s, he put out a series of albums that fall somewhere between discotheque and Latin soul and include some excellent numbers. Varese Saraband recently collected a terrific sample of these on their 1997 CD compilation "Cugie a-Go-Go."
Cugat probably had more to do with the infusion of Latin music into the popular American scene than any other musician--Desi Arnaz and Perez Prado definitely followed in Cugat's footsteps. If his aesthetics and lifestyle did not always stick to the high road, you've got to give Cugat credit for longevity at least.
---
Recordings3>
Dance with Cugat, Columbia CL-537
Quiet Music, Vol. VI: Relaxing with Cugat, Columbia GL 515
Cugat's Favorite Rhumbas, Columbia CL-579
Ole!, Columbia CL-618
Cha-Cha-Cha, Columbia CL-718
Mambo at the Waldorf, Columbia CL-732
Merengue by Cugat, Columbia CL-733
Love, Bread & Cha-Cha-Cha, Columbia CL1016
Cugat Cavalcade, Columbia CL-1094
Waltzes--But by Cugat!, Columbia CL-1143
The King Plays Some Aces, RCA Victor LSP-1882
Cugat Spain, RCA Victor LSP-1894
Chile Con Cugie, RCA Victor LSP-1987
That Latin Beat, RCA Camden CAL 323
Spanish Eyes, Coral 20061
Cugat's Favorites, Mercury MG 20065
Mambo, Mercury MG20108
Cugi's Cocktails, Mercury MG-20832/SR-60832
Best of Xavier Cugat, Mercury MG-20870/SR-60870
Cugat Caricatures, Mercury MG 20888
Plays the Music of Ernesto Lecuona, Mercury MG 20936
Viva Cugat!, Mercury PPS-6003
The Best of Cugat, Mercury PPS-6015
Plays Continental Hits, Mercury PPS-6021
Feeling Good, Decca DLP 74672
Dance Party, Decca DLP74740
Bang Bang, Decca DLP 74799
Xavier Cugat Today, Decca DLP 74851
The Best of Xavier Cugat, MCA2-4072
---
Search for Records and CDs
New CDs
---
S p a c e A g e P o p M u s i c
Home · Listener's Guide · The Songs · Who's Who · Liner Notes · Selected Tracks · What's New · Search
© spaceagepop 2015. All rights reserved.