---
Born 4 February 1911, Brooklyn, New York
Died 23 March 1995, Los Angeles, California
---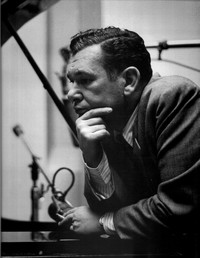 Hal Mooney was one of what Billy May called the "nuts and bolts" arrangers, producing professional, sometimes imaginative, sometimes predictable recordings.
Although Mooney studied and played the piano while growing up, his real interest was in composing. He studied composition with New York University professor Orville Mayhood and, later, the renown Joseph Schillinger, whose method of composition influenced countless American musicians. His first professional gigs, though, were as a pianist. Bandleader Hal Kemp first spotted Mooney's talent with the pen, and Mooney, Lou Busch, and John Scott Trotter became the core of Kemp's arranging team.
He switched bands, joining Jimmy Dorsey's orchestra just before the start of World War Two, but had to put his civilian career on hold to serve in the U.S. Army. After the war, he settled in Hollywood, where he managed to make his way as a free-lancer at a time when most musicians were tied to studio contracts.
Mooney's arrangements never garnered the kind of attention Nelson Riddle's did, but they were good enough in the eyes of the record companies. In the twenty-plus years before he joined the staff of Universal Studios, he arranged and conducted ensembles behind most of the big-name singers of the time: Bing Crosby, Frank Sinatra, Judy Garland, Peggy Lee, Patti Page, Kay Starr, Billy Eckstine, and many others.
He joined Mercury Records as an A&R man in 1956, and remained with the label until the late 1960s. While with Mercury, he continued his successful partnerships with singers, backing some of the label's best (Helen Merrill, Ernestine Anderson) and worst (Buddy Rich!) voices. Of particular note is his work with three of the best female jazz singers ever: Sarah Vaughn, Dinah Washington, and Nina Simone, with each of whom he recorded multiple albums.
Mooney often had to pick up loose strings left behind by Mercury's young musical director, Quincy Jones, on more than one occasion completing the tracks for albums Jones started. Mooney helped bring Xavier Cugat over from Columbia, and produced albums with acts ranging from Dizzy Gillespie to Moms Mabley for Mercury and its subsidiary labels Wing, Emarcy, and Limelight.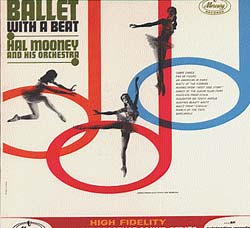 Most of Mooney's own albums date from his time with Mercury. The best of these, in my opinion, is Ballet with a Beat, a fun mixture of West Coast jazz, showcase pieces from the standard ballet repertoire, and suitably outrageous channel separation and dynamic range highlights in Mooney's arrangements. Another worth a listen is Musical Horoscope, an album of Mooney original compositions based on the signs of the Zodiac--a precursor to a whole series of albums by Mort Garson. The "Leo" piece was later used as the theme for the popular "Huntley-Brinkley Report" on NBC. Mooney wasn't reluctant to experiment with the possibilities of stereo, and he moonlighted for Bobby Shad's Time label for several classic stereo showcase albums.
Mooney finally left Mercury when Philips began to phase the label out in favorite its new Polygram logo, and went to work for Universal Studios. At Universal, Mooney worked as musical supervisor on dozens of television series, inluding some of the biggest hits of the 1970s: "Marcus Welby, M.D."; "Night Gallery"; "The Six Million Dollar Man"; "The Bionic Woman"; "The Rockford Files"; and "Columbo." He also worked on some of the most memorable made-for-TV movies of the era, including "Duel" (1971); "Sunshine" (1973); and "The Execution of Private Slovik" (1974).
As musical supervisor, Mooney usually just selected tracks from Universal's extensive library, but he frequently composed and recorded his own cues. In fact, ASCAP lists over 100 cues credited to Mooney in its licensing database. On rarer occasions, such as for the movie, Raid on Rommel, he even wrote the full soundtrack.
He retired from Universal in the late 1970s.
---
Musical Horoscope, Mercury MG 20175
also released as Any Time, Mercury SR 60073
An Affair To Remember, Mercury SR 60093
Dreamland, U.S.A., Mercury MG 20180
Woodwinds and Percussion, Mercury PPS 6013
Ballet with a Beat, Mercury PPS 6017
50 Years of Dancing, Mercury SR 60726
Flutes and Percussion, Time Series 2000 S/2001
Voices in Song, Time Series 2000 S/2003
The Passion of Paris, Time Series 2000 S/2005
Voices in Song and Percussion, Time Series 2000 S/2008
And Then I Wrote: Jerome Kern, Time Series 2000 S/2166
Jump for Joy!, Kapp KS-3405
---
Search for Records and CDs
New CDs
Used Records and CDs


Search GEMM for old recordings by Hal Mooney.
---
S p a c e A g e P o p M u s i c
Home · Listener's Guide · The Songs · Who's Who · Liner Notes · Selected Tracks · What's New · Search
© spaceagepop 2015. All rights reserved.