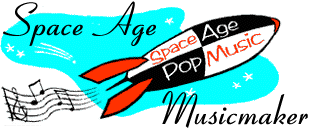 Joe "Fingers" Carr
---
Born Louis Ferdinand Bush, 18 July 1910, Louisville, Kentucky
Died 19 September 1979, Camarillo, California
---
Although Lou Bush (not Bush, as often spelled) is best known for his honky-tonk piano recordings under his stage name, Joe "Fingers" Carr, his contributions to space age pop go well beyond that. He got his start early, leading his own band by the age of 12 and leaving home at 16 to work as a professional musician. He played with a number of sweet big bands--Clyde McCoy, Henry Busse, and George Olson--then took a short break to study at the Cincinnati Conservatory.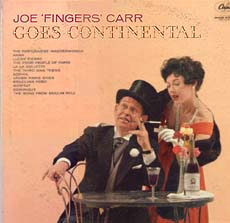 After that, he went back to the sweet bands, this time joining one of the most successful of them, Hal Kemp's. Bush stayed with Kemp for most of the 1930s and married the first of his several wives, the band's girl singer, Janet Blair. After the band's lead arranger, John Scott Trotter, departed in early 1936, Bush and fellow band member Hal Mooney split most of the arranging duties. When Kemp died in from a car crash 1940, they moved to Los Angeles and started working as studio musicians, but World War Two came along and pulled Bush into the Army for a three-year stint.
When he returned to L.A. in 1945, he hooked up with Johnny Mercer's fledgling Capitol Records label and ended up working as an A&R executive. He continued to do occasional session work as a pianist, though, and provided the key ingredient in the 1949 Jo Stafford-Paul Weston hit, "Ragtime Cowboy Joe." In 1950, he sold the label on the idea of recording his ragtime playing, and he made up the name, Joe "Fingers" Carr, during his initial studio session. His first single, featuring his original tune, "Ivory Rag," became an international hit.
Although Capitol played up the nostalgic cariacature of Carr the honky tonk pianist, wearing derby hat, bowtie, vest, and suspenders, Bush tried not to let his recordings slip into mere novelty. "I think the first record I did was gimmicked, but I insisted on not doing that later," he told author Terry Waldo. "I was helped a great deal by [Rudi] Blesh's book They All Played Ragtime that came out about the same time ... I believed in recording the music straight.
Carr's success spurred a revival of ragtime in the form of camped-up honky tonk. A German pianist going by the name of Crazy Otto included Bush's "Ivory Rag" in his "Crazy Otto Medley" and scored another international hit. Dot Records enlisted Johnny Maddox to cover it for U.S. release and the result was one of the biggest instrumental hits of 1955. Johnny went on to become a staple of the Dot catalog, and fellow Dot artist Lawrence Welk decided to add a honky tonk pianist--first "Big Tiny" Little, then Jo Ann Castle--to his roster.
In the midst of his success as Carr, Bush married singer and Capitol artist Margaret Whiting, but the couple divorced after a few years. He must have married and divorced at least one other time during this time, because Bob Thompson recalled that it was easy to recruit Bush for Katie Lee's Songs of Couch and Consultation since "he was trying to keep up with alimony for three wives."
In the late 1950s, Bush left Capitol for Warner Brothers, where again he worked as both performer and executive, although he grew less and less interested in the former. His most noteworthy accomplishment as an A&R man for Warner Brothers were the series of highly successful musical comedy albums he produced with comedian Allan Sherman, including the hit single, "Hello Muddah, Hello Faddah."
Bush died in an automobile accident in 1979.
---
Recordings (Courtesy of John Maher)
As Joe "Fingers" Carr:

Bar Room Piano, Capitol T-280
Rough House Piano, Capitol T-345
Joe "Fingers" Carr & his Ragtime Band, Capitol T-443
Fireman's Ball, Capitol T-527
Plays the Classics, Capitol T-649
Mister Ragtime, Capitol T-760
Pee Wee and Fingers, Capitol T-783
Honky-Tonk Street Parade, Capitol T-809
The Hits of Joe "Fingers" Carr, Capitol ST-2019
Honky-Tonk Hits, 2-Record Set, Good Music Record Co., SLB8339
Joe Fingers Carr goes Continental, Capitol T1000 (2)
The Black & White Rag (1899-1918), Capitol/EMI ST-11303
The World's Greatest Ragtime Piano Player, Warner Brothers WBS-1386
Plays "Zambezi" and "The Young BullsoPamplona", Dot DLP3705
Giant Hits of the Small Combos, Warner Brothers WBS-1406
Mr. Ragtime "Globetrotter", DICO 1302
Joe Fingers Carr, Point Records 271
With Ira Ironstrings, Together for the Last Time, Warner Brothers WBS-1389
The Riotous, Raucous, Red-Hot 20's, Warner Brothers WBS-1423
Brassy Piano, Warner Brothers WBS-1456
With "Big Tiny" Little, Mr. Ragtime Meets Mr. Honky Tonk, Coral CRL 757444
Hits of the '60s, Dot DLP 25715
Joe "Fingers" Carr and The Blueegrass Jug Band, Dot DLP25767
Parlor Piano, Capitol T698
Joe "Fingers" Carr and his Swingn' String Band, Capitol T 12117
Oh You Kid (with Dorothy Provine), Warner Brothers W1466
The Happy Sound, Piano & Orchestra, Pickwick SPC-3060
His Happy Sound, Same tunes as above only on Sears promo label, SPS-438


As Lou Bush:


Honky Tonk Piano, Capitol T-188
Lazy Rhapsody, Capitol T-1042
---
Search for Records and CDs
New CDs
Used Records and CDs

<! -- here GEMM code starts>

Search GEMM for old recordings by Joe Fingers Carr.
---
S p a c e A g e P o p M u s i c
Home · Listener's Guide · The Songs · Who's Who · Liner Notes · Selected Tracks · What's New · Search
© spaceagepop 2015. All rights reserved.