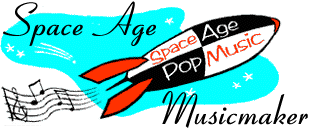 Paul Weston
---
Born Paul Wetstein 12 March 1912, Springfield, Massachussetts
Died 20 September 1996, Santa Monica, California
---
Paul Weston is one of the key founders of space age pop, first musical director for Capitol Records and creator of the first series of "mood music" records. With his wife, pop singer Jo Stafford, he also created some of the most memorable send-ups of popular music, posing as the earnest but inept duo, Jonathan and Darlene Edwards.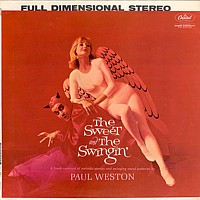 Weston attended Darmouth College, earning a Phi Beta Kappa key, and joined the Tommy Dorsey Orchestra as an arranger during the height of its success. Beginning in 1940, he branched out as an arranger and conductor to back Dinah Shore, who was just getting notice as a singer. Although he returned to big band work, joining the Bob Crosby Orchestra, he dropped out when the band hit the West Coast and got a job arranging for Bing Crosby on the movie, Holiday Inn. Songwriter Johnny Mercer then hired him to be the musical director for his brand-new label, Capitol Records.
Weston's professionalism and organizational talents contributed greatly to Capitol's early success. He experimented with a blend of a string orchestra with swing band musicians, leading to the album, "Music for Dreaming," which featured a sleepy scantily-clad woman on the front cover--setting two standards for a subsequent flood of "mood music" albums over the next two decades: lush string arrangements and "tasteful" cheesecake covers. He went on to record a whole series of "Music for" albums until leaving Capitol in the mid-1950s.
Although Coronet magazine called him "Master of Mood Music," Weston was never comfortable with the association:
I had instrumental solos and countermelodies; the framework of a dance band but with added strings. Robert Farnon would operate in the classifc form of orchestra, not jazzy at all. Percy Faith was the same, and Kostelanetz more so. I believe this reliance on strings without the jazz feel that I brought even to my ballads was the reeason the term "elevator music" came to symbolize most of the later mood music attempts.
Weston married Stafford in 1948 and backed her on some of her biggest hits, including "Shrimp Boats" and "Day by Day," which he also composed. After hearing a particularly awful cocktail pianist at a Columbia Records sales conference, he decided to record his own pastiche of the whole cocktail scene. Posing as Jonathan Edwards, ham-fisted pianist, he backed Stafford, who mangled notes and lost the beat in the guise of vocalist Darlene Edwards. Although meant as a joke, "The Piano Artistry of Jonathan and Darlene Edwards" became something of a hit, noted as one of the best pieces of musical comedy of the modern era. As others have commented, it took genuine musical talent to play and sing so badly! Weston and Stafford went on to record four other Jonathan and Darlene albums, all of which are available on Corinthian Records, their private label.

Despite the Jonathan Edwards send-ups, Weston was deeply serious about his music and profession. He organized and served as the first president of the National Academy of Recording Arts and Sciences, and composed several large works, including "Crescent City," a musical history of New Orleans, which he recorded with Stafford. In 1971, he conducted his own symphonic work, "Memories of Ireland."

Weston also worked in television occasionally, conducting for such shows as "The Danny Kaye Show," Bob Newhart and Jonathan Winters' live specials, and "The Jim Nabors Show." Weston once remarked that a conductor on a live television show "should also receive a stuntman's check!"
---
Recordings
Music for Dreaming, Capitol T-222
Music for the Fireside, Capitol T-245
Music for Romancing, Capitol T-153
Romantic Reflections, Capitol SW-91212
Carefree, Capitol T-1261
The Sweet and the Swingin', Capitol ST-1361
Music for My Love, Capitol T-1563
Dream Time Music, Columbia CL-528
Caribbean Cruise, Columbia CL-572
Music for a Rainy Night, Columbia CL-574
Sound Stage, Columbia CL-612
Mood for 12, Columbia CL-693
Solo Mood, Columbia CL-879
Crescent City, Columbia CL-977
Moonlight Becomes You, Columbia CL-999
Hollywood, Columbia CL-1122
Jonathan and Darlene Edwards albums
The Piano Artistry of Jonathan and Darlene Edwards, Columbia CL-1024
Sing Along with Jonathan and Darlene Edwards, RCA LSP-2495
Songs for Sheiks and Flappers, Dot DLP-25792
---
Search for Records and CDs
New CDs
Used Records and CDs


Search GEMM for old recordings by Paul Weston.
---
S p a c e A g e P o p M u s i c
Home · Listener's Guide · The Songs · Who's Who · Liner Notes · Selected Tracks · What's New · Search
© spaceagepop 2015. All rights reserved.